Fifth Annual Wings and Wildlife Festival highlights
outdoor opportunities, education
By Colleen Dwyer, Public Affairs Specialist
Children keep their distance from live snakes, lizards and tortoises on display while Festival coordinator Amanda Rowland of the National Park Service describes the reptiles' desert lifestyles.
Photo by Bill Martin
High winds and chilly temperatures didn't stop intrepid outdoor adventurers from enjoying the annual Wings and Wildlife Festival near Laughlin, Nevada on Saturday, March 23. Celebrating its fifth year, the event drew approximately 100 participants to the banks of the Colorado River to indulge in a variety of free activities.
Sponsored by the Bureau of Reclamation, National Park Service (NPS), Mohave County (Arizona) Parks, and Clark County (Nevada), the festival spanned two states in its celebration of the Mojave Desert's 'wild things'.
Despite several planned workshops - ranging from desert yoga to kayaking to nature photography and sketching – being cancelled due to sustained winds of nearly 30 miles per hour, a 'kid's fest' for children from ages 1 to 15 attracted a number of energetic participants determined to enjoy the sunny day and visit with special guests Puddles the Blue Goose from the U.S. Fish and Wildlife Service and the U.S. Forest Service mascot Smokey Bear. "There wasn't a large turn-out, but the kids that did come to Wings and Wildlife definitely had fun joining in the activities and learning about the desert they live in," remarked Phil Aurit, Reclamation Environmental Awareness Specialist.
Visitors to the Reclamation booth at Davis Camp share a laugh with Colleen Dwyer as brochure boxes and quagga artifacts anchor the display table.
Photo by Nathan Lenon
Informational displays on both sides of the river – at Davis Camp in Arizona and at the Greenway Heritage Park in Nevada – featured experts from local, state and federal agencies sharing program information that focused on the role of outdoors enthusiasts in protecting and respecting natural resources. A wide variety of visitors – ranging from a Ft. Mohave charter school teacher and her group of student volunteers to Cottonwood Cove camp hosts and a young family visiting from as far away as Pasadena – enjoyed the exhibits…as well as some unexpected exercise as they sprinted after runaway brochures and field guides torn from their grasp by sudden wind gusts.
Reclamation's booths, hosted by Phil Aurit and Outdoor Recreation Planner Bill Martin of the Resource Management Office, Biologist/Outreach Coordinator Nathan Lenon of the Lower Colorado River Multi-Species Conservation Program (LCR MSCP), and Public Affairs Specialist Colleen Dwyer, highlighted a range of Reclamation programs including preventing quagga mussel proliferation through the 'clean, drain and dry' program, LCR MSCP endangered fish conservation efforts, and the number of America's Great Outdoors opportunities on Reclamation lands along the Colorado River.
Little ones need a hand to withstand the blustery winds during an educational session.
Photo by Bill Martin
Opened to the public in July 2012 (see associated story and photos), the features of the Colorado River Greenway Heritage Park and Trails served as the focal point of the day's events. A picnic ramada sheltered live animal displays and exhibits while children enjoyed learning activities in the adjacent playground, splash pad, and grassy field.
"I love it when – after so much time and effort by a lot of people with Clark County, NPS, and Reclamation – you can see young people, families, and seniors out using the facility, reconnecting with the public lands," observed Bill Martin, Reclamation's project manager for the Greenway Park. "It's fantastic! Plus, the removal of the salt cedar and its replacement with such vibrant blooming native vegetation is inspiring!"
The site offers accessible hiking, picnicking, fishing and camping opportunities on approximately 1,191 acres of open space along the Colorado River just south of Davis Dam.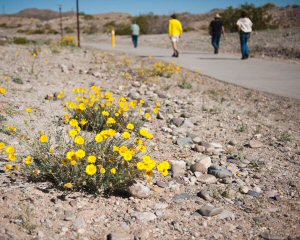 Desert sunflowers highlight the pathway for hikers along the river trail.
Reclamation photo by Alex Stephens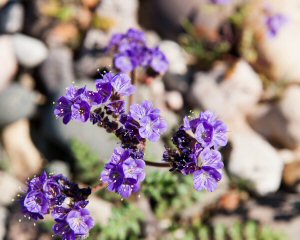 The delicate purple flowers of a notch-leafed phacelia contrast with the brown soil of its rugged desert home. Reclamation photo by Alex Stephens
"Seeing the years of effort and planning by Bill Martin and others pay off at events like this held in new, high quality facilities like the Greenway Heritage Park goes to show that federal, state, and local governments can produce exceptional results," remarked Aurit.
And despite the inclement weather, abundant spring flowers blossomed throughout the park, heralding the first signs of spring and the potential for additional days of exploration for future visitors to this recreational oasis.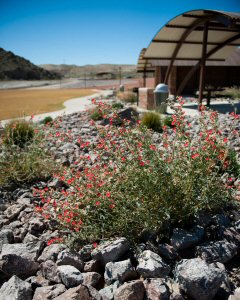 A desert globemallow highlights a Heritage Park picnic area. Reclamation photo by Alex Stephens
Webmaster: sha-lcr-webcomments@usbr.gov
Updated: March 2013