Update: Colorado River Heritage Greenway Park and Trails Project

       "Turning to communities for local, grassroots conservation solutions," that is a major premise of President Obama's America's Great Outdoors (AGO) Initiative, and that is exactly what has happened along the shores of the lower Colorado River just downstream of Davis Dam.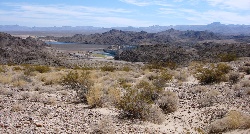 Working through a community-based partnership, the Bureau of Reclamation has supported and contributed to the establishment of a river and land trail network for residents and visitors, which is recognized nationally as one of the country's most promising undertakings designed to protect special places and reconnect Americans to the outdoors – the Colorado River Heritage Greenway Park and Trail Project.
       For the second consecutive year, the Project has received significant AGO recognition.
      The project includes nine miles of trails in the Laughlin and Bullhead City area for bicyclists, pedestrians and equestrian riders, fully-developed restrooms and trailheads, picnic sites, shade shelters, fishing piers, and a highway pedestrian bridge overpass and underpass providing access to the Colorado River, as well as expanding the Laughlin River Walk.
     "Just with having the turf, shading, splash pad, and picnic facilities, it's great," said Realty Specialist Jason Kirby. "When you add in the trail work fishing piers, kayak/canoe launch, equestrian facilities, and interpretive exhibits, there is something for almost every visitor, young or old, regardless of physical ability."
       "In addition to the built facilities that were developed thanks to Southern Nevada Public Land Management (SNPLMA) monies, our Reclamation team has worked hard to support Clark County, our managing partner in providing safe recreation facilities in a natural setting," he added. "This project showcases the best of Reclamation. You have Davis Dam, the Colorado River, federal, state, and local partners efficiently managing local resources. Laughlin residents and visitors will benefit for a long time."
       "We started planting and building with a long-term vision immediately," Kirby said. "Brandon Barrow [a realty specialist]
developed a vegetation plan and with Bill Martin's [an outdoor recreation planner] guidance we have implemented the initial stages. It is great to see native vegetation taking root alongside the new park facilities."
       "Brandon did a great job in developing the plan," he added. "It's definitely a Brandon skill set. It's in his background with natural resource studies. We also talked to MSCP (Lower Colorado River Multi-Species Conservation Program) folks – Jed Blake [a site development coordinator], Nathan Lenon [a biologist] and others including Joe Kahl [a biological science technician] and Chris Dodge [a wildlife biologist (terrestrial)] – who came out with their teams and provided some guidance."
       "Additionally, the National Park Service at Katherine's Landing, the Interpretation Program, Exotic Plant Management Team (EPMT), and the native plant nursery and restoration group at Lake Mead National Recreation Area played a key role as partners," Kirby said.
       "Bill Martin's project is moving into the next phase of trail construction to accommodate multiple users," added Environmental Awareness Specialist Phil Aurit. "Bikers, hikers, equestrians, locals and visitors alike are going to be in for a sweet ride with great views once the trail system is completed by the end of 2013."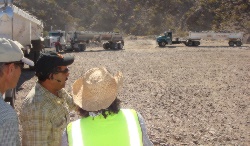 Kirby and Aurit were at the trail site recently to oversee riprap deliveries from Las Vegas. The football-sized rock material was being used by a heavy equipment crew from the Provo Area Office to bolster various parts of the trail where soft, sandy soil could erode and degrade the quality of the trail.
       "Working on the trail is a lot like doing disaster relief work," said Aurit, who had performed disaster relief work in New Orleans after Hurricane Katrina that was similar in kind to this project. "Basically I've been performing TQM (Total Quality Management) inspection of the tonnage, quality, and number of truckloads of road base materials to make sure the government gets what it contracted for."
       Boasting in a way that praised the prowess of the Provo Crew, Aurit said, "What took us a week to accumulate truck load by truck load, the Provo Crew spread, compacted and used in two days. They got on it!"
       While on a survey of the trail area Kirby pointed out that new security fencing was installed, since much of the recreation area is behind the security buoy line downstream of Davis Dam.
       "There are three fishing piers just downstream of the dam on the Nevada side of the river," he said. "There is a children's splash pad and a potential for concession operations. Bill Martin is developing a pilot study to investigate if concessions would be viable, perhaps for bicycle and kayak rentals, and food."
       "Our Regional Office has embraced the administration's Youth Initiative and we have employed youth conservation crews that have completed thousands of hours on the project," he said. "The crews have helped to restore native vegetation, such as willows and cottonwoods , and they have carried out many project facets, applying rip-rap in eroded areas, installing trail markers, and completing trail maintenance and construction tasks. Last fall, a conservation corps crew removed 30 cubic yards of homeless camp debris by carrying the material by hand off the highpoint of the project, a quarter mile, one-way."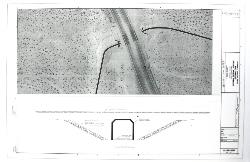 "The National Park Service and Reclamation," Kirby explained further, "have a partnership with the Academy of Building Services, a local charter high school in Fort Mohave, whose students are working on an interpretive trail in the old Contractor's Camp. There are many historic features there. It's powerful to see young people take ownership over their park and develop a stewardship ethic!"
       The park is open the same hours as other Clark County Parks, 6 a.m. to 11 p.m. Additionally, there are four volunteer hosts who serve as watch/security personnel.
       "The Davis Dam staff members have been great partners and neighbors when we've needed help," Kirby added. In return, "The youth conservation crews have helped them with area cleanup, especially removing invasive plant species. Mohave County Parks has collaborated by provide camping accommodations for the crews. We have an interagency agreement with the National Park Service for the removal of saltcedar along the river."
        At a reclaimed and enhanced picnic area along the trail and near the river, Kirby commented, "After tamarisk trees were uprooted, they were chipped into mulch and used as ground cover on the equestrian portion of the trail. We also plan to get more of this material from Jed Blake's project at Big Bend Conservation Area to cover more of the trail with mulch. The walking/bicycling portion of the trail is covered with a rolled, compacted concrete, which is a very light material that was poured from the back of a dump truck, similar to how asphalt is applied to a road."
        Along the trail, there are distance markers every quarter mile that conservation crews installed.
        Summarizing his evaluation of the project, Kirby said, "In this time of limited resources, this project has restored my confidence in teamwork and collaboration. It's been a team thing among Bill Martin, Brandon and me. Thanks to our office disciplinary teams for support, in addition to support from our Office Chief Val Simon. It's been a great collaborative effort. We are pleased as public servants to assist Clark County with this great resource."
        For more information about the Colorado River Heritage Greenway Park and Trails, visit www.clarkcountynv.gov/Depts/admin_services/laughlin/Documents/LRGHT_Booklet.pdf.

Webmaster: sha-lcr-webcomments@usbr.gov
Updated: June 28, 2013