Community Relations
"Time is but the stream I go a-fishing in"
- Henry David Thoreau
CAST for Kids is a one-day outdoor fishing and boating event for disabled and disadvantaged children and developmentally-impaired adults. The event provides an opportunity to learn to fish or to hone existing skills. For many, this is their first chance to participate in angling because of limitations caused by their disability, socioeconomic status, and/or perceptions of their abilities. CAST for Kids is a family activity and parents and siblings are encouraged to become involved.
Reclamation's Pacific Northwest Region was the first region to become involved with the CAST for Kids Foundation in 1991 when it was initially formed. This partnership with the Foundation and the Bass Anglers Sportsman's Society has resulted in an event that benefits both children and adults. Participants are given a wonderful opportunity to learn fishing skills and to experience the thrill of fishing while the volunteers who support the event learn valuable lessons about living with disabilities or other limitations.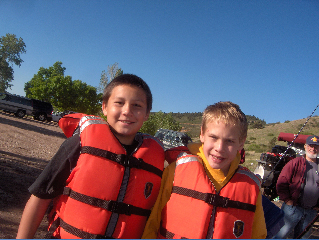 Each event begins with early morning registration where participants are assigned to boating volunteers and given a t-shirt, hat, fishing pole, tackle and tackle box to keep. After being fitted with a life jacket, the fishing fun begins out on the lake. After a couple of hours of fishing and boating enjoyment, participants are brought back to shore for lunch and a closing ceremony where they receive fun packs and awards.
During the lunch and awards ceremony, community volunteers entertain kids and adults alike. Past 'special guests' include Smokey Bear, Woodsy Owl, Luke the TreadLightly Squirrel, and Otto Otter.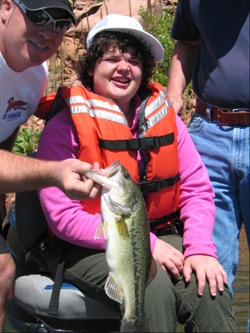 Partners And Sponsors
---
Bass Anglers Sportsmen Society
CAST for Kids Foundation
Bureau of Land Management
U.S. Fish and Wildlife Service
National Park Service
Dept. of the Interior Job Corps Centers
State Dept. of Recreation and Fish & Game
U.S. Army Corps of Engineers
Eagle Claw
Plano Molding Company
Professional Angler's Association
Triton boats
ZebcoQuantum
private & non-profit organizations
If you would like more information about CAST for Kids, visit the CAST for Kids Foundation web site which provides news releases, event dates across the United States, and photos from past CAST events. If you would like more information about any of the events being held in the Great Plains Region, contact Public Affairs at: (406) 247-7609.
Last Updated: 5/26/15