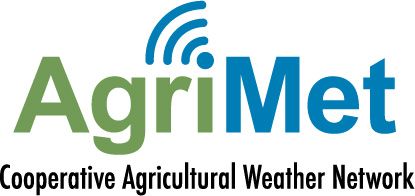 Monthly Average Reference Evapotranspiration
Following are values of monthly average reference evapotranspiration (ETr) for each AgriMet station for the period of record. These ETr values are for the alfalfa reference crop (also known as "tall crop" reference). The ETr values were computed using the Kimberly-Penman 1982 procedure. Values during the winter months roughly approximate evaporation from bare (non-snow covered) wet soil, frozen or thawed. All of the AgriMet weather stations listed below are located in irrigated agricultural (or turfgrass) environments, and represent the ET conditions found in actively growing, irrigated cropland. Units are inches of water.
These values were computed by summing the average daily ETr for the month. Note that the values for February are based on the non-leap year - 28 day month. Following the monthly values is a list of station names and the period of record used for computation of the monthly average ETr values.


Station Jan   Feb   Mar   Apr   May   Jun   Jul   Aug   Sep   Oct   Nov   Dec  Total

ABEI    0.60  1.07  2.77  4.51  6.87  8.16  9.65  8.66  5.77  3.21  1.32  0.56  53.15
AFTY    0.43  0.82  2.03  3.50  5.29  6.69  8.26  6.91  4.45  2.38  0.84  0.37  41.96
AGKO    0.65  1.23  2.80  4.24  6.48  7.91  9.03  7.42  4.95  2.73  1.05  0.57  49.06
AHTI    0.53  1.06  2.36  3.97  6.41  7.75  8.84  8.10  5.81  3.19  1.10  0.49  49.60
ARAO    0.57  1.09  2.06  3.37  5.06  6.10  7.72  6.17  4.03  1.92  0.79  0.53  39.41
BANO    0.83  1.25  2.15  3.04  4.24  4.69  5.20  4.48  3.39  2.17  1.01  0.72  33.19
BATO    0.74  1.31  2.66  4.05  6.04  7.40  9.17  7.66  5.08  2.61  1.09  0.53  48.35
BEWO    0.69  1.13  2.65  3.65  5.49  6.96  8.41  6.53  4.18  2.21  0.99  0.57  43.47
BKVO    0.44  1.02  2.51  4.03  5.78  6.94  8.88  7.50  4.96  2.55  0.98  0.41  45.98
BOII    0.56  1.14  2.56  3.96  5.95  7.39  8.68  7.00  4.29  2.28  0.94  0.55  45.31
BRKO    1.13  1.54  2.52  3.36  4.63  5.08  4.69  4.04  3.71  2.68  1.35  0.99  35.72
CEDC    0.95  1.52  3.14  4.45  6.50  8.29  9.89  8.59  5.87  3.53  1.54  0.89  55.16
CHAW    0.26  0.68  1.73  3.22  5.35  6.41  8.36  6.85  4.15  1.62  0.44  0.20  39.26
CHVO    0.83  1.37  2.78  4.12  6.11  7.80  9.30  7.92  5.23  3.01  1.22  0.71  50.40
COVM    0.60  1.05  2.34  3.76  5.52  6.54  8.13  6.50  4.24  2.50  1.22  0.79  43.19
CRSM    0.34  0.75  1.83  3.42  5.29  6.06  7.71  6.58  3.90  1.85  0.63  0.33  38.69
CRVO    0.64  1.24  2.27  3.47  5.29  6.48  8.70  7.56  5.22  2.48  0.84  0.51  44.69
DEFO    0.35  0.88  2.16  3.43  5.42  6.95  8.63  6.70  4.03  1.79  0.59  0.29  41.23
DRLM    0.73  1.13  2.62  3.98  5.78  6.65  9.07  7.50  4.76  2.58  1.19  0.57  46.55
ECHO    0.66  1.21  2.87  4.71  7.06  9.14 11.52  9.76  5.99  3.04  1.11  0.58  57.65
EURN    0.97  1.45  3.43  4.93  7.05  9.12 10.18  8.87  6.05  3.81  1.86  0.95  58.66
FAFI    0.50  1.01  2.34  4.14  6.30  7.56  9.24  8.17  5.73  3.31  1.14  0.47  49.93
FALN    1.09  1.89  3.98  5.50  7.91  9.93 10.78  8.80  6.13  3.53  1.75  1.05  62.35
FOGO    0.47  1.03  2.05  3.22  5.15  6.29  8.05  6.77  4.50  2.10  0.71  0.41  40.77
FTHI    0.70  1.20  2.93  4.45  6.57  7.74  9.43  9.00  6.12  3.39  1.42  0.62  53.56
GDVI    0.81  1.46  3.33  4.84  7.16  8.96 10.73  8.88  5.75  3.25  1.39  0.70  57.26
GERW    0.43  1.08  2.68  4.39  6.68  8.15  9.59  7.79  5.03  2.60  0.93  0.38  49.71
GFRI    0.83  1.50  3.31  4.76  7.26  9.33 11.74 10.19  6.78  3.90  1.55  0.71  61.86
GOLW    0.44  1.04  2.49  4.06  6.41  8.25 10.26  8.76  5.55  2.65  0.80  0.41  51.12
HERO    0.71  1.32  3.11  4.92  7.31  9.19 11.21  9.65  6.00  3.18  1.17  0.57  58.33
HOXO    0.44  0.94  2.19  3.69  5.81  7.23  8.58  7.17  4.57  2.07  0.63  0.37  43.68
HRFO    0.43  0.94  2.35  3.76  5.62  7.08  8.95  7.47  4.62  2.32  0.85  0.37  44.76
HRHW    0.56  1.22  3.00  4.73  6.99  8.56  9.81  8.10  5.52  2.91  1.08  0.45  52.93
HRMO    0.58  1.21  2.90  4.67  7.11  9.14 11.23  9.35  5.81  2.95  1.01  0.51  56.48
IMBO    0.76  1.22  2.48  3.87  5.63  6.93  9.24  7.92  5.00  2.60  1.11  0.65  47.43
KFLO    0.71  1.34  2.72  4.08  6.40  8.09  9.27  7.65  5.28  2.91  1.14  0.63  50.22
KTBI    0.43  0.93  2.63  4.54  7.21  8.45 10.59  9.67  6.48  3.57  1.30  0.44  56.24
LAKO    0.82  1.33  2.78  4.11  6.17  7.80  9.73  8.44  5.86  3.38  1.35  0.76  52.53
LEGW    0.73  1.30  3.07  4.91  7.16  8.71  9.98  8.52  5.47  2.87  1.14  0.59  54.44
LIDW    0.47  1.10  2.74  4.42  6.57  8.04  9.81  8.36  5.50  2.96  0.94  0.38  51.28
LORO    0.90  1.47  2.93  3.99  6.32  7.80  9.43  7.93  5.41  3.09  1.40  0.84  51.51
MALI    0.98  1.46  3.17  4.77  6.58  8.34  9.94  8.72  6.06  3.72  1.66  0.83  56.23
MASW    0.23  0.75  2.14  4.01  6.13  7.63  9.18  7.33  4.21  1.83  0.43  0.17  44.05
MDFO    0.64  1.26  2.39  3.75  5.87  7.65  9.24  7.68  5.14  2.61  0.90  0.53  47.66
MNTI    0.35  0.77  2.43  4.40  6.59  7.70  9.34  8.15  5.10  2.74  0.99  0.36  48.91
MRSO    0.82  1.27  2.80  4.20  6.23  8.00  9.91  8.71  5.88  3.07  1.25  0.63  52.77
NMPI    0.79  1.52  3.53  5.17  7.40  8.98 10.37  8.86  5.98  3.66  1.54  0.79  58.61
ODSW    0.42  1.06  2.72  4.47  6.66  8.30 10.45  9.20  6.01  3.15  0.93  0.39  53.76
OMAW    0.30  0.81  2.29  4.07  6.06  7.38  9.07  7.34  4.65  2.14  0.59  0.26  44.96
ONTO    0.55  1.21  3.11  4.98  7.48  9.07 10.94  9.32  6.11  3.40  1.21  0.59  57.95
PARO    0.41  0.93  2.14  3.55  5.40  6.81  8.38  6.83  4.30  1.97  0.65  0.34  41.70
PCYO    0.60  1.10  2.30  3.44  5.21  6.57  8.54  7.23  4.60  2.30  0.89  0.44  43.22
PICI    0.54  1.07  2.50  4.11  6.46  7.92  9.70  8.31  5.40  3.01  1.13  0.45  50.58
PMAI    0.63  1.29  3.17  4.93  7.22  8.55  9.84  8.30  5.50  3.17  1.26  0.66  54.52
PNGO    0.41  0.92  2.15  3.54  5.56  6.97  8.58  6.72  4.14  1.89  0.66  0.35  41.88
POBO    1.10  1.47  2.79  4.01  5.95  7.68  9.55  7.96  5.41  3.26  1.70  1.18  52.05
RDBM    0.35  0.78  1.99  3.45  5.20  5.99  7.57  6.03  3.60  1.76  0.60  0.33  37.64
RPTI    0.84  1.37  3.15  4.86  7.02  8.45  9.86  8.74  5.97  3.65  1.60  0.75  56.26
RTHI    0.55  0.89  1.91  3.52  5.52  6.13  8.20  7.14  4.83  2.29  0.77  0.45  42.19
RXGI    0.45  0.92  2.47  4.24  6.38  7.42  8.52  7.99  5.26  2.97  1.05  0.44  48.11
SIGM    0.55  0.89  2.11  3.44  5.36  6.34  8.74  7.30  4.27  2.05  0.82  0.54  42.40
TWFI    0.91  1.46  3.21  4.71  7.05  8.63 10.14  8.63  6.05  3.69  1.57  0.78  56.82
WRDO    0.77  1.44  2.95  4.21  6.32  7.59  8.45  7.43  5.11  2.88  1.16  0.67  48.98








ABEI   Aberdeen, Idaho AgriMet Station                      Begin:1991   End: 2010
AFTY   Afton, Wyoming AgriMet Station                       Begin:1987   End: 2010
AGKO   Agency Lake, Oregon AgriMet Station                  Begin:2000   End: 2010
AHTI   Ashton, Idaho AgriMet Station                        Begin:1987   End: 2010
ARAO   Aurora, Oregon AgriMet Station                       Begin:1998   End: 2010
BANO   Bandon, Oregon AgriMet Station                       Begin:1985   End: 2010
BATO   Beatty, Oregon AgriMet Station                       Begin:2004   End: 2010
BEWO   Bend, Oregon AgriMet Station                         Begin:2003   End: 2010
BKVO   Baker Valley, Oregon AgriMet Station                 Begin:2001   End: 2010
BOII   Boise, Idaho AgriMet Station                         Begin:1995   End: 2010
BRKO   Brookings, Oregon AgriMet Station                    Begin:1999   End: 2010
CEDC   Cedarville, California AgriMet Station               Begin:1985   End: 2010
CHAW   Chamokane, Washington AgriMet Station                Begin:2007   End: 2010
CHVO   Christmas Valley, Oregon AgriMet Station             Begin:1985   End: 2010
COVM   Corvallis, Montana AgriMet Station                   Begin:1986   End: 2010
CRSM   Creston, Montana AgriMet Station                     Begin:1988   End: 2010
CRVO   Corvallis, Oregon AgriMet Station                    Begin:1990   End: 2010
DEFO   Dee Flat, Oregon AgriMet Station                     Begin:2003   End: 2010
DRLM   Deer Lodge, Montana AgriMet Station                  Begin:1998   End: 2010
ECHO   Echo, Oregon AgriMet Station                         Begin:1988   End: 2010
EURN   Eureka, Nevada AgriMet Station                       Begin:2001   End: 2010
FAFI   Fairfield, Idaho AgriMet Station                     Begin:1987   End: 2010
FALN   Fallon, Nevada AgriMet Station                       Begin:2001   End: 2010
FOGO   Forest Grove, Oregon AgriMet Station                 Begin:1991   End: 2010
FTHI   Fort Hall, Idaho AgriMet Station                     Begin:1993   End: 2010
GDVI   Grand View, Idaho AgriMet Station                    Begin:1993   End: 2010
GERW   George, Washington AgriMet Station                   Begin:1986   End: 2010
GFRI   Glenns Ferry, Idaho AgriMet Station                  Begin:1993   End: 2010
GOLW   Goldendale, Washington AgriMet Station               Begin:1991   End: 2010
HERO   Hermiston, Oregon AgriMet Station                    Begin:1983   End: 2010
HOXO   Hood River, Oregon AgriMet Station                   Begin:1987   End: 2010
HRFO   Hereford, Oregon AgriMet Station                     Begin:1998   End: 2010
HRHW   Harrah, Washington AgriMet Station                   Begin:1987   End: 2010
HRMO   Hermiston (Harec), Oregon AgriMet Station            Begin:1993   End: 2010
IMBO   Imbler, Oregon AgriMet Station                       Begin:1994   End: 2010
KFLO   Klamath Falls, Oregon AgriMet Station                Begin:1999   End: 2010
KTBI   Kettle Butte, Idaho AgriMet Station                  Begin:1996   End: 2010
LAKO   Lakeview, Oregon AgriMet Station                     Begin:1988   End: 2010
LEGW   Legrow, Washington AgriMet Station                   Begin:1986   End: 2010
LIDW   Lind, Washington AgriMet Station                     Begin:1983   End: 2010
LORO   Lorella, Oregon AgriMet Station                      Begin:2001   End: 2010
MALI   Malta, Idaho AgriMet Station                         Begin:1983   End: 2010
MASW   Manson, Washington AgriMet Station                   Begin:1994   End: 2010
MDFO   Medford, Oregon AgriMet Station                      Begin:1989   End: 2010
MNTI   Monteview, Idaho AgriMet Station                     Begin:1996   End: 2010
MRSO   Madras, Oregon AgriMet Station                       Begin:1984   End: 2010
NMPI   Nampi, Idaho AgriMet Station                         Begin:1996   End: 2010
ODSW   Odessa, Washington AgriMet Station                   Begin:1984   End: 2010
OMAW   Omak, Washington AgriMet Station                     Begin:1989   End: 2010
ONTO   Ontario, Oregon AgriMet Station                      Begin:1992   End: 2010
PARO   Parkdale, Oregon AgriMet Station                     Begin:1998   End: 2010
PCYO   Prairie City, Oregon AgriMet Station                 Begin:1989   End: 2010
PICI   Picabo, Idaho AgriMet Station                        Begin:1993   End: 2010
PMAI   Parma, Idaho Agrimet Station                         Begin:1986   End: 2010
PNGO   Pine Grove, Oregon Agrimet Station                   Begin:2003   End: 2010
POBO   Powell Butte, Oregon AgriMet Station                 Begin:1993   End: 2010
RDBM   Roundbutte, Montana AgriMet Station                  Begin:1989   End: 2010
RPTI   Rupert, Idaho AgriMet Station                        Begin:1988   End: 2010
RTHI   Rathdrum, ID AgriMet Station                         Begin:2008   End: 2010
RXGI   Rexburg, Idaho AgriMet Station                       Begin:1987   End: 2010
SIGM   St. Ignatius, Montana AgriMet Station                Begin:1991   End: 2010
TWFI   Twin Falls, Idaho AgriMet Station                    Begin:1990   End: 2010
WRDO   Worden, Oregon AgriMet Station                       Begin:2000   End: 2010



Last Updated: 1/28/16