AgriMet Crop Coefficients: Hops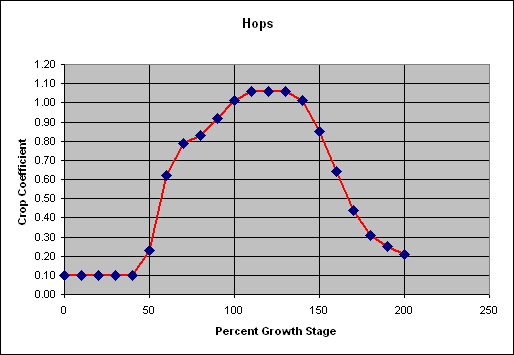 Growth
Stage (%)

Crop
Coefficient

Growth Stage Indicators

0
0.10
Vine Growth Begins
10
0.10
20
0.10
30
0.10
40
0.10
50
0.23
60
0.62
70
0.79
80
0.83
90
0.92
100
1.01
Top of Trellis
110
1.06
120
1.06
130
1.06
140
1.01
150
0.85
160
0.64
Harvest
170
0.44
180
0.31
190
0.25
200
0.21
Vines and Leaves are Dead
Curve developed by Dr. Jim Wright, ARS Kimberly, Idaho 2005, using data
from Washington State University Cooperative Extension Bulletin EM4816.
Assumes green-up in mid-April, "burn back" of vines in early June,
harvest in early September, and fall irrigation until mid-October.
See About Crop Coefficients for more information on AgriMet Crop Coefficients.
Last Updated: 1/28/16