Folsom Reservoir dike improvements continue
Folsom Reservoir dike improvements continue
Written by: MP Region Public Affairs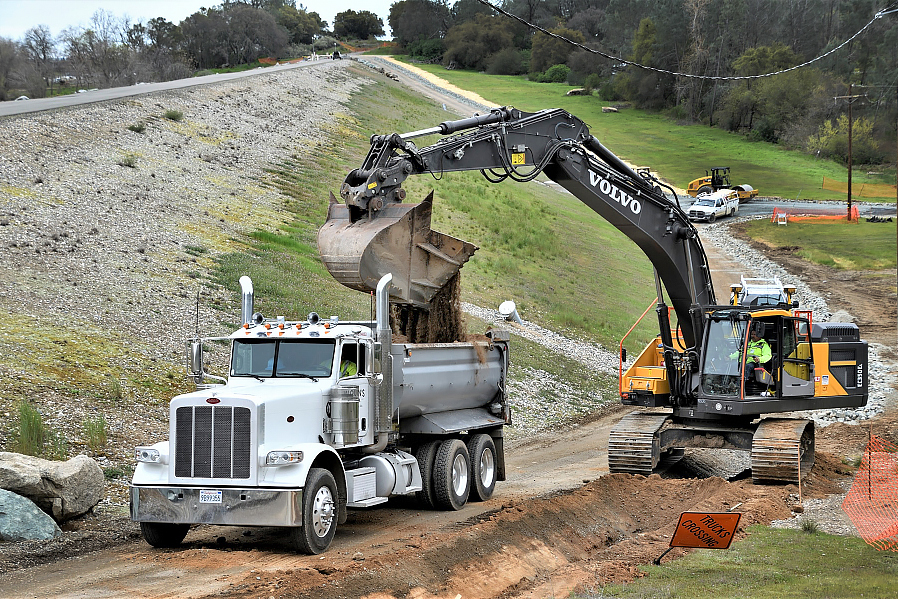 Reclamation crews working on Folsom Reservoir dike March 22, 2019. Reclamation photo, Winetta OwensFOLSOM, Calif. – Construction crews for the Bureau of Reclamation are making Safety of Dam improvements at various locations around the nearly 1 million acre-feet, Folsom Reservoir. This phase of the Safety of Dams work began in January 2019 and is expected to wrap up around July 2019.
Current construction improvements include addressing minor runoff, drainage and erosion conditions at Mormon Island Auxiliary Dam, as well as Dikes 1, 4, 5 and 6 in the Granite Bay and Folsom Recreation areas. The improvements are being done as part of Folsom's overall Safety of Dams program, which started in 2007 and is now nearing completion.
"Dikes are engineered earthen barriers and serve a critically important role," said Reclamation Project Manager Kyle Keer. "Around Folsom, they perform multiple duties by filling in lower-lying areas to safely impound the reservoir, connect maintenance and recreational pathways around the lake, and serve as important flood risk reduction features."
Trail segments are temporarily restricted during construction. To accommodate recreational traffic, Reclamation has designated alternate routes, with signage at access points.
Learn more about these improvements by visiting https://www.usbr.gov/mp/sod/projects/folsom/
Published on May 08, 2019