Water experiment to be conducted along the Colorado River while maintaining hydropower production this summer
News Release Archive
Water experiment to be conducted along the Colorado River while maintaining hydropower production this summer
Media Contact: Marlon Duke, 801-524-3774, mduke@usbr.gov
Robyn Gerstenslager, 801-524-3720, rgerstenslager@usbr.gov
For Release: April 30, 2020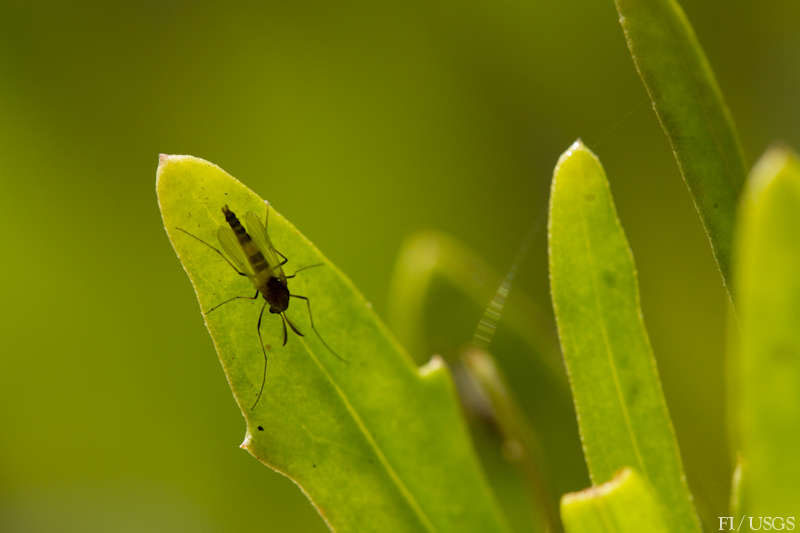 Non-biting midges are one of the aquatic insects predicted to benefit from the Bug Flow Experiment. Photo credit: USGS/Freshwaters Illustrated. SALT LAKE CITY – From May 1 through August 31, the Department of the Interior will conduct a Macroinvertebrate Production Flow at Glen Canyon Dam. This experiment, also known as a Bug Flow, aims to improve egg-laying conditions for aquatic insects, which are the primary food source for endangered and native fish in the Colorado River. This is the third consecutive year for the Bug Flow under the Glen Canyon Dam Long-Term Experimental and Management Plan.
During the Bug Flow experiment, the Bureau of Reclamation will make targeted adjustments to water releases from Glen Canyon Dam and Lake Powell. That adjusted release schedule will include low and steady flows during weekends, while weekday operations will maintain normal flows to meet hydropower demands. Weekday release rate hourly changes will remain unchanged.
Aquatic insects lay and cement their eggs to rocks, vegetation and other materials near the river's edge. If flows are too variable, water levels may drop below where eggs are laid, causing them to dry out and die.
"Findings indicate that some aquatic insects are already benefiting from the bug flows, which also benefits fish and other animals that eat them," said Scott VanderKooi, chief of the U.S. Geological Survey's Grand Canyon Monitoring and Research Center. "For example, our research suggests that caddisflies, an extremely rare aquatic insect in the Grand Canyon over the past several decades, increased nearly four-fold during the first year of the experiment in 2018, before returning to pre-Bug Flows numbers in 2019. In contrast, non-biting midges, another type of aquatic insect that is a key food source for fish and other wildlife, may have increased, and a third year of Bug Flows should help verify this finding."
Recreational fishing at Lees Ferry also improved during Bug Flows, with anglers catching an average of 1-2 more rainbow trout per day during Bug Flow weekends, when flows were low and steady, compared to weekdays when flows fluctuated.
"Our current experimental plan initially recommended two to three years of Bug Flows given the complexity of the Colorado River ecosystem, which is constantly changing," said Lee Traynham, Reclamation's Glen Canyon Dam Adaptive Management Program Manager. "We've already learned a lot about the ecosystem and have observed several resource improvements over many years of experimenting with flows. We are excited to see how the ecosystem responds this year."
The decision to conduct this experiment was based on technical input and recommendation from a collaborative team of scientists and technical experts from federal agencies and states involved in the Glen Canyon Dam Adaptive Management Program. This team includes representatives from the Department of the Interior's Bureau of Reclamation, National Park Service, U.S. Geological Survey, U.S. Fish and Wildlife Service, and Bureau of Indian Affairs; the Department of Energy's Western Area Power Administration; Arizona Game and Fish Department, Upper Colorado River Commission and all seven Colorado River Basin States.
Experiments are designed to maximize benefits to the Colorado River ecosystem through the Grand Canyon, while meeting water delivery requirements and minimizing negative impacts to hydropower production.
This experiment is expected to benefit aquatic insects and the fish, birds and bats that feed on them, while providing valuable scientific information for future decision making.
For more information about the Glen Canyon Dam Adaptive Management Program and flow volumes below Glen Canyon Dam, please visit the following websites:
Glen Canyon Dam Adaptive Management Program: https://www.usbr.gov/uc/progact/amp/index.html
Flow volumes for the Colorado River at Lees Ferry: https://www.gcmrc.gov/discharge_qw_sediment/station/GCDAMP/09380000
Colorado River Storage Project: https://www.usbr.gov/uc/rm/crsp/index.html
Citizen Science Light Trapping in Grand Canyon: https://www.usgs.gov/centers/sbsc/science/citizen-science-light-trapping-grand-canyon?qt-science_center_objects=0#qt-science_center_objects
Science Behind the Bug Flows: https://pubs.er.usgs.gov/publication/70170803
# # #
The Bureau of Reclamation is a federal agency under the U.S. Department of the Interior and is the nation's largest wholesale water supplier and second largest producer of hydroelectric power. Our facilities also provide substantial flood control, recreation opportunities, and environmental benefits. Visit our website at https://www.usbr.gov and follow us on Twitter @USBR; Facebook @bureau.of.reclamation; LinkedIn @Bureau of Reclamation; Instagram @bureau_of_reclamation; and YouTube @reclamation.