Lower Colorado Basin Hosts Women's History Month Observance
Lower Colorado Basin Hosts Women's History Month Observance
Written by: Doug Hendrix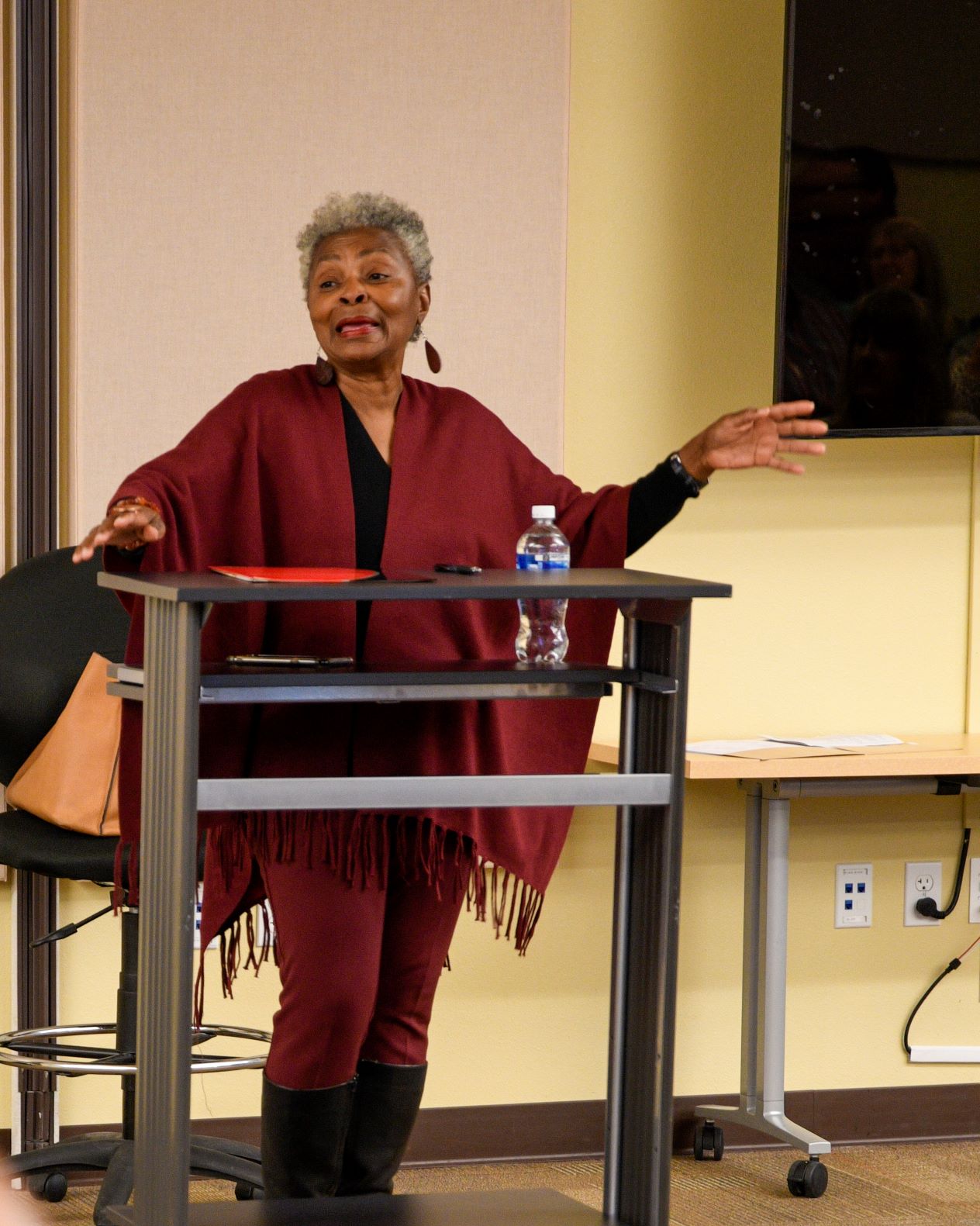 At the Women's History Month celebration, Claytee chronicled the history of the women's suffrage movement in the United States. Photograph by Daniella Grabish.On Tuesday, March 3, Reclamation's Lower Colorado Basin Regional Office sponsored an informative special emphasis observance in celebration of Women's History Month in Boulder City, Nevada.
Attending the event in person and via video teleconferencing, employees region-wide were treated to a lively discussion regarding the struggle women have encountered in gaining their voting rights nationally – with the event examining the decades-long suffrage movement.
The presentation, keynoted by guest speaker Ms. Claytee White, Director of the Oral History Research Center at the University of Nevada, Las Vegas (UNLV) Libraries, chronicled the struggle women have endured from the 1760s to present day to obtain their voting rights in the United States.
"The important role women have played in shaping our nation and democracy has often been marginalized or overlooked, whether in the fields of business, politics or the arts," said Claytee. "Moving forward it's our responsibility to tell the stories of many of the trailblazing women that opened the doors of democracy to the younger generations."
For the past several decades, Claytee has regaled audiences throughout the West with detailed stories about the history and significance of the Women's Right Movement - chronicling important figures such as Abigail Adams and Frederick Douglass who were among the earliest advocates in the 1760s and beyond for major changes to voting rights laws nation-wide. Claytee also discussed the importance – following emancipation of African Americans from slavery in 1865 – of the passage of the 15th and 19th amendments to the U.S. Constitution giving African American men and women concurrently the right to vote.
Claytee noted that the suffrage movement for African American and Caucasian women gained legs following World War II, with numerous women's rights movements being spearheaded by Betty Friedan and Gloria Steinem who formed national coalitions that not only opened the doors of democracy to women, but helped them to begin leveling the playing field in obtaining workplace rights within our national economy.
In researching the personal accounts of many of these trailblazing figures, Claytee has recorded and preserved more than 1,000 historical interviews. Her subjects have ranged from casino workers to governors, housekeepers to reverends. They are often people, who, like Claytee, started from humble beginnings to make something of their lives and now share this knowledge at a national level.
Claytee currently serves on the Board of Women of Diversity, the UNLV Presidential Debate Planning Committee, and the Historic Preservation Commission. She has also served on the Historic Preservation Commission for the city of Las Vegas, Nevada Humanities executive board, and is the past president of the Southwest Oral History Association.
Published on March 24, 2020