Lower Colorado Region Hosts Festive Hawaiian Ohana Celebration
Lower Colorado Region Hosts Festive Hawaiian Ohana Celebration
Written by: Doug Hendrix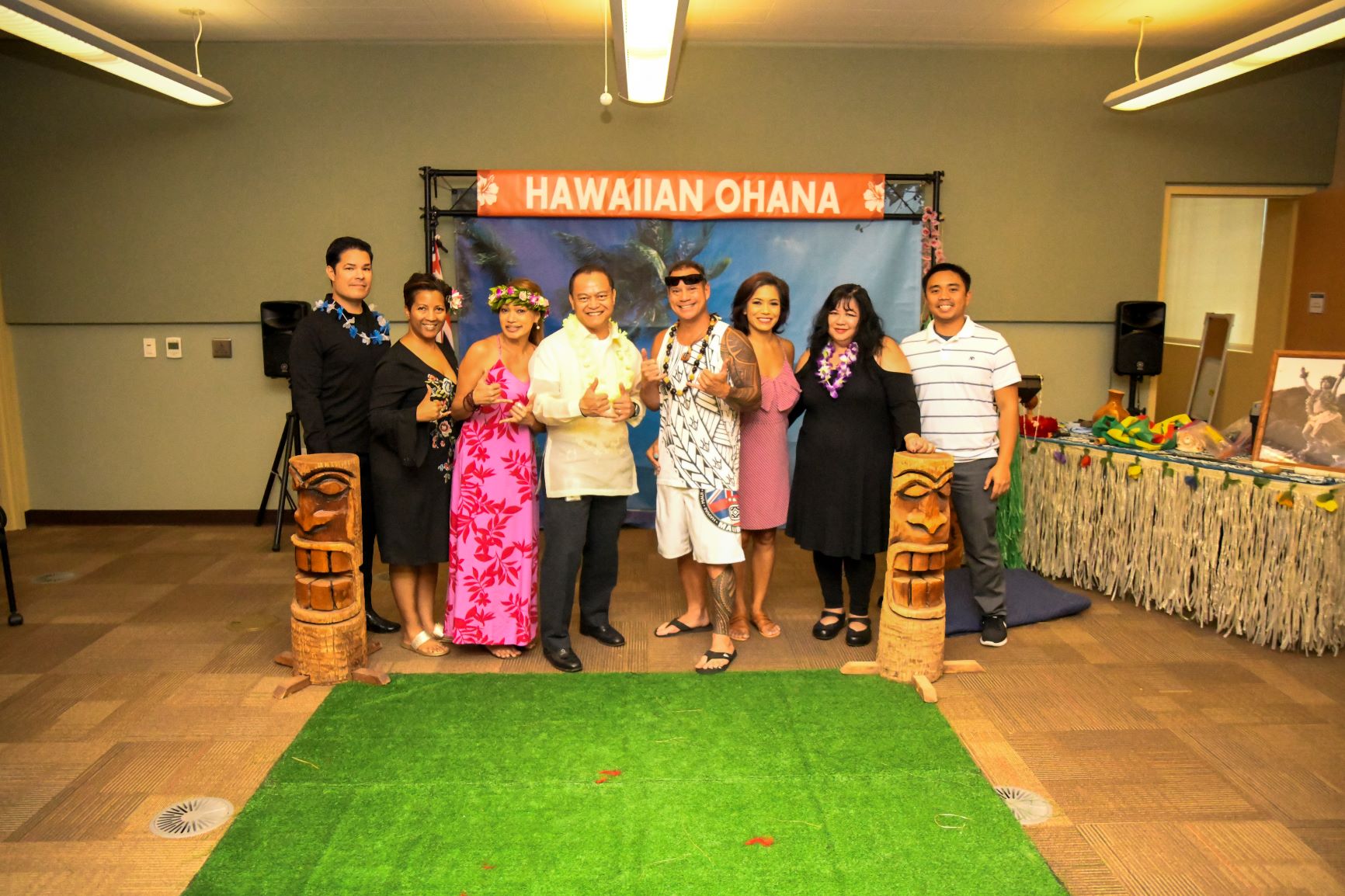 Pictured are the LCR employees who served as the principal planners of the Asian American Pacific Islander Heritage Ceremony. Photograph provided by Jamel Carry, Photographer, Lower Colorado Regional Office.On Thursday, May 30, the Lower Colorado Region (LCR) hosted a high-energy performance by the Hawaiian Ohana group to commemorate Asian American Pacific Islander Month – observed nationally by the federal government during May.
Hawaiian Ohana is made up of Gavin and Cirony Brown Goble who travel around the Southwestern United States performing hula and luau shows and providing interpretive discussions about the significance of Hawaiian and Polynesian culture.
This year's commemorative event – themed Unite our Mission by Engaging Each Other – attracted nearly 75 employees to the Regional Training Center to participate in a native foods luncheon, cultural discussions and festive dance demonstrations.
The event, coordinated by staff from the LCRO's EEO Office and members of the local chapter of the Federal Asian Pacific American Council (FAPAC), was observed by the LCR workforce to learn more about the unique life experiences represented by the Polynesian communities who live and work in the Las Vegas area.
EEO Program Manager Brittany Johnson served as host of the event which showcased an array of high-energy ethnic dance routines and cultural demonstrations profiling the significance/meaning of Polynesian artifacts including, the ceremonial blowing of a conque shell, use of Tiki statues, and the proper method to select and open a ripe coconut and pineapple.
Interpretive dance routines performed by Cirony Brown Goble during the event included hula dancing to the Hawaii Five-O theme song and Hawaiian wedding song and dancing to the theme song for South Sea Island Magic.
Following the festive dance routines, LCR employees were treated to a potluck luncheon featuring traditional Polynesian cuisine followed by a festive dance routine performed by Gavin Goble in the parking lot near the Region's Training Center.
Published on July 15, 2019