USDA loans $449 million to improve Northern California water supply
USDA loans $449 million to improve Northern California water supply
Written by: Public Affairs Office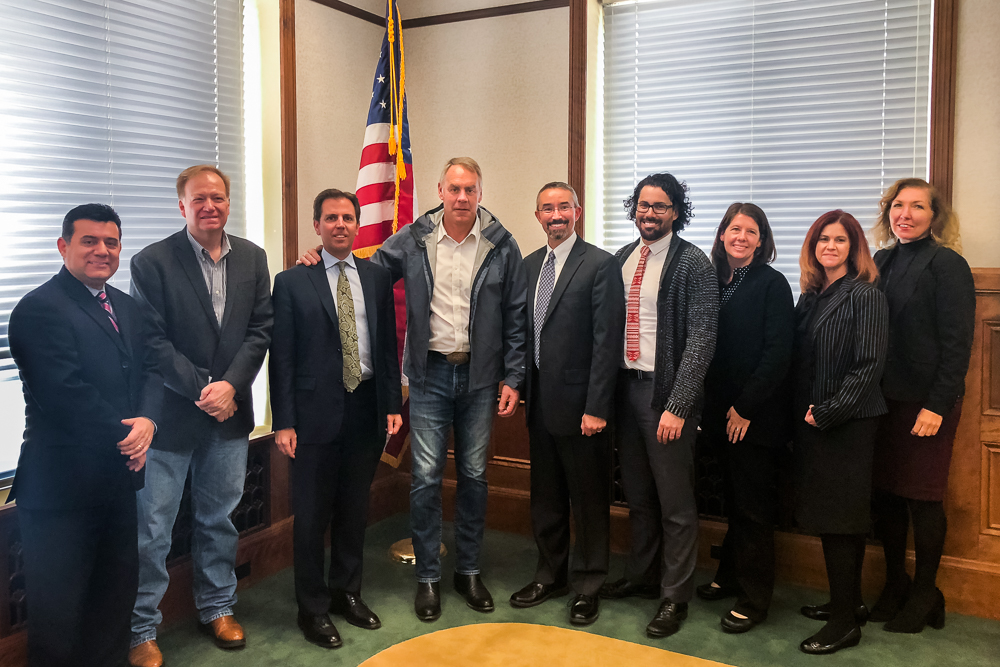 Reclamation Mid-Pacific Region staff brief Interior Secretary Ryan Zinke (center) on the Central Valley Project and other state-wide water matters in Maxwell, California Monday, Nov. 26, 2018.
Secretary of Agriculture Sonny Perdue announced Tuesday in Maxwell that USDA is providing a $449 million loan to help with the Maxwell Water Intertie project to increase western Sacramento Valley's water management efficiency and reliability during dry years. Secretary of the Interior Ryan Zinke and Assistant Secretary of the Army for Civil Works Rickey "R.D." James were also present.
The Maxwell Water Intertie facilities would connect the existing Tehama Colusa Canal and the existing Glenn Colusa Irrigation District's main canal. Other project highlights include:
Construct 3.5 miles of 12-foot diameter pipeline along with a new pump station to pump water from the GCID system to the existing TC Canal Authority's Funks Reservoir


Exchanges of Funks Reservoir water to the GCID system will occur through the new pipeline's reverse-direction gravity flow
Construct a new 1,200 acre-foot Terminal Regulating Reservoir adjacent to the GCID Main Canal to help regulate GCID main canal flows and support the Maxwell Water Intertie facilities' operations
Although not mentioned in the announcement, once the Sites Reservoir is constructed in Maxwell, part of the $449 million loan enables building interconnection facilities to move water in and out of the reservoir.
The Sites Reservoir project is a proposed 1.8 million acre-foot off-stream reservoir located in Glenn and Colusa counties that uses existing infrastructure to divert high winter flows from the Sacramento River.
Sites does not dam a major stream or river, but creates new environmental benefits, while relieving pressure on Shasta Lake, Folsom Lake, and other Northern California reservoirs.
The project will enhance California's water supply infrastructure flexibility that serves a population of nearly 40 million.
Published on November 30, 2018