Hoover Dam Security Officers Recognized for Saving Man's Life
Hoover Dam Security Officers Recognized for Saving Man's Life
Written by: Doug Hendrix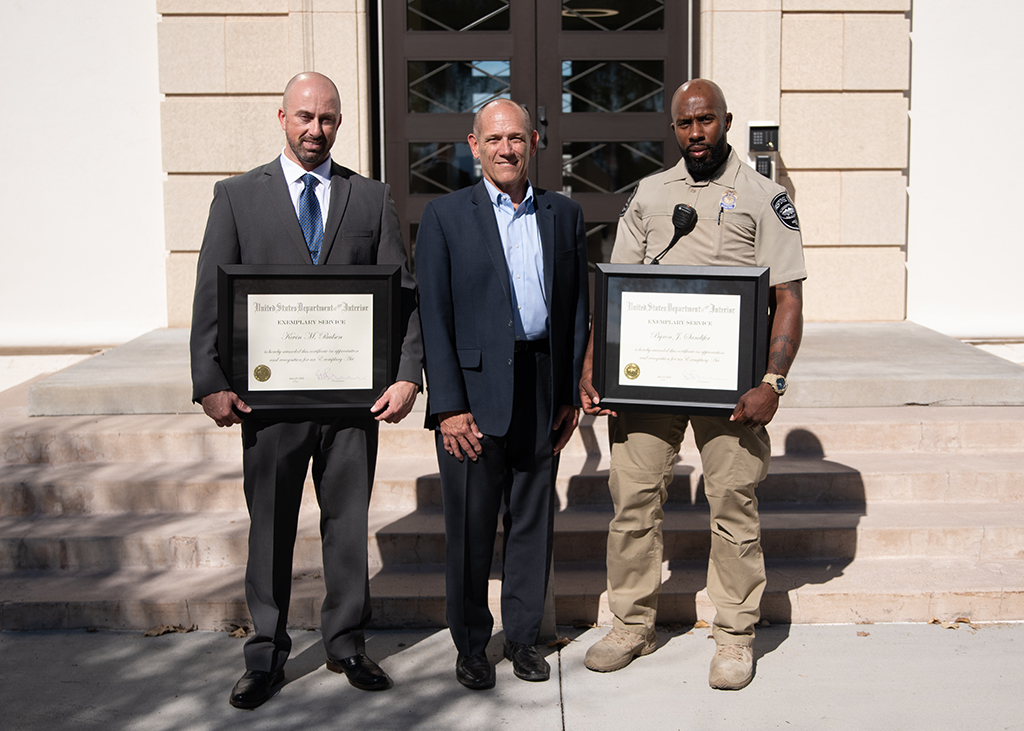 Pictured are security officers Kevin Paulsen (left) and Byron Sandifer (right) who were recognized by Regional Director Terry Fulp (center) for saving a man's life. On Thursday, October 25, two Bureau of Reclamation Security Response Force (SRF) officers were recognized by the agency for their exemplary acts of heroism in stopping a despondent man from jumping off the lakeside ledge of Hoover Dam. On January 18, SRF Officers Kevin Paulsen and Byron Sandifer together, were able to save a despondent man from committing suicide by pulling him to safety.
"What a privilege it is to be able to recognize these two heroic security officers that protect us each day for doing something as great as saving a life," said Terry Fulp, Regional Director of Reclamation's Lower Colorado Region. "The actions of both of these officers is a testament to the mission of the Hoover Dam security force which is built on the foundational principles of vigilance, preparation and dedication."
At an afternoon ceremony held at Reclamation's headquarters in Boulder City, Nevada, Officers Kevin Paulsen and Byron Sandifer were presented with Exemplary Service Awards by Regional Director Fulp on behalf of Reclamation Commissioner Brenda Burman.
"Though both officers downplayed their respective roles in rescuing the despondent individual and noted that they were just doing their jobs, their vigilance and quick actions very likely saved this man's life," said Fulp.
Prior to rescuing the man, the officers had noticed the male visitor acting suspiciously. The duo informed other SRF-officers to keep an eye of the visitor and monitor his activities. When it became apparent that the man was intent on committing suicide, the duo sprang into action, putting themselves at risk, and pulled the man from the ledge of the dam to safety.
Published on November 01, 2018