2018 Navajo Lake C.A.S.T. for Kids Event
2018 Navajo Lake C.A.S.T. for Kids Event
Written by: Pat Page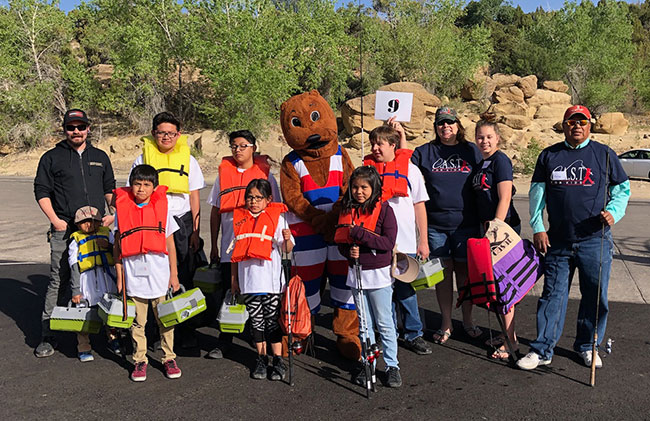 Navajo Lake C.A.S.T. for Kids group with Otto the OtterA large contingent of special anglers and their families were on hand Saturday, May 12, to participate in the 22nd Annual C.A.S.T. for Kids event at Navajo Lake. And participate they did, with boat captains reporting big catches of multiple species of fish by most of the 42 participants. Those that weren't as lucky when it came to reeling in the big one, were quick to realize that the adage of "A bad day fishing is still better than a good day of…well, just about anything else!", is accurate.
In fact, the only thing that wasn't perfect on this day was the weather. While the sun shone for a remarkable second year in a row at the Navajo Lake C.A.S.T. for Kids event, the wind reared its ugly head early and forced most boats back to shore a bit prematurely. That didn't stop the fun, back on solid ground as the participants and their families were treated to lunch, games, informational booths and the chance to talk to first responders, New Mexico State Park officials, and representatives of the many agencies who support C.A.S.T. for Kids are a big part of the event year after year.
At the awards ceremony, the participants were presented with a plaque complete with a photo of them, their family and their boat captain. The ceremony was also a chance to recognize the numerous volunteers – over fifty, including several from Reclamation's Four Corners Construction Office (FCCO). Special recognition was given to the following individuals who have been involved with the Navajo Lake C.A.S.T. for Kids event for over 20 years:
• Peggy and Darwin Gunnink • Kevin and Diana Schneider • Larry and Beverly Poulin • Calvin and Cindy Reed • Kellie and Adam Campbell • Mark Watkins
Clearly, the day was all about the kids, but an event of this magnitude would not be possible without the countless hours of the many volunteers and the generous support of local, state and federal sponsors. Jim Behnken, Western Regional Director for the C.A.S.T. for Kids Foundation, told the crowd that this was one of the most organized, best run C.A.S.T. for Kids events that he has seen, a testament in large part to the co-coordinators for this year's event, FCCO's own Jere Wales, Carol Mesarchik and Jordan Taher. Planning activities began back in January, and set-up work began in the pre-dawn hours on the day of the event. At the end of a very long but special day, the kids went home happy and the volunteers went home tired, but everyone was already looking forward to next year's event.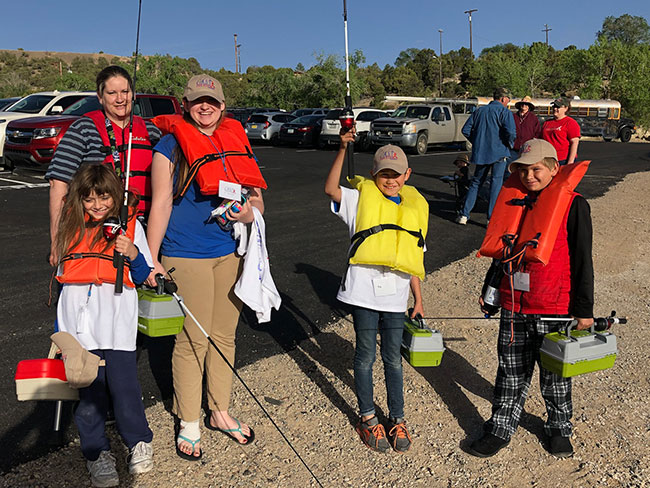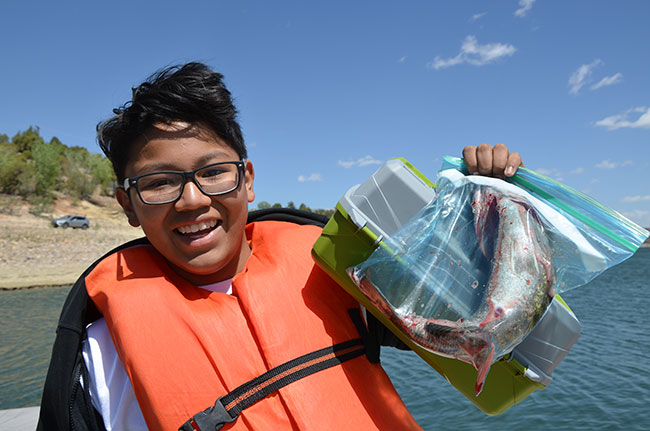 Published on May 14, 2018