National Dam Safety Awareness Day – May 31, 2018
National Dam Safety Awareness Day – May 31, 2018
What do you know about National Dam Safety Awareness Day?
Written by: Edna Rey-Vizgirdas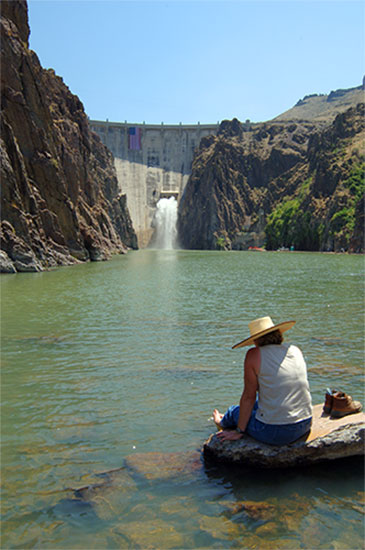 Lady sitting in water looking at Owyhee Dam in Oregon.National Dam Safety Awareness Day commemorates the failure of the South Fork Dam in Johnstown, Pennsylvania on May 31, 1889, which resulted in the loss of over 2,200 lives. National Dam Safety Awareness Day occurs annually on May 31 to encourage the public to learn about the benefits and risks associated with dams.
Reclamation's Pacific Northwest Region manages more than 60 dams throughout the region, including Grand Coulee and Hungry Horse dams. Nationally, Reclamation manages 492 dams that store 140 million acre-feet of water, including Hoover, Glen Canyon and Shasta dams. Dams are a vital part of our nation's infrastructure, providing a life-sustaining resource to people in the Pacific Northwest and beyond.
Dams have numerous benefits -- water supply for domestic, agricultural, industrial, and community use; flood control; recreation; and clean, renewable energy through hydropower.
Although dams have many benefits, they also have risks. Whether you live, work, or recreate near dams, remember that safety is a shared responsibility.
When you are around dams --
• Be aware of the potential dangers caused by changing flows, and stay clear of waters near stations and dams.
• Always stay a safe distance outside of warning signs, buoys, and barriers.
• Obey all warning signs near dams, and wear a life jacket.
Published on May 02, 2018