Quagga Mussels Discovered at Green Mountain Reservoir, Colorado
Quagga Mussels Discovered at Green Mountain Reservoir, Colorado
Written by: By James Bishop, ECAO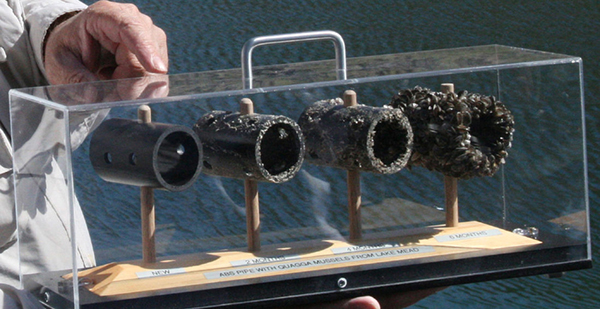 Illustration of quagga mussel damage to infrastructure at Lake Mead.
Bureau of Reclamation scientists discovered quagga mussel veligers (larvae) in Green Mountain Reservoir on August 18th and a laboratory contracted by Colorado Parks and Wildlife confirmed the discovery on August 29th. While quagga and zebra mussels have plagued waters across the United States for some time, the Aquatic Nuisance Species (ANS) inspection program run by Colorado Parks and Wildlife (CPW) has been successful in preventing any mature infestations in the state. Quagga veligers have been identified in multiple Colorado waters before, such as in Lake Pueblo in 2007, which has since been cleared with no signs of ANS. However, to date no adult populations have been able to take hold in Colorado, a well-earned point of pride for CPW.
This success begs the question: what happened at Green Mountain? To be fair, protecting Colorado's waters was always a thorny challenge. With the state's immense popularity among tourists, boaters included, it is a virtual certainty that out-of-state boaters have and will unwittingly ferry ANS across state lines. CPW was proactive in developing and implementing a robust inspection program and committed $4.5 million annually to its efforts. Unfortunately, the tax revenue which supported the program was lost when an oil company won its lawsuit against the state in 2016 and was no longer required to pay certain severance taxes derived from oil and gas extraction. This unexpected loss of revenue left the ANS inspection program in the lurch, and numerous associated agencies – to include CPW – were left scrambling to fill in the funding gaps as best they could. While state legislation to generate the revenue the program requires has been proposed, its fate remains uncertain.
The precise vector for the Green Mountain Reservoir is unknown, but CPW implemented their containment protocols immediately, inspecting and placing a seal on all exiting boats that will prevent them from entering another body of water unless the boat has been decontaminated by a certified professional.
These common-sense measures on the part of CPW have been complimented by Reclamation's efforts to obstruct locations where unauthorized boat launches are known to occur. However, given the reservoir's lengthy perimeter and close proximity to private lands, preventing unauthorized boat launches is a challenge. To date, the Green Mountain Power Plant crew has installed boulders at all the locations along Federal lands vulnerable to furtive boaters. Additionally, the Green Mountain crew worked with Forest Service and CPW to post signs in shallow waters of the reservoir immediately adjacent to private lands where unauthorized boat launches are suspected.
The Eastern Colorado Area Office (ECAO) has requested funds for a decontamination station at Green Mountain Reservoir in its fiscal year 2018 budget proposal. In terms of monitoring, CPW has instituted a testing schedule in line with its ANS protocols. The protocols will last until the reservoir shows no signs of adult or larval quagga mussels or the worst-case scenario materializes... an adult infestation.
The threat to facilities across Reclamation remains ever-present. Monitoring, effective recreation partnerships, and a state agency with the authority to detain and fine boaters remain the best weapons at Reclamation's disposal as ECAO staff endeavor to maintain the prodigious contributions of the Colorado-Big Thompson and Fryingpan Arkansas projects to the citizens of Colorado.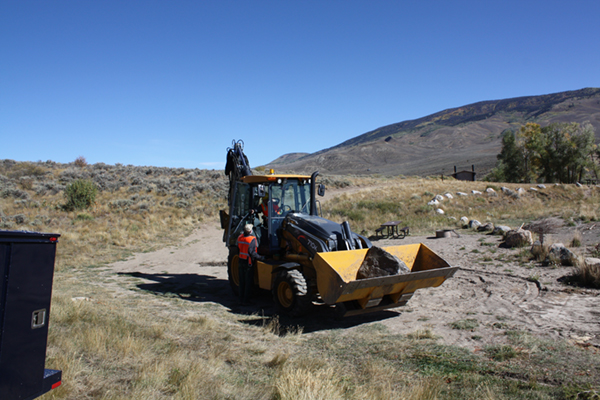 Placing boulders at Green Mountain Reservoir to prevent unauthorized boat launches.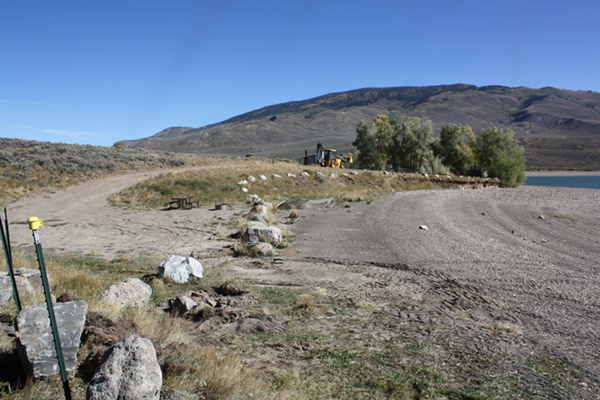 Area showing potential access point for unauthorized boat launches at Green Mountain Reservoir.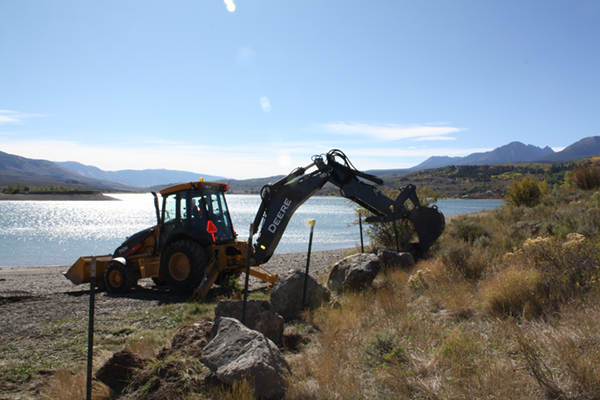 Workers move boulders into place at Green Mountain Reservoir to prevent unauthorized boat launches.
Published on January 12, 2018