Operation: Golden Coyote
Written by: By Patience Hurley, DKAO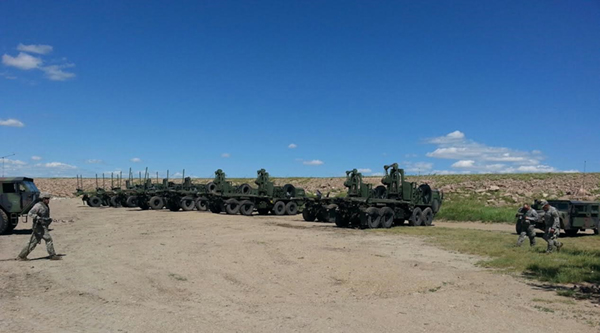 The SDARNG's 189th Medivac unit participated in Convoy Lane Training at Belle Fourche Reservoir as part of leadup training for the Golden Coyote Exercise.
Reclamation and the South Dakota Army National Guard (SDARNG) are in year four of a five year agreement permitting the Guard access to Reclamation lands at Belle Fourche Reservoir in Western South Dakota to conduct Operation Golden Coyote.
Golden Coyote is a military training exercise that ran from June 10 through June 24 this year. Soldiers camped in Reclamation's Fruitdale Recreation Area on the north side of State Highway 212, while troop training was conducted between North Canal and the Off Road Vehicle Area. More than 200 soldiers performed dry span bridging and improved ribbon bridge training activities as part of the 2017 exercise.
Each year Operation Golden Coyote includes different units from around South Dakota, surrounding states, and several foreign countries. As part of the exercise, they take time to participate in the "We Love Our National Guard" day. This year, Christine Bestgen, an American Gold Star Mother was a featured speaker. Gold Star Mothers are those having lost a son or daughter in military service. The American Gold Star Mothers honor their fallen children through being of service themselves to veterans and patriotic events like "We Love Our National Guard" day.
Ms. Bestgen lost her son Dennis five years ago while he was serving in Afghanistan with the SDARNG's 200th Engineer Division. This year, the 200th Engineer Division trained during Operation Golden Coyote at "Forward Operating Base Orman," so this was a particularly special event where Ms. Bestgen was able to honor her son. In addition to Operation Golden Coyote, the SDARNG's local 842nd Engineering unit trained at Belle Fourche Reservoir assisting Reclamation and the Belle Fourche Irrigation District on heavy maintenance projects. The 842nd utilized bulldozers, scrapers and backhoes to replace deteriorated culverts on Owl Creek Road, install new culvert on Middle Point Road, shape and gravel new parking lots at South Canal Inlet and the Warm Water Slough Area, neatly stockpiled delivered rip rap for the Gadens Point rip rap project, and began reclaiming the sediment retention pond below Orman Dam. If weather permits, the 842nd will continue to reclaim the sediment retention pond during future weekend exercises.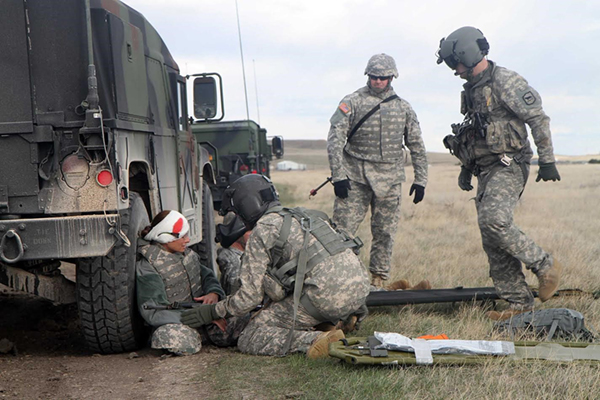 Soldiers patrolled in Humvees on the Fruitdale access road and encountered a grenade simulator and a smoke grenade in a burn barrel. Soldiers were injured and laying along the road. Unharmed soldiers dismounted Humvees, provided security and called in Air-Medivac. A UH60 helicopter landed and medivac injured soldiers. Soldiers used blank ammunition to aid in the realism of the training activity. All blank ammunition was fired from vehicles on the road or from soldiers on foot near or on road.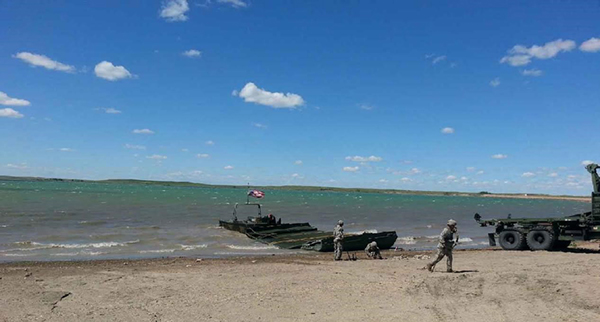 Soldiers from the 200th Engineer Division conducting Dry Span Bridging and Improved Ribbon Bridge training activities on Reclamation lands at Belle Fourche Reservoir as part of the 2017 Golden Coyote Exercise.
Published on January 12, 2018