Hurricane Harvey & Reclamation Preparation at Choke Canyon Dam
Hurricane Harvey & Reclamation Preparation at Choke Canyon Dam
Written by: By Matt Warren and Adam Milligan, OTAO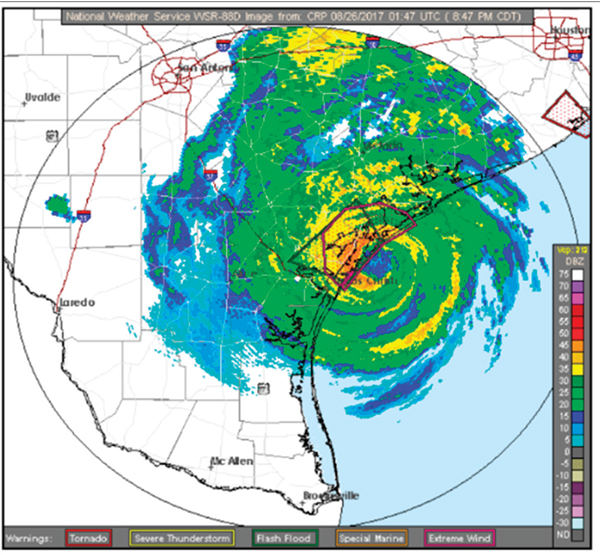 National Weather Service radar. August 25, 2017.
Prior to the arrival of Category 4 Hurricane Harvey along the Texas shoreline, Reclamation's Oklahoma-Texas Area Office (OTAO) actively prepared for potential impacts to Choke Canyon Dam and Reservoir (Nueces River Project, Texas). Choke Canyon Dam is a modern Reclamation owned dam that is operated and maintained by the City of Corpus Christi (City). It is located between San Antonio and Corpus Christi, Texas.
Flood control benefits were not included in the original project authorization at Choke Canyon Dam and Reservoir, which means there is no allocated flood control pool, as commonly found at many Reclamation Reservoirs. As a result, Reclamation has complete oversite responsibility for all decisions about operations and releases from Choke Canyon Dam once the reservoir is full. When this occurs, OTAO is required to make controlled spillway releases into the downstream river channel. In preparation for Hurricane Harvey, OTAO reviewed its Choke Canyon Reservoir Operations Model, which was created as a tool to aid in determining appropriate spillway gate operations by estimating the reservoir elevation based on river inflows and anticipated releases. Data input and output for this model requires coordination with several agencies to ensure Reclamation receives timely on-the-ground observations and/or forecast data.
Additionally, Reclamation must ensure that other agencies and authorities receive timely information regarding operational changes at Choke Canyon Dam. As conditions in the Gulf of Mexico deteriorated with the development of Hurricane Harvey, OTAO ensured 24-hour contact information was accurate and available. Furthermore, pre-determined loss of communication procedures were reviewed with appropriate on-site entities. Prior to landfall, OTAO directly communicated with the Corpus Christi Weather Forecast Office and West Gulf River Forecast Office to verify procedures were in place for receiving and sending vital information, such as reservoir forecast and spillway gate operation data.
Reclamation specifically coordinated closely with the City to review the Standing Operating Procedures (SOP) and the Emergency Action Plans (EAP) for high flow events (i.e. Surcharge Operations). These pre-planned documents are crucial for implementing operational requirements and guidance for dam and public safety. Reclamation and the City communicated with one another over the weekend and both were ready to engage with local emergency managers and other authorities who are responsible for issuing public warnings and/or issuing evacuations to the population at risk.
Fortunately, many of these agencies recently practiced their response to Choke Canyon Dam surcharge operations in a Reclamation hosted Functional Emergency Management Exercise (i.e., simulated movement of personnel and equipment for emergency procedures) earlier this year and subsequently are familiar with pre-determined procedures. Additional preparation from OTAO included reviewing stream gage information maintained by the United States Geological Survey and reviewing the plethora of available data and tools for monitoring Hurricanes through official government websites.
Reclamation and many other agencies and authorities were prepared to respond to the operations of Choke Canyon Dam as Hurricane Harvey made landfall on August 25, 2017. However, the heaviest rainfall was immediately east of Choke Canyon's drainage basin resulting in minimal inflows and no significant impacts at the Dam. Unfortunately, the story was very different for many who were impacted by the devastating storm as it moved east and out of Texas. As recovery efforts continue, our heartfelt support extends to all individuals affected by this hurricane season.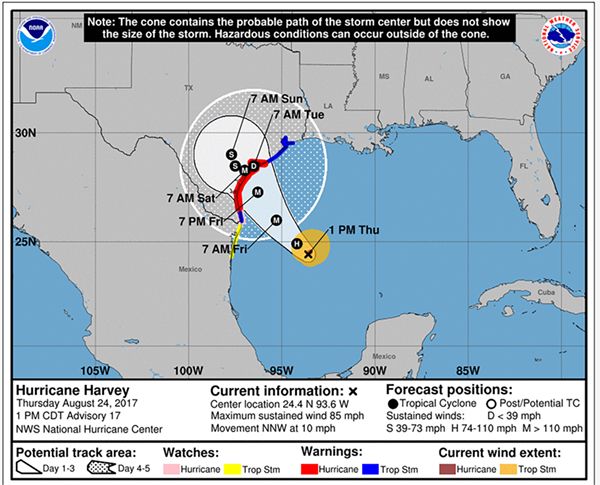 National Weather Service projected track of Hurricane Harvey.
Published on January 12, 2018