Accurate, Detailed, Accessible, Structured Data – The Movement for More...
Accurate, Detailed, Accessible, Structured Data – The Movement for More...
Written by: By Alex Duwe, NKAO


Visual Representation of the Levels of detail for ArcGIS.
As technology and procedures evolve, staying on top of data management is important to Reclamation. The usefulness of Geographic Information System (GIS) is becoming more prevalent on a daily basis, and the transition between old and new can be achieved with careful planning and organization. The transition to a central cloud-based GIS is upon us with the move to ArcGIS Online (AGOL). The need and interest is there, to have a complete comprehensive GIS of all Reclamation data, and the processes and standards are also evolving to make that a reality moving forward.
The Nebraska Kansas Area Office worked successfully with Frenchman Cambridge Irrigation District (FCID) to move data to a GIS. A comprehensive audit for Kansas Bostwick Irrigation District (KBID) No. 2 is ongoing with the NKAO Realty Specialist and GIS Specialist reviewing data of more than 160 sections of land. The original AutoCAD drawings will be edited and revised to form a final master file which will be agreed on by both Reclamation and KBID.
Reclamation will have a solid foundation to begin the process of transferring KBID data into a GIS, once the audit is complete. It will be included with all Reclamation interests including facilities, land, and transportation and recreation data. As data standards are agreed to and passed down, the KBID data will be extracted, edited and imported into AGOL, which will be accessible agency wide. The end state for the transition is to complete data entries for all irrigations districts within NKAO.
Through the process of auditing, editing and creating a new database, the finalized products will be beneficial for all irrigation districts in NKAO. The benefit of extensive work on mapping and gathering Reclamation data will be increase productivity, accuracy and accessibility.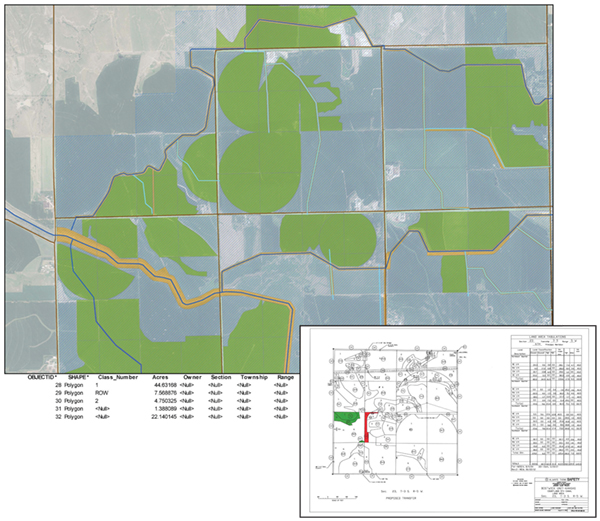 Updated GIS map showing Bostwick Unit - Kansas, Courtland 5th Canal land area. Lower right, original map - Bostwick Unit-Kansas.
Published on January 12, 2018