Trail Restoration Underway at Canyon Ferry Reservoir
Trail Restoration Underway at Canyon Ferry Reservoir
Written by: Taryn Preston, MTAO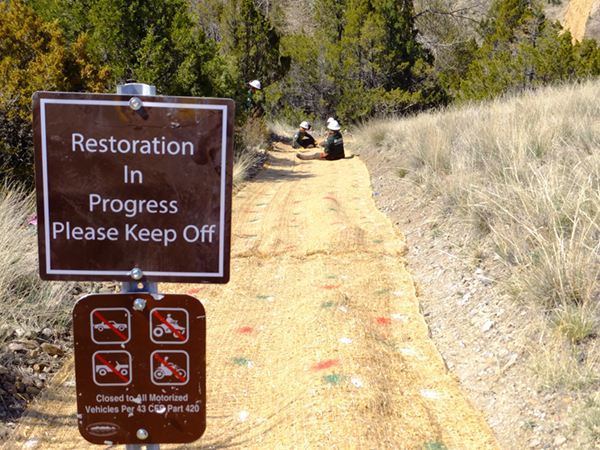 Signs are used to inform the public that restoration efforts are taking place.
Summer in Montana draws tens of thousands of visitors wishing to fish, boat, camp, hike, hunt, and explore at Canyon Ferry Reservoir. Most of these people will follow established rules, but some will push the limits, especially when it comes to the operation off-highway recreational vehicles (OHV). Canyon Ferry Reservoir is located in southwestern Montana, 20 miles east of Helena and less than a 2-hour drive from several major cities. Reclamation maintains primary jurisdiction over the 9,360 acres of land and associated resources around the reservoir, ensuring the healthy condition of public lands is preserved for the enjoyment by the public. OHV use at Canyon Ferry has become more popular, especially in dispersed camping areas that haven't been closely monitored, with many unauthorized trails emerging around the reservoir. Rules governing the use of OHVs are found in the Code of Federal Regulations (43 CFR PART 420.2), "Reclamation lands are closed to off-road vehicle use, except for an area or trail specifically opened to use of off-road vehicles in accordance with 420.21." Currently, there are no areas or trails that have been specifically opened for use of off-road vehicles at Canyon Ferry Reservoir.
Unauthorized OHV use creates many problems on landscape in addition to leaving a visible scar. Even one pass on sensitive soil can result in crushed and denuded vegetation, rutting that concentrates overland run-off causing accelerated erosion, reduced success of ground nesting birds, disrupted wildlife, increased spread of invasive plant species, increased risk of wildland fire, and increased conflicts with other recreationists. When unauthorized trails are not promptly addressed, the general public may believe that they too can use these trails or even create their own.
Canyon Ferry staff have worked to address unauthorized OHV issues, over the years, by placing signs and barriers at some locations. It has proved extremely difficult to reduce or stop most unauthorized OHV use with limited staffing. In 2013, efforts were increased to stop unauthorized OHV use and restore unsightly trails back into native rangeland. Aerial photography and handheld GPS units were used to map and inventory unauthorized trails, beginning on the east side of the reservoir. The east side had suffered most of the disturbance.
The Canyon Ferry Field Office collaborated with professors from Montana State University to set up field test plots to determine an appropriate native seed mix and to determine if erosion control fabric would assist in native plant growth on steep hillsides. An agreement was created in 2014 with the Montana Conservation Corps (MCC) to provide the labor needed to begin restoration efforts. MCC has helped Reclamation staff to restore several miles of unauthorized OHV trails on the east side of the reservoir over the past three years. These projects are continuously monitored to ensure OHV use does not reoccur in these same areas in order for the restoration process to be successful.
An interagency agreement was set up in 2014 to educate the public and enforce OHV regulations. The agreement with the US Forest Service included rangers to patrol OHV hotspots around the reservoir. Rangers have been very successful making public contacts, giving verbal warnings and in some extreme cases, writing citations. Additional public outreach was conducted in the form of two public meetings held in the summer of 2016 and the spring of 2017.
Monitoring over the past few years has been beneficial in showing that the type and intensity of use in this area has been increasing and clearly justifies restoration in this area. Unfortunately, there is a cost associated with restoring unauthorized trails. Canyon Ferry is expecting to spend approximately $15,000 to restore trails in this area in 2017. The Montana Conservation Corps and the US Forest Service will continue working closely with the staff at Canyon Ferry to continue restoration efforts along the north end of the reservoir where neighboring private landowners have created unauthorized OHV trails leading down to the reservoir.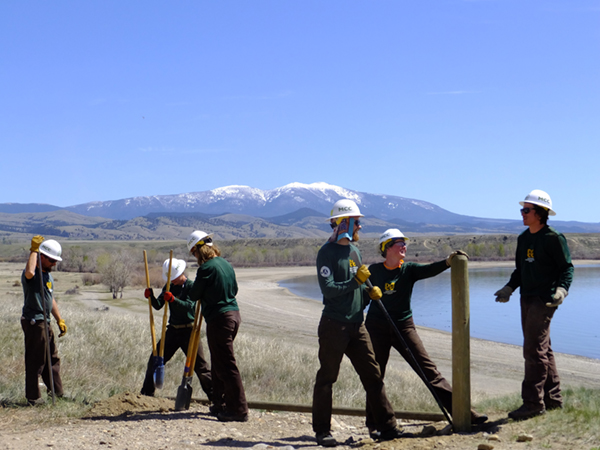 A Montana Conservation Corps crew replaces deteriorated fence to block unauthorized OHV access.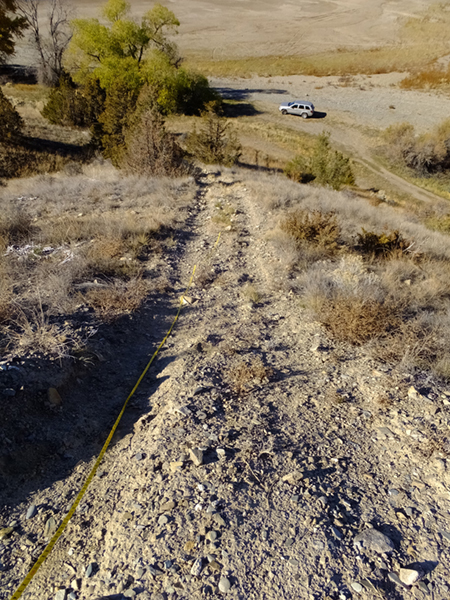 Steep hillsides marred by OHV use cannot regenerate on their own due to increased erosion after rainfall.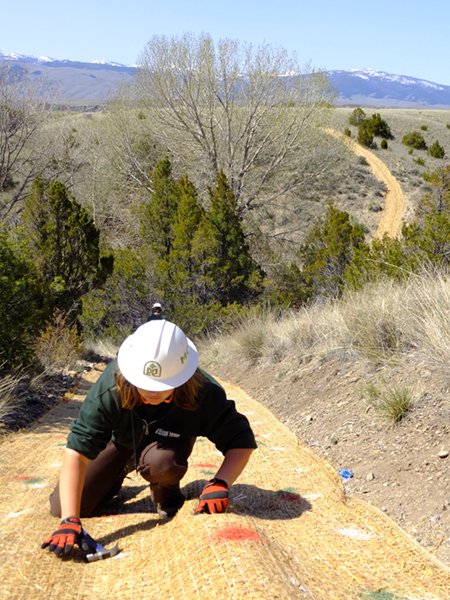 A Montana Conservation Corps member secures erosion control fabric to help native plants establish on a steep hillside.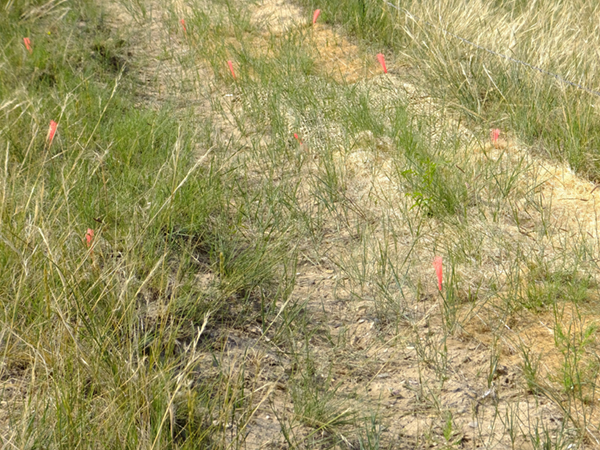 Native grasses are successfully growing through erosion control fabric on steep hillsides.
Montana Conservation Corps members rake and seed test plots with native vegetation to restore an OHV trail.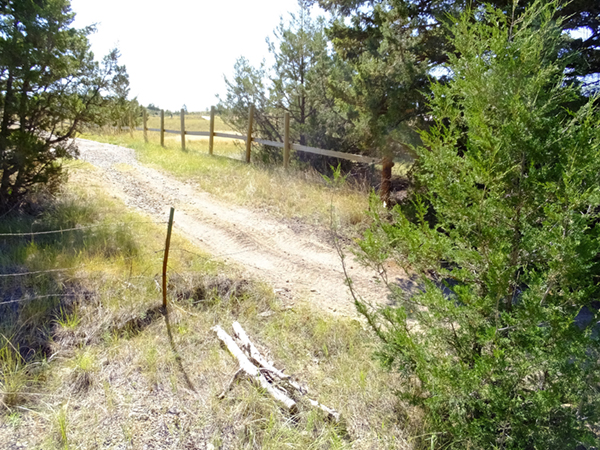 This unauthorized trail, created when someone cut the boundary fence, has seen heavy OHV use but will be restored this season with help from the MCC.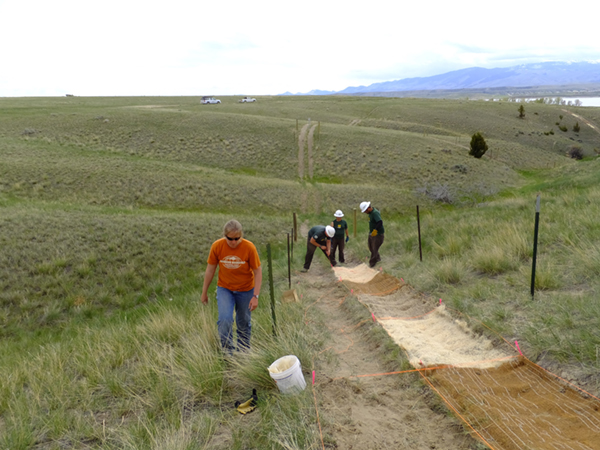 Canyon Ferry Natural Resource Specialist, Taryn Preston, has been working with crews from the MCC to determine the best methods of restoring trails with native vegetation.
Published on May 23, 2017