Co-op Agreement Brings New Treehouse Cabin Rental to Keyhole State Park
Co-op Agreement Brings New Treehouse Cabin Rental to Keyhole State Park
Written by: Patience Hurley, DKAO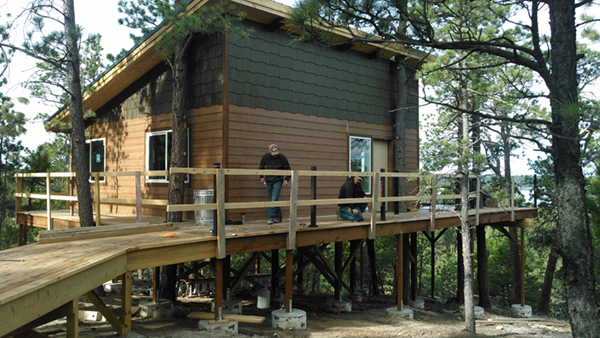 The new treehouse cabin rental at Keyhole State Park, Crook County, Wyo. The rental is expected to be completed in May 2017.
A new tree house camper cabin, the first of its kind in Reclamation, is nearing final construction at the Dakotas Area Office Keyhole Reservoir on the Keyhole State Park's Cottonwood Campground. The campground is managed by Wyoming State Parks, Historic Sites and Trails and is situated along the southeast shore of Keyhole Reservoir. The Park is located six miles north of Sundance, Wyoming, on the western edge of the Black Hills.
"The construction of the tree house cabin is made possible under a Title 28 Cooperative Agreement 50/50 cost share between Reclamation and Wyoming State Parks, Historic Sites and Trails at a total cost to Reclamation of $175-thousand," said Joe Hall, Environmental Resources Division Manager.
Since the enactment of Public Law 89-72 in 1965, Reclamation may provide up to 50-percent of the costs for planning and developing recreation facilities with non-Federal partners in which Reclamation has entered into a long term management agreement.
"Under our Title 28 Program, Wyoming State Parks, Historic Sites and Trails' Project Manager, Conrrado Deniz, was able to design the tree house cabin," said Joe Hall. "This is an exciting addition to Keyhole State Park and is not only a first of its kind for Reclamation, when completed, it will be the first of its kind in the Wyoming State Parks' system."
The tree house camper cabin is 576 square feet, includes two bedrooms, a main room, a storage/utility closet, a deck and is universally accessible. Basic electric services and an electric fireplace will light and warm the cabins. With its elevation six to ten feet off the ground, the tree house camper cabin has a beautiful view looking through the trees towards Keyhole Reservoir.
In addition to the new tree house camper cabin, visitors to Keyhole Reservoir will find world class bird watching opportunities with 225 species of birds for viewing, an abundance of wildlife to include white tailed deer and wild turkeys, and the Reservoir offers top notch ice fishing opportunities in the winter months.
Construction of the tree house camper cabin is scheduled for completion in May. Keyhole State Park anticipates adding the tree house camper cabin to their online reservation system by early June and are projecting nightly fees for the tree house to run between $100 and $150. Once available, reservations may be made at travel.wyo-park.com/campgrounds-and-rv-parks/all/keyhole-state-park/reservations.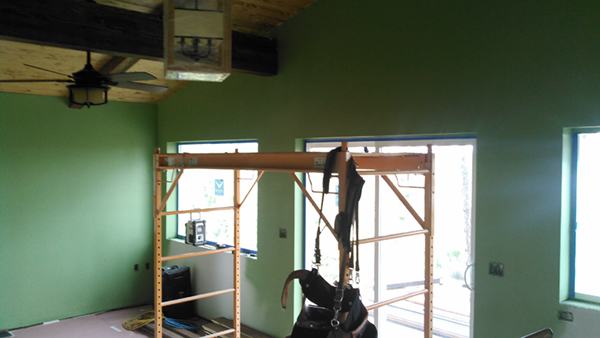 Treehouse cabin interior under construction.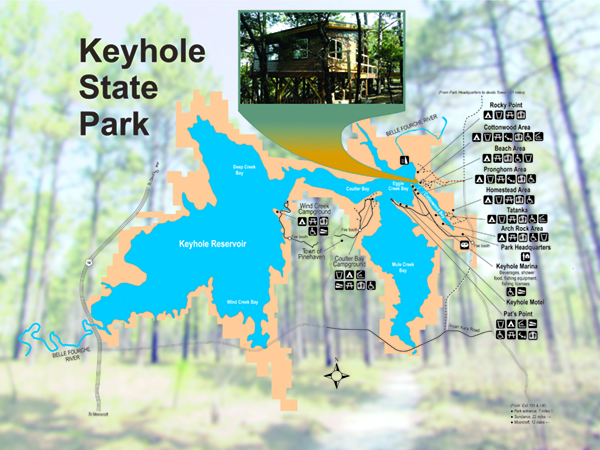 Map of Keyhole State Park showing location of the treehouse cabin rental.
Published on May 23, 2017