Reclamation Holds Public Negotiations for Green River and Lake Powell Pipeline Water Exchange Contracts
Reclamation Holds Public Negotiations for Green River and Lake Powell Pipeline Water Exchange Contracts
Written by: Andrew Kirby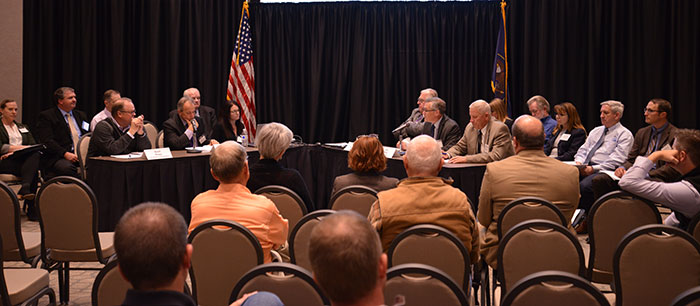 Green River water exchange negotiations (L-R) Brent Rhees, Wayne Pullan, Valerie Deppe and the State of Utah representativesAfter years of discussions between Reclamation and the State of Utah on the state's use of a specific Green River water right, the two parties began public negotiations on October 30, 2017 and December 4, 2017 for two water exchange contracts. In both negotiations, Reclamation is partnering with the state to help facilitate its use of its Colorado River apportionment.
The first exchange negotiation is for water use in the Uintah Basin of Northeastern Utah and focuses on a concept whereby Utah will trade use of variable Green River tributary flows for reliable releases from Flaming Gorge Dam. Such an exchange preserves Reclamation's flexibility to meet Flaming Gorge Dam Record of Decision obligations while providing a reliable water source and more certain timing of flows for the Utah. The second negotiation is for water the state proposes using to supply its Lake Powell Pipeline project. Under the LPP exchange concept, the state will also trade use of variable Green River tributary flows for reliable releases from Flaming Gorge Dam. In addition, those flows would be allowed to flow from Flaming Gorge Dam to Lake Powell for delivery through the state's planned Lake Powell Pipeline. Each contract will include provisions under which the state will compensate the United States for benefits Utah receives from existing federal water facilities—like Flaming Gorge and Glen Canyon Dams.
The open nature of these public negotiation meetings is very important to Reclamation and the stakeholders we serve. "Public meetings are important. These public meetings are where a democratic government reports on its activities to its citizens, and it is where we receive feedback from them. In these aspects, public negotiations are some of the best things we do as public servants," said Wayne Pullan, Provo Area Office Manager.
Negotiation attendees at the St. George meeting provided both formal and informal comments during a pre-meeting open house and a post-negotiation comment session. Comments were generally positive; several attendees expressed their support for the Lake Powell Pipeline, as well as their general appreciation for Reclamation's work. Commenters also noted that they appreciated Reclamation's decision to make the negotiation public. Some commenters expressed skepticism about the need for the project, noting that stricter conservation measures would be preferable to the construction of the pipeline.
While Reclamation is partnering with Utah for these water exchange contracts, it has not taken a position on state's Lake Powell Pipeline proposal. A completed exchange agreement will support the state's desire to develop its water right while preserving Reclamation's ability to meet Endangered Species Act-related flow requirements in the Green River.
Reclamation's negotiation team was led by Provo Area Office Manager Wayne Pullan and included Regional Director Brent Rhees and economist Valerie Deppe. The State of Utah was represented by lead negotiator and Utah Division of Water Resources Director Eric Millis as well as Gawain Snow, general manager of the Uintah Basin Water Conservancy District, and Ron Thompson, general manager of the Washington County Water District.
Negotiations will resume on Thursday, January 18, in Salt Lake City, where a public open house will begin at 8:00am. These negotiations are unrelated to the environmental review process associated with the Pipeline.
Published on February 01, 2018