Reclamation Tests New Folsom Dam Auxiliary Spillway Ahead of Final Commissioning
Reclamation Tests New Folsom Dam Auxiliary Spillway Ahead of Final Commissioning
Written by: Margaret David Bailey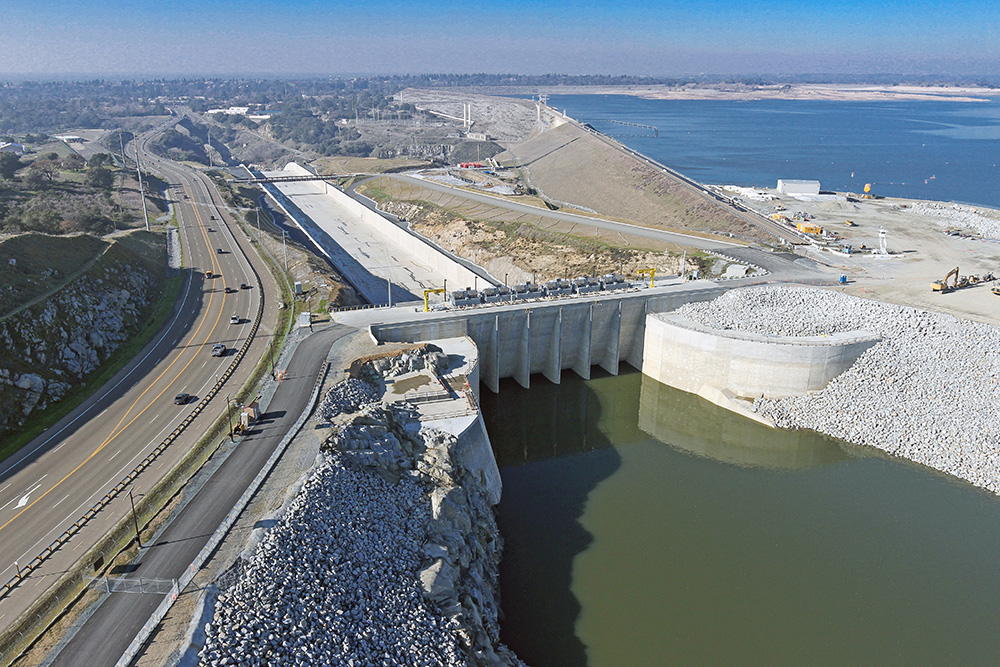 Folsom Dam's auxiliary spillwayThe Bureau of Reclamation and the U.S. Army Corps of Engineers are currently testing Folsom Dam's auxiliary spillway, part of the official commissioning of the newly constructed structure.
The Corps, in cooperation with Reclamation, are testing all of the major systems in the structure, ensuring that the facility operates as intended in the design. The tests, underway this week and next, include operating and releasing water from all six new auxiliary spillway radial gates.
Folsom Dam and Reservoir is a component of Reclamation's Central Valley Project, and is operated by its Mid-Pacific Region's Central California Area Office. Reclamation and the Corps have multiple authorized projects at Folsom Dam and its related structures. Known as the Joint Federal Project, or JFP, Reclamation, the Corps, the Sacramento Area Flood Control Agency, California Department of Water Resources, and the Central Valley Flood Protection Board formed an unprecedented partnership more than a decade ago to provide enhanced flood protection for the Sacramento area – one of the most at-risk communities in the nation.
The JFP's new auxiliary spillway was constructed adjacent to the main concrete dam. It is the key feature to improving Folsom facility's flood risk management. Substantially completed in October 2017, the auxiliary spillway includes a 1,000-foot-long approach channel beginning in Folsom Reservoir, a concrete control structure with six bulkhead and six radial gates, a 2,100-foot-long auxiliary spillway chute, and a stilling basin that will act as an energy dissipation structure as water discharges and enters the American River.
The new facility, once fully commissioned early this year, will demonstrate the operability of the spillway to better manage large floods by safely releasing more water from Folsom Reservoir earlier during a storm through both the spillway gates on Folsom Dam (which sit at elevation 418 feet) and the new control structure's radial gates (which sit 50 feet lower in the reservoir at elevation 368 feet), reducing hydrologic risk and leaving more storage capacity in the reservoir.
During construction of the JFP, Reclamation has continued to operate Folsom Dam and Reservoir for water supply, power generation, fish and wildlife mitigation and enhancement and other required purposes.
Published on January 23, 2018