Yankee Fork Restoration Work Receives Chief's Honor Award
Yankee Fork Restoration Work Receives Chief's Honor Award
Recognizes a five-year collaborative effort to restore the waterway and fish habitat
Written by: Dave Walsh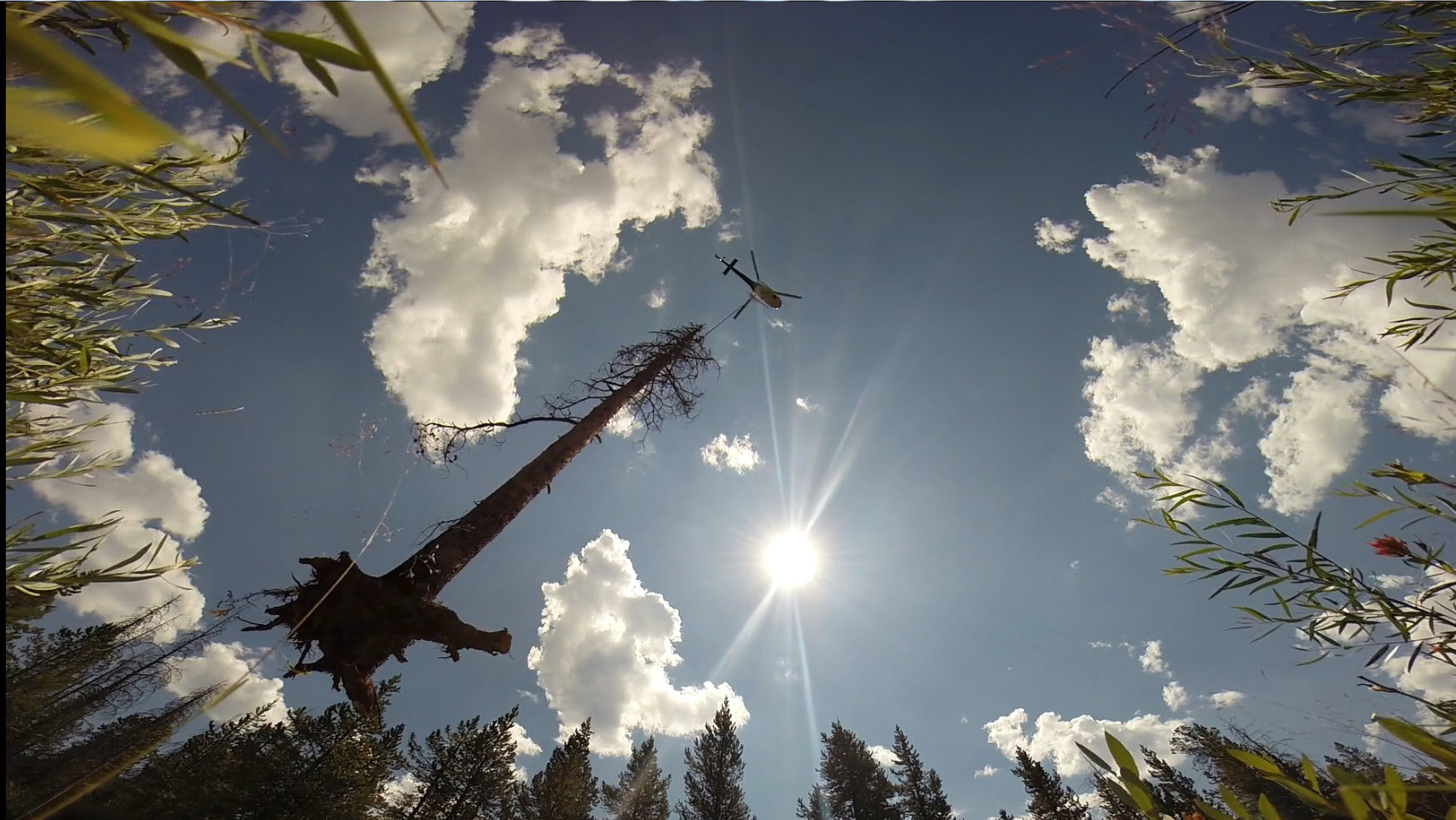 A helicopter transports large trees and root wads that were placed in the Yankee Fork stream channel for fish habitat. ( Photo by Jim Gregory, Trout Unlimited) The Yankee Fork Restoration Project Team, which includes Bureau of Reclamation technical staff, received the U.S. Forest Service's top honor on Dec. 7 at the Department of Agriculture's headquarters in Washington, DC. Jeff Peterson, habitat manager with the PN Region Columbia / Snake Salmon Recovery Office (CSRO), represented Reclamation during the ceremony.
"Our PN staff and partner team members worked to improve the river to a natural condition. To be honored for these efforts is a satisfying and proud moment for everyone involved," said Peterson.
Called the Chief's Honor Awards, they are the highest honor in the Forest Service and are presented annually to employees and partners who find innovative ways to embrace the agency's strategic plan goals.
"You matter. Your contributions make a difference. They make a difference on the land. They make a difference to community. They make a difference to people everywhere," said Tony Tooke, chief of the U.S. Forest Service.
The multi-year project, is located on the Yankee Fork River, 21 miles northeast of Stanley, Idaho. Team members were praised for their success in improving fish habitat that was heavily impacted by a gold dredge. The project also was noted for its collaborative spirit illustrated by the broad range of partners involved.
"This effort is remarkable in that the Salmon-Challis collaborated with numerous federal, state, tribal, and private organizations to implement a major fish habitat project in a 28-mile section of the Yankee Fork," said U.S. Forest Service Deputy Chief Leslie Weldon.
"Their restoration efforts paid off with juvenile steelhead and chinook salmon using the pools created by woody debris and the first sighting of Chinook salmon spawning in the restored section," Weldon said. Reclamation's CSRO program has been working intensively with many partners in the Yankee Fork basin for the last seven years. The habitat restoration work was performed to meet the National Marine Fisheries Service (NOAA Fisheries) 2008 Biological Opinion for operation of federal dams in the Columbia River Basin. The Yankee Fork is part of the upper Salmon River sub-basin, which is one of nine sub-basins where fish habitat work is performed.
Members of the Reclamation Yankee Fork Watershed Restoration Team identified for this award on this project are as follows:
Geologist and Project Lead Edward Lyon, Project Lead Paul Drury, Hydrologic Engineer Michael Knutson, GIS Specialist Dale Lindeman, River Engineer Christopher Cuhaciyan, River Engineer Justin Nielsen, Technical Writer Kelly Vick, Geologist Robert McAffee, Habitat Manager Jeff Peterson, Program Analyst Dorothy Finaldi, Sub-basin Liaison Al Simpson and Engineering Technician Matt Bergstrom.
In addition to the Bureau of Reclamation, other partners on the restoration team recognized were U.S. Forest Service, Bonneville Power Administration, Idaho Fish and Game, Idaho Governor's Office of Species Conservation, Trout Unlimited, the J.R. Simplot Company, NOAA Fisheries, Shoshone-Bannock Tribes, Tiffany and Company Foundation, and the U.S. Fish and Wildlife Service.
See a video of the Chief's Honor Awards: https://youtu.be/5jUjAgmYD5A?t=43m42s

These logs, placed strategically within the stream channel, provide cover for anadromous fish in the Yankee Fork. ( BOR Photo by Mike Knutson )
Published on December 15, 2017