Reclamation Employees Host a Special Make-A-Wish Guest at Hoover Dam
Reclamation Employees Host a Special Make-A-Wish Guest at Hoover Dam
Written by: Rose Davis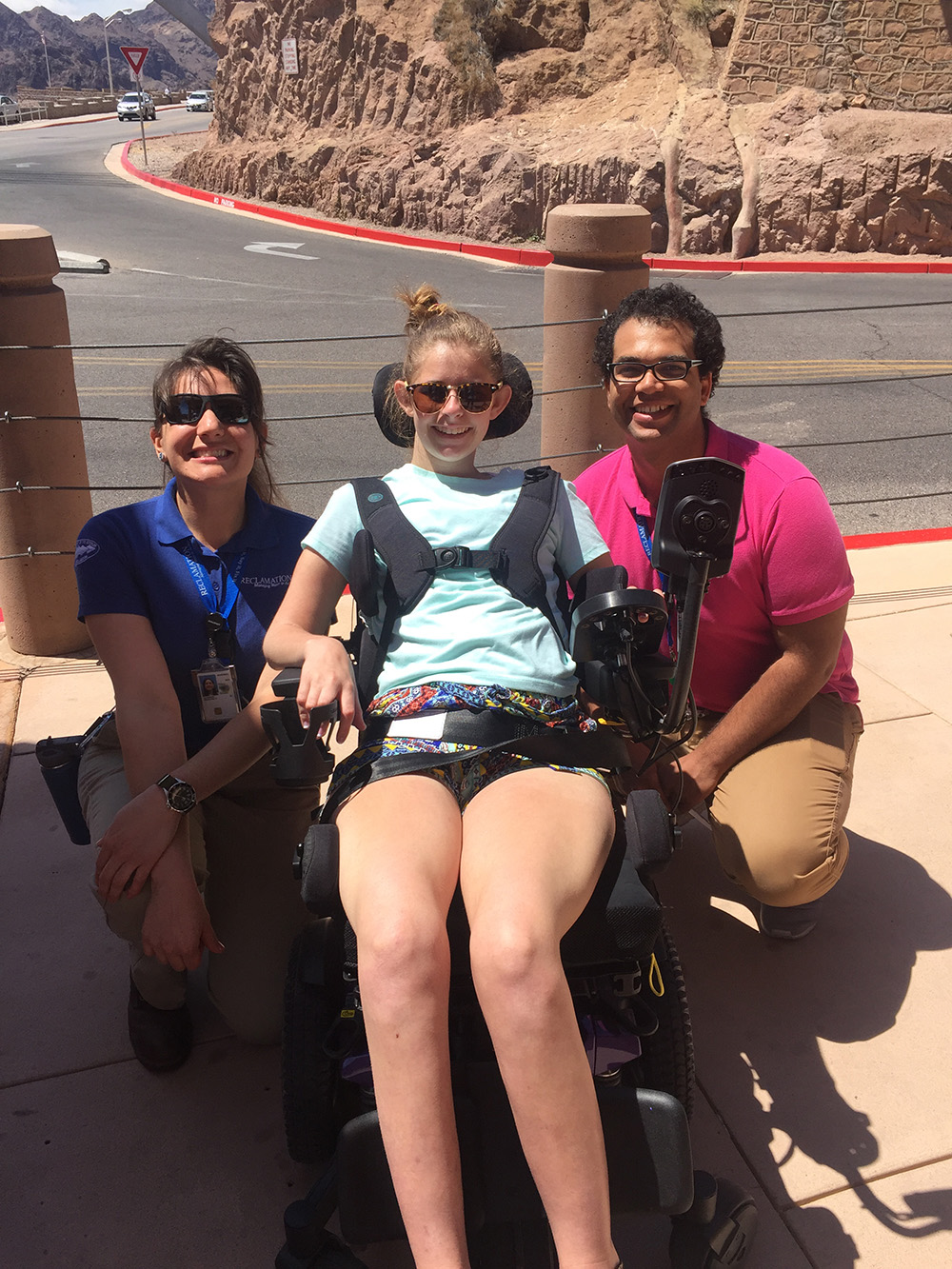 Hanna with Travis and Angie at Hoover Dam.On May 10, 2017 Reclamation employees Travis Grundy and Angie Johnson took a very special visitor on a tour of Hoover Dam as part of the Make-A-Wish program.
Hanna, 16, is from Randleman, North Carolina. At the age of 15, she was diagnosed with Amyotrophic Lateral Sclerosis (ALS). ALS is extremely rare in young people; most cases appear in people between the ages of 40-70. Hanna's disease is progressing quickly - diagnosed less than a year ago; she is already confined to a wheelchair. Hanna was a dancer before her diagnosis, so it's been difficult for her to accept the fact that she is ill.
Although she can't do all the things she used to enjoy, she's still like most other teenagers - always on her phone, playing on her iPad, and going to the movies with her friends. Her favorite class in school is history, so she was excited to go to Las Vegas to see some of the iconic landmarks she has learned so much about!
While she is in Las Vegas, Hanna wanted to visit Madame Tussauds wax museum, see a Cirque du Soleil show, tour the Mob Museum, see the Blue Man Group perform, ride the roller coaster at New York New York, and visit Hoover Dam. Travis and Angie took Hanna and her family on a guided tour of the dam. They also met with Lower Colorado Dams Area Manager Len Schilling and his executive assistant Connie Hack as Len presented her with the 100% Copper Cement Bucket Medallion.
This is the first time that Hanna has ever flown in an airplane and she wanted to have the most memorable experience possible here in Las Vegas so her trip would not be complete without being able to experience Hoover Dam. All of us in the Lower Colorado Region are so proud to have been part of Hanna's experience in Nevada.
Published on May 10, 2017