Lake Nighthorse Recreation Management Lease Agreement Signed
Lake Nighthorse Recreation Management Lease Agreement Signed
Written by: Justyn Liff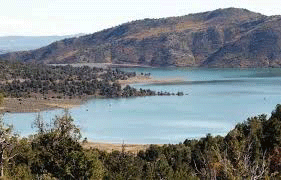 Photo of Lake NighthorseReclamation's Western Colorado Area Office and City of Durango finalized and signed a lease agreement for recreation management at Lake Nighthorse on January 27, 2017. The 25 year agreement transfers recreation management and related responsibilities to the city; including developing, construction and maintaining facilities and other improvements within the recreation area. Under the agreement, the city will ensure that recreation area administration and associated land use comply with all applicable Federal and State laws and regulations.
The agreement is contingent on the city annexing approximately 500 acres of land at Lake Nighthorse including 1,500 water surface acres in order to provide management, law enforcement and emergency services at Lake Nighthorse. WCAO and the city will begin the annexation process soon. The WCAO is currently in the process of negotiating a new Programmatic Agreement with the Colorado State Historic Preservation Office that will cover Section 106 of the National Historic Preservation Act compliance for the ongoing operations and maintenance of the Animas La-Plata Project, as well as for the recreation plan. When enacted this Programmatic Agreement will replace the Programmatic Agreement that was originally developed for the construction of the project. The WCAO is conducting tribal consultations with 25 tribes on the cultural resources management plan and Programmatic Agreement for the area.
In December 2016, WCAO released the Finding of No Significant Impact and final Environmental Assessment for the Lake Nighthorse Recreation Plan. The selected alternative is the 2014 Recreation Plan proposed by the City of Durango. The 2014 Recreation Plan recommends implementing a small-scale, staged approach to the development of recreational opportunities and facilities, while protecting water quality, cultural resources, and the primary purposes of Lake Nighthorse.
Recreation development will include: public restrooms, and overflow parking area for the boat ramp, access road improvements, and development of a courtesy dock system at the boat ramp. Recreation activities will be day use only and include: canoeing, kayaking, rowing, sculling, and stand-up-paddle boarding; swimming and scuba diving; and fishing. Motorized boating would be allowed, however, the lake will be closed to all motorized boating from late fall to late spring.
Published on February 01, 2017