Monticello Dam and its Morning Glory Spillway
Monticello Dam and its Morning Glory Spillway
Written by: Winetta Owens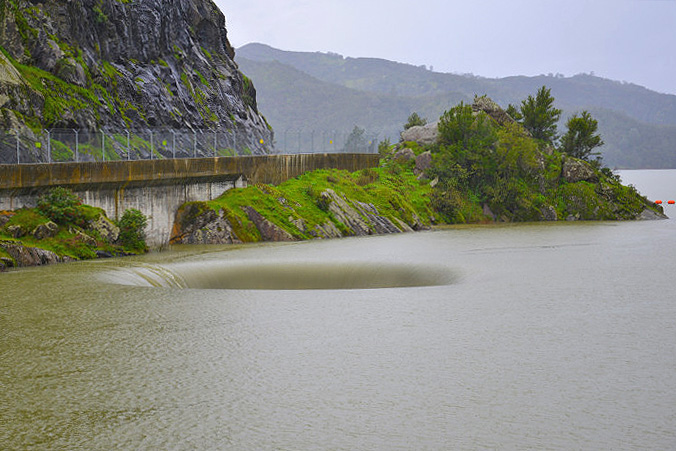 Monticello Dam's Morning Glory Spillway Feb. 21, 2017Lake Berryessa in Napa County, California, reached elevation 440 feet around 6 a.m. Friday, Feb. 17, at which time water began spilling into Monticello Dam's Morning Glory Spillway. The spillway is a tunnel-shaped outlet that can swallow lake water at a rate of up to 48,000 cubic feet per second and then discharge it 700 feet below into Putah Creek. The last time water spilled into the Morning Glory Spillway was 2006.
The Bureau of Reclamation first employed bell-mouth spillways - also known as glory holes - in dam design at the Montana Milk River Project's Lake Sherburne Dam in 1921. Reclamation used this spillway type in Oregon's Owyhee Dam in 1932 and in 1953 on the Hungry Horse Dam in Montana. Between 1953 and 1967, Reclamation utilized the bell-mouth spillway design in California at the Trinity Dam, Monticello Dam and San Luis Dam.
To view a video of the spillway in action, please visit the Mid-Pacific Region's Central Valley Project Twitter page at https://twitter.com/ReclamationCVP/status/834512719101333504
*Note: Some Internet Explorer users may not be able to view the video. Please try Google Chrome or other.
Published on February 27, 2017