Reclamation begins constructing water system under Aamodt Indian Water Rights Settlement
News Release Archive
Reclamation begins constructing water system under Aamodt Indian Water Rights Settlement
Media Contact: Mary Carlson, (505)462-3576, mcarlson@usbr.gov

For Release: August 13, 2020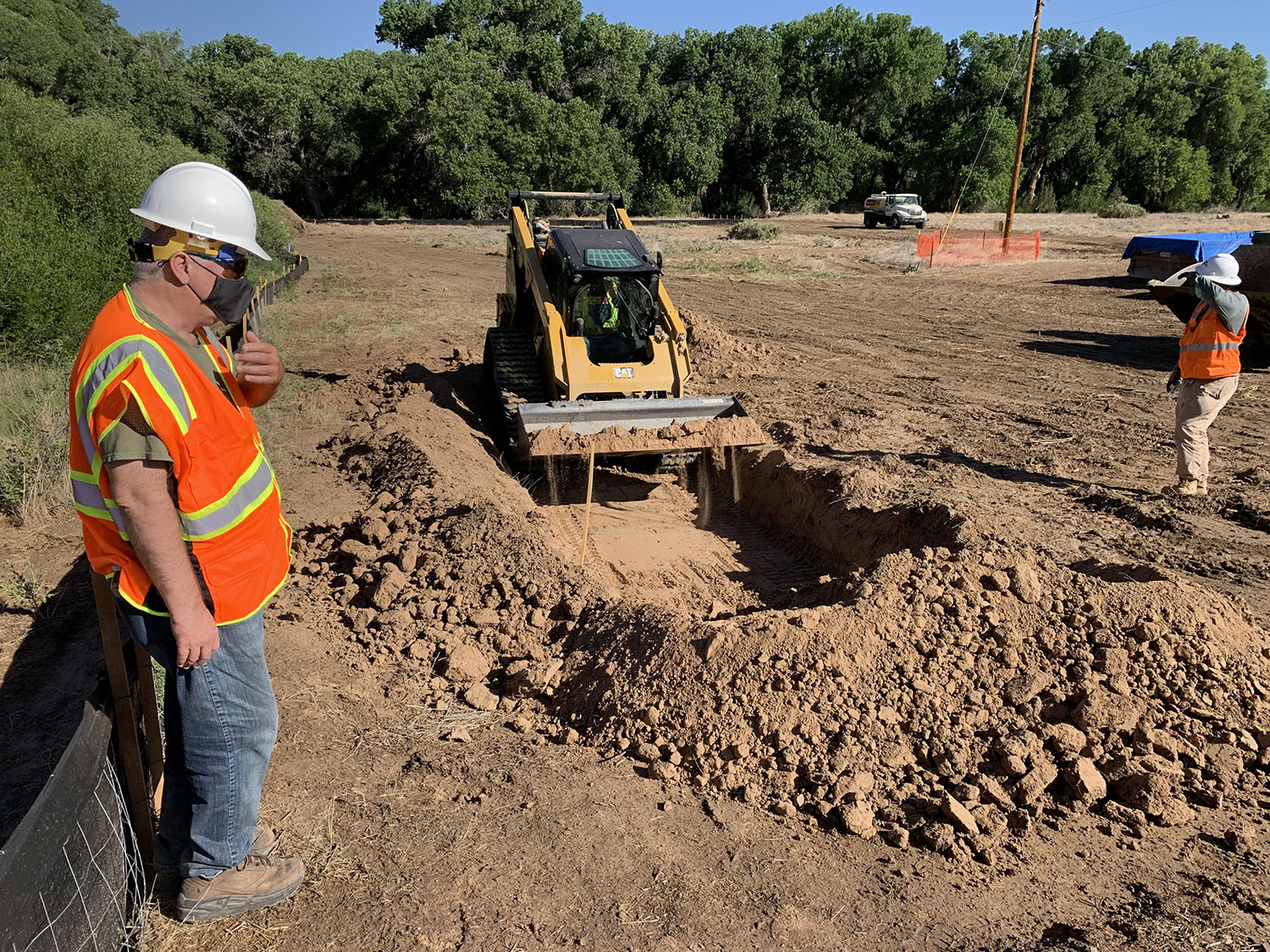 Albuquerque Area office Archaeologist Larry Moore oversees initial excavation at the PBRWS construction site. POJOAQUE, N.M. – The Bureau of Reclamation began construction on August 10, 2020 on a water system that will bring clean drinking water to approximately 10,000 people and ensure a reliable water supply for residents of the Pueblos of Pojoaque, Nambé, San Ildefonso and Tesuque, as well as some residents of Santa Fe County.
"This is an exciting day for Reclamation and all Aamodt Indian Water Rights Settlement parties," said Commissioner Brenda Burman. "Countless hours of hard work and coordination between the many partners led to this moment, and we can now begin building this water system."
Construction officially began this week at the water intake features on San Ildefonso Pueblo. Phase one of the project includes water intake structures, a control building, 20 miles of water conveyance pipeline, three water storage tanks and a water treatment plant on San Ildefonso, Pojoaque and Nambe Pueblos.
"The start of the construction of the Pojoaque Basin Regional Water System is a milestone that we at the Pueblo de San Ildefonso have heard and talked about for many years and it is hard to believe that it is finally happening. This is because the Pueblo has been involved in the Aamodt water rights litigation for decades and the regional water system is a core part of that settlement that previous San Ildefonso Governors and Tribal Council members have long discussed, debated, negotiated and fought for because the regional water system will insure clean drinking water for our Pueblo community and others in the Pojoaque Basin," said Pueblo de San Ildefonso Governor Perry Martinez. "The Pueblo de San Ildefonso, along with leaders from my sister Pueblos of Nambe, Pojoaque and Tesuque, and our partners at the County of Santa Fe, the City of Santa Fe and the State of New Mexico have worked diligently for many years and overcame many hurdles to get to this point and I applaud everyone's efforts today."
The water system will divert water from the Rio Grande in northern New Mexico. The system will include water treatment facilities, along with storage tanks and transmission and distribution pipelines with the capability to supply up to 4,000 acre-feet per year (about 3.57 million gallons per day) of drinking water.
The Pojoaque Basin Regional Water System is part of the Aamodt Settlement Agreement and was authorized by Congress under the Aamodt Litigation Settlement Act of 2010 to settle Indian water rights disputes in the Pojoaque Basin.
"The Pueblo of Nambé is pleased that the construction of the Pojoaque Basin Regional Water System is beginning, marking a significant step toward implementation of the Aamodt water rights settlement. Construction of the Regional Water System represents the cooperative resolution of over more than four decades of litigation," said Nambe Pueblo Governor Phillip A. Perez. "The Pueblo, together with the Pueblos of Pojoaque, San Ildefonso and Tesuque, and their partners the County of Santa Fe, the City of Santa Fe and the State of New Mexico are finally starting construction of a water system that will provide reliable, clean water to the four Pueblos and the residents of the Pojoaque Basin. On behalf of the Pueblo of Nambé, please join me in celebrating this important occasion."
"We are excited to finally begin constructing this vitally important project that will soon deliver a firm, reliable, and safe water supply to all the Aamodt settlement parties in the Pojoaque Valley," said New Mexico State Engineer John D'Antonio.
"Santa Fe County applauds this significant step forward toward completion of the Pojoaque Basin Regional Water System, the signature feature of the Aamodt Settlement which will bring a new source of safe and reliable drinking water to the Pojoaque Basin. We look forward to working with all of our partners and the Bureau of Reclamation to ensure sufficient federal funds are authorized to complete the project beyond this stage of limited construction," said Santa Fe County Manager Katherine Miller.
# # #
The Bureau of Reclamation is a federal agency under the U.S. Department of the Interior and is the nation's largest wholesale water supplier and second largest producer of hydroelectric power. Our facilities also provide substantial flood control, recreation opportunities, and environmental benefits. Visit our website at https://www.usbr.gov and follow us on Twitter @USBR; Facebook @bureau.of.reclamation; LinkedIn @Bureau of Reclamation; Instagram @bureau_of_reclamation; and YouTube @reclamation.