Reclamation announces additional options on Canyon Ferry Campground Reservation System
News Release Archive
Reclamation announces additional options on Canyon Ferry Campground Reservation System
Media Contact: Jack Conner, (406) 247-7300, jconner@usbr.gov

For Release: February 21, 2019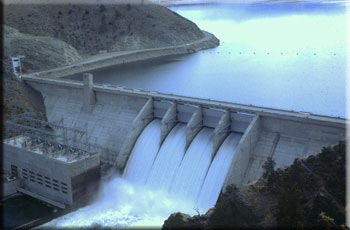 Canyon Ferry Dam and SpillwayBILLINGS, Montana -- The Bureau of Reclamation is pleased to announce the addition of two campgrounds, with a total of 26 sites, to the national reservation system. Nine campsites at Jo Bonner and 17 campsites at Chinamen's Campgrounds can now be reserved. All campsites at Hellgate, White Earth, Court Sheriff and Riverside Campgrounds are on the reservation system.
Reservations for camping and group use shelters may be made at www.recreation.gov or by calling the toll-free reservation line at 1-877-444-6777 (10:00 AM - 10:00 PM MST). Reservations can be made up to six months prior to arrival date, but not less than one day from the arrival date. Campsites unreserved are available on a first come first serve base for the unreserved date(s).
Campground and group use shelter fee charge will begin Friday, May 10, 2019, and all fees will remain the same as last year. Chinamen's, Jo Bonner, Hellgate, and White Earth Campgrounds are $10.00 per night with one sleeping unit per campsite. Court Sheriff and Riverside Campgrounds are $15.00 per night with one sleeping unit per campsite. Campers who possess a Golden Age or Golden Access card, or the Interagency Senior Pass or Interagency Access Pass, will receive a 50 percent discount on camping fees. A reservation fee of $8 will be charged for each reservation through www.reservation.gov.
Campgrounds at Canyon Ferry that are undeveloped or have dispersed camping are open and free to the public. For additional information contact Dan Gallagher, Outdoor Recreation Planner, at 406-475-3925.
For other information please contact the Canyon Ferry Field Office at 406-475-3310, or visit Reclamation's website at www.usbr.gov/gp/mtao.
# # #
The Bureau of Reclamation is a federal agency under the U.S. Department of the Interior and is the nation's largest wholesale water supplier and second largest producer of hydroelectric power. Our facilities also provide substantial flood control, recreation opportunities, and environmental benefits. Visit our website at https://www.usbr.gov and follow us on Twitter @USBR; Facebook @bureau.of.reclamation; LinkedIn @Bureau of Reclamation; Instagram @bureau_of_reclamation; and YouTube @reclamation.
Relevant Link: