Reclamation Announces Yellowtail Dam/Bighorn Lake Spring Operations and Bighorn River System Issues Group Meeting
News Release Archive
Reclamation Announces Yellowtail Dam/Bighorn Lake Spring Operations and Bighorn River System Issues Group Meeting
Media Contact: Jack Conner, (406) 247-7300, jconner@usbr.gov

For Release: April 11, 2018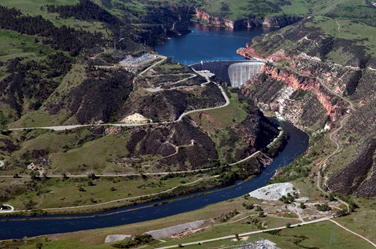 Yellowtail Dam & Bighorn LakeBILLINGS, Montana -- The Bureau of Reclamation will present water supply conditions in the Bighorn Basin and discuss the agency's proposed spring operating plan for Yellowtail Dam/Bighorn Lake at a public meeting on Tuesday, April 24, 2018. Additionally, a portion of the meeting will include an Open House where a number of displays and booths will be set-up to provide participants an opportunity to interact and engage in more focused discussions and pick up informational materials.
"Our Operations and Bighorn River System Issues Group meetings provide a great forum for the public and stakeholders to ask important questions, and be a part of a larger discussion about this important water resource", said Steve Davies, Area Manager, for Reclamation's Montana Area Office. Stakeholders and interested parties are encouraged to attend and take advantage of meeting with and interacting with Reclamation and partner agency staff during the open house.
The meeting will be held at the Bighorn Resort, 1801 Majestic Lane, Billings, Montana, beginning at 9:30 a.m. and concluding at 4:00 p.m.
For additional information, please contact Jack Conner of the Montana Area Office, Bureau of Reclamation, at (406) 247-7300.
# # #
The Bureau of Reclamation is a federal agency under the U.S. Department of the Interior and is the nation's largest wholesale water supplier and second largest producer of hydroelectric power. Our facilities also provide substantial flood control, recreation opportunities, and environmental benefits. Visit our website at https://www.usbr.gov and follow us on Twitter @USBR; Facebook @bureau.of.reclamation; LinkedIn @Bureau of Reclamation; Instagram @bureau_of_reclamation; and YouTube @reclamation.
Relevant Link: