Delta-Mendota Canal Recirculation Feasibility Study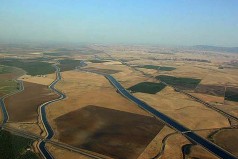 The Bureau of Reclamation is conducting a feasibility study to evaluate the feasibility, benefits, and impacts of recirculating water from the Sacramento-San Joaquin Delta through the Central Valley Project (CVP) pumping and conveyance facilities to the San Joaquin River.
The purpose of the DMC Recirculation Study is to meet certain requirements of PL 108-361 and D1641.
The study has been proposed as a way "To provide flow, reduce salinity concentrations into the San Joaquin River, and reduce the reliance on the New Melones Reservoir for meeting water quality and fishery flow objectives through the use of excess capacity in export pumping and conveyance facilities." PL 108-361, Title1, Section 103.
---
For additional information or assistance, please contact:
Lasted update: October 4, 2010
---
For assistance or additional information about this website, please contact Public Affairs
Bureau of Reclamation, Mid-Pacific Region
2800 Cottage Way, Sacramento CA 95825-1898
Main (916) 978-5100 | FAX (916) 978-5114 | TTY (916) 978-5608
Reclamation Officials' Telephone Numbers
---