WY 2015 Stakeholders Meetings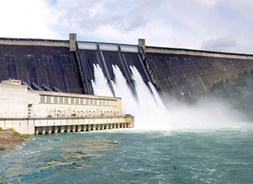 Photo Credit: Scott Dethlefsen
In Water Years 2013 and 2014, California experienced historically low precipitation, resulting in minimal reservoir inflows, low water allocations, challenges managing Delta salinity, and early increases in reservoir releases.
To proactively address potentially dry conditions into WY 2014, the Bureau of Reclamation's Mid-Pacific Region held a series of meetings in 2013 and early 2014 with Central Valley Project water contractors, power customers, tribes, non-governmental organizations, other federal agencies, and State of California agencies to discuss the status of WY 2013 and possible water management strategies for WY 2014. The goal of the meetings was to raise awareness about potential future conditions more...
Central Valley Project Water Plan 2014 - Final
Public Meeting - Sacramento, CA

Next Public Meeting to be held: TBD

December 9, 2014, 1:00 p.m. - 3:30 p.m. - Postponed


For documents from previous meetings, please go to "Previous Meetings" in left menu
Suggestions/Ideas
Click here to email suggestions/ideas to Lisa Navarro

For additional information or assistance, please contact:

December 5, 2014

For assistance or additional information about this website, please contact Public Affairs
Bureau of Reclamation, Mid-Pacific Region
2800 Cottage Way, Sacramento CA 95825-1898


Main 916-978-5100 | FAX 916-978-5114 | TTY 916-978-5608
Reclamation Officials' Telephone Number
---
Last update: December 5, 2014

Note: documents in Portable Document Format (PDF) require Adobe Acrobat Reader 5.0 or higher to view, download Adobe Acrobat Reader.