About Us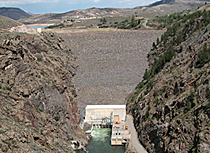 The Upper Colorado Region's Power Office, located in Salt Lake City, Utah, oversees three field offices associated with primary Colorado River Storage Project (CRSP) hydroelectric power generation facilities: Glen Canyon Field Division located at Page, Arizona, the Curecanti Field Division at Montrose, Colorado, and the Flaming Gorge Field Division at Dutch John, Utah.
Power Office employees are responsible for operating and maintaining the CRSP hydroelectric powerplants and dams which include Flaming Gorge on the Green River near Dutch John, Utah; Blue Mesa, Morrow Point, and Crystal on the Gunnison River near Montrose, Colorado: and Glen Canyon on the Colorado River near Page, Arizona. The Power Office also operates and maintains facilities at other Reclamation projects including Fontenelle Dam and Powerplant on the Green River near Kemmerer, Wyoming; and the Upper and Lower Molina Powerplants near Grand Junction, Colorado. In addition, the Power Office is responsible for ensuring the structural safety and security of all these dams and powerplants.
The reservoirs associated with these projects have a combined water storage capacity of approximately 32.6 million acre-feet providing benefits for flood control, municipal and industrial water use, irrigation, recreation, fish and wildlife, and power generation. The powerplants provide a clean, renewable source of energy, generating an average of 5,750,000,000 kilowatt-hours of energy annually. The power is delivered to the Western Area Power Administration (Western) for transmission and marketing to public and municipal entities in the states of Utah, Wyoming, Nebraska, Colorado, New Mexico, Arizona, and Nevada.
The Power Office works closely with Western and our federal power customers to establish a power rate to collect revenue and repay the United States Treasury for the cost of constructing the power facilities and other project costs allocated for power revenue to repay including recovery of the cost of operating and maintaining the power facilities.
Power produced at these facilities is also provided for use on Reclamation projects in the Upper Colorado Region. The Power Office administers contracts to provide power to the Central Utah Project, Silt Project, Dolores Project, Navajo Indian Irrigation Project, Paradox Project, and Animas-La Plata Project (in progress).
Non-federal power development at Reclamation facilities in the Upper Colorado Region is handled through a lease of power privilege from Reclamation or by license from the Federal Energy Regulatory Commission which is administered by the Power Office.
Last Updated: 2/23/17