Regional Director Welcome
About Us
Regional Director Welcome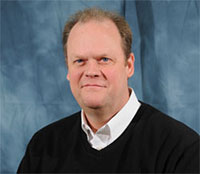 Welcome to the home page of the Upper Colorado Region of the Bureau of Reclamation. I'm Brent Rhees and it is my privilege to serve as the Regional Director of the Upper Colorado Region. On behalf of our 750 employees spread across portions of Arizona, Colorado, New Mexico, Utah, and Wyoming, I am pleased to have this opportunity to share the work of our region with you through the multitude of topics and pages on our web site.
I would like to share with you the overall management philosophy that guides us in our work reflected in this web site. I also want to invite you to let us know what we can do to better serve your informational needs through the "contact us" sections on this site. Your comments do receive the attention of our managers and they are important to us.
Our management philosophy here in the Upper Colorado Region is focused upon a combination of strong leadership by the Regional Director's Office and Area Office managers combined with a collaborative team approach by the same individuals.
As the Regional Director, I provide the leadership direction for the organization and I am responsible for the overall management and accomplishments of the region. Assisting me in this effort, are my two Deputy Regional Directors and managers of the divisional offices with the Regional Office in Salt Lake City.
Similar authority resides with the managers of our three area offices (Albuquerque Area Office in Albuquerque, New Mexico; Provo Area Office in Utah; and Western Colorado Area Office in Grand Junction, Colorado), the Power Office in Salt Lake City, Utah, and two construction offices (Four Corners Construction Office in Durango, Colorado, and the Four Corners Construciton Office in Farmington, New Mexico). In each case, those managers and their staff are responsible for the program accomplishments related to specific projects and activities. Many offices also have satellite offices in additional locations.
The collective group comes together on a periodic basis as the Upper Colorado Leadership Team to deal with the common issues of the region. Budgets, human resources issues, and broad region-wide programs are considered in a consensus-based decision process with the final authority resting with me as the Regional Director.
Collectively, the region carries out the work of the executive branch of government and the President's management team. Specifically, Reclamation is led by the Secretary of the Interior and Reclamation's Commissioner.