Free Fishing Day Celebrated in California
Free Fishing Day Celebrated in California
Written by: Sarah McBride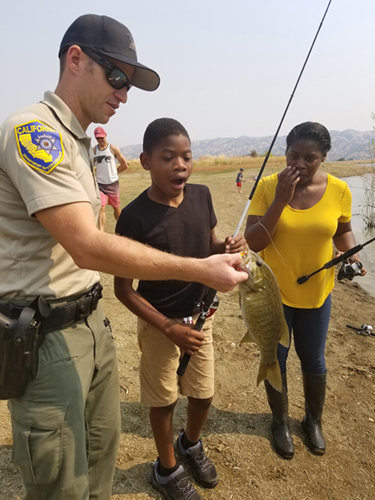 Game warden holds fish that child caught.Twice a year the California Department of Fish and Wildlife allows visitors in California to fish without a sport fishing license. This year those Free Fishing Days were on July 1 and September 2. To celebrate, on September 2 Reclamation park rangers and a game warden from the California Department of Fish and Wildlife were on hand at Lake Berryessa to teach visitors and possible future anglers how to fish.
The free fishing program was held at Twin Oaks in the Oak Shores Day Use Area and saw 25 visitors throughout the morning. One family that attended had no prior fishing experience, and our park rangers were excited to show them the ropes! They learned various fishing methods, how to cast, and potential species of fish they might encounter.
The game warden and rangers also helped a 10-year-old child hook his first fish. The fish was reeled in for all participants to see and learn about it. The park rangers also shared that Lake Berryessa was under a heat advisory at the time and the fish needed to be released much faster to recover.
The rangers also helped with changing lures, answering questions, explaining the program, and encouraging visitors to join in on the fun. Free Fishing Days are a great opportunity and a low-cost way to give fishing a try. If you've ever wanted to try fishing, be sure to join us at next year's Free Fishing Day!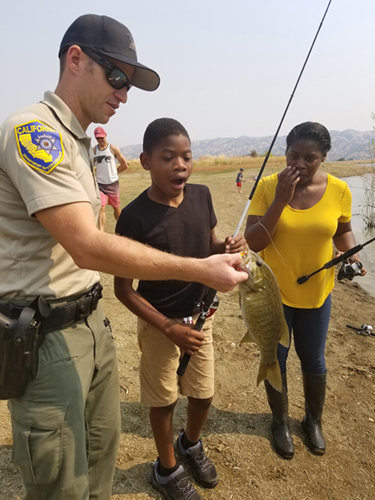 Click on dot to advance photos.
Published on September 28, 2017