Nocturnal Happenings at New Melones Lake
Nocturnal Happenings at New Melones Lake
Written by: Sarah McBride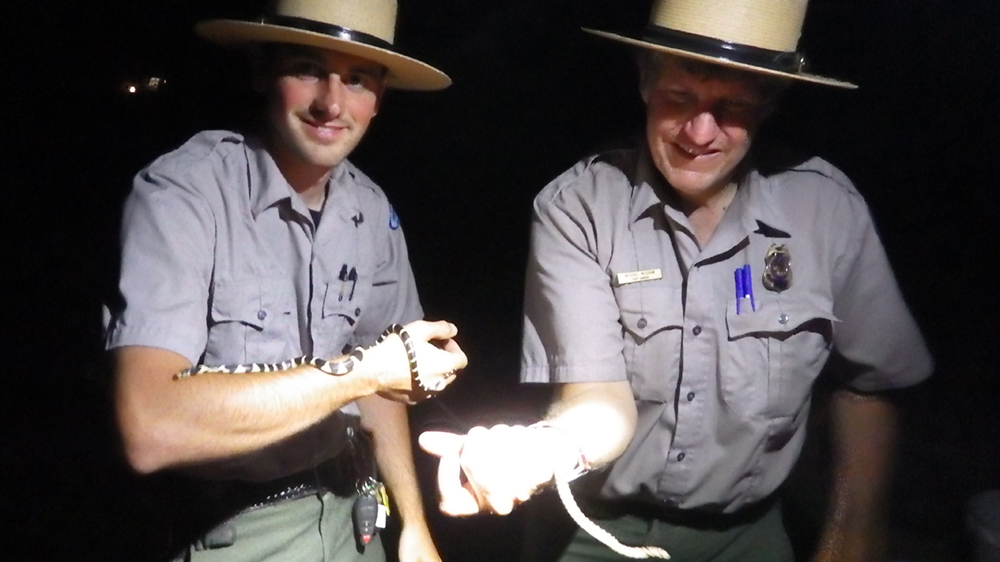 Rangers holding snakes they encountered at Nocturnal HappeningsEver wonder what is crawling around in the dark at New Melones Lake? Visitors got to see firsthand what critters and creatures are going bump in the night around the lake recently during the "Nocturnal Happening" interpretive event. The event, hosted by Reclamation park rangers taught visitors about bats, owls and other nocturnal critters that call New Melones home.
During the event, the rangers had activities and stories for the children and shared interesting facts about what they might encounter that evening. Then visitors were led through a nighttime walk where they saw a tarantula, gopher snake and kingsnake. The rangers were able to capture the snakes for the visitors to look at, but please don't try this yourself! Rangers ask visitors to the area not to attempt to capture resident snakes and never hold them without a ranger present. Right now, New Melones Lake is crawling with snakes at night, including rattlesnakes, and their nighttime presence is due to the extreme heat during the day. For tarantulas, it is reproduction time during the end of summer and early fall, so visitors may be seeing more of them in the evening. Visitors are encouraged to stay alert and keep a distance. We encourage you to enjoy these fascinating creatures from a safe distance, just don't get too close!
Miss this event? That's OK, we have still have our end of summer event happening this Saturday, Sept. 2 at 6:30 p.m. The Calaveras Community Band will be joining us and playing all your favorites until the sun goes down. Get up and dance, clap and sing or just sit back and enjoy the music. More details can be found at: https://www.usbr.gov/newsroom/newsrelease/detail.cfm?RecordID=59981 .
Published on August 29, 2017