Trump Administration greenlights Friant-Kern Canal repair
News Release Archive
Trump Administration greenlights Friant-Kern Canal repair
Reclamation's Record of Decision completes environmental process to restore critical water supply infrastructure for San Joaquin Valley
Media Contact: Mary Lee Knecht, 916-978-5100, mknecht@usbr.gov
Johnny Amaral, 559-799-6192, jamaral@friantwater.org
For Release: November 04, 2020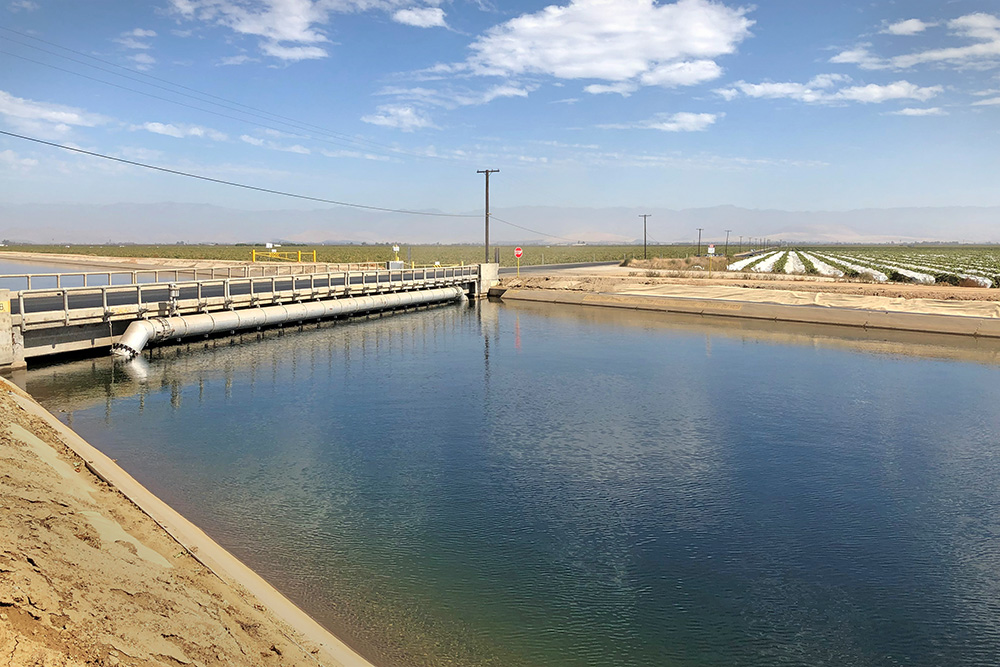 Friant Kern Canal (USBR/Adam Nickels)SACRAMENTO, Calif. – Today, after the Trump Administration invested nearly $5 million to study and begin pre-construction work on the Friant Kern Canal Project, the Bureau of Reclamation signed the Record of Decision giving environmental clearance to repair a 33-mile stretch of the canal in California's eastern San Joaquin Valley. The section of the canal has lost over half of its original capacity to convey water due to subsidence—a sinking of the earth from groundwater extraction. The repairs will eventually restore full water delivery to over one million acres of farmland and 250,000 residents. 
"Since day one, the Trump Administration directed Reclamation to modernize infrastructure to ensure water reliability for California's farms and communities," said Bureau of Reclamation Commissioner Brenda Burman. "I am delighted Reclamation reached another of the Administration's critical milestones for the San Joaquin Valley and look forward to seeing shovels in the ground in the near future."
Signed into law in 2016, the bipartisan Water Infrastructure Improvements for the Nation (WIIN) Act, championed by Leader Kevin McCarthy, Senator Feinstein, and Congressman Nunes created a process by which water infrastructure projects, like the Friant-Kern Canal Project, can be authorized by Congress and provided federal funds of up to 50% of total project costs. 
This comes after an already long list of water actions from the Trump Administration including: 
On Oct. 19, 2018, President Trump issued a Presidential Memorandum on Promoting the Reliable Supply and Delivery of Water in the West.
Completed the review of the long-term coordinated operations for the Central Valley Project and California State Water Project and subsequently to issue an updated Plan of Operations and Record of Decision
On Feb. 19, 2020, President Trump issued a Presidential Memorandum on Developing and Delivering More Water Supplies in California while visiting Bakersfield, California.
Established an interagency Water Subcabinet that will coordinate and streamline the Federal government's actions on water.
"The Reclamation team quickly and efficiently guided this project through the environmental requirements,"
said
Ernest Conant, Reclamation regional director.
"Signing the Record of Decision today for restoring the capacity of the Friant-Kern Canal is a significant step to providing reliable water supplies to farms throughout the eastern San Joaquin Valley." 
"The team assembled by Reclamation has been outstanding and has worked hard, with no missteps, to keep this project on schedule," said Jason Phillips, chief executive officer of the Friant Water Authority. "To me, it is another example of how the Trump Administration is dedicated to getting things done; things that really matter to people, cities, and farms in the Valley, and the Friant Water Authority is truly grateful for that."   
"I want to thank Secretary Bernhardt and Commissioner Burman for continuing to prioritize critical repairs to the Friant-Kern Canal," said Leader Kevin McCarthy (CA-23). "With this action today, all of the environmental documentation is complete, and this project can now move into the pre-construction and construction phases. I also want to commend President Trump for never wavering from his commitment to get water flowing to Central Valley families, communities, and farmers. From repairing the Friant-Kern Canal to issuing new updated, science-based regulations to bring our communities more water from the Sacramento-San Joaquin River Delta, the President and his teams at the Interior Department and Bureau of Reclamation have navigated complicated California water policy to secure multiple achievements in order to help Californians get the water they contract and pay for. I look forward to working with the Trump Administration, the Friant Water Authority, and other stakeholders to continue to advance this important canal repair project." 
"I want to thank President Trump and Secretary Bernhardt for their commitment to restoring Central Valley families and farmers their rightful supply of water," said Congressman Devin Nunes (CA-22). "For the first time in decades, the federal government has provided the Valley steadfast support against the radical environmentalists' crusade against agriculture. Today's decision to advance this crucial infrastructure project — the Friant-Kern Canal restoration — is yet another historic victory for the Central Valley."
Background:
The Friant-Kern Canal delivers water to more than one million acres of highly productive farmland and 250,000 residents. The diminished capacity in the canal has resulted in up to 300,000 acre-feet of reduced water deliveries in certain water years with effects most prominent in the middle reach of the canal (milepost 88 to milepost 121). The Project would restore capacity from the current estimated 1,600 cubic-feet-per-second to the original 4,000 cubic-feet-per-second in the most critical area near the Deer Creek check structure (milepost 103).
The Project's final Record of Decision is available at https://www.usbr.gov/mp/nepa/nepa_project_details.php?Project_ID=41341. Contact Rain Emerson for a copy at 559-262-0335 (TTY 800-877-8339).
# # #
The Bureau of Reclamation is a federal agency under the U.S. Department of the Interior and is the nation's largest wholesale water supplier and second largest producer of hydroelectric power. Our facilities also provide substantial flood control, recreation opportunities, and environmental benefits. Visit our website at https://www.usbr.gov and follow us on Twitter @USBR; Facebook @bureau.of.reclamation; LinkedIn @Bureau of Reclamation; Instagram @bureau_of_reclamation; and YouTube @reclamation.