Reclamation announces virtual open house and public comment period extension for Shasta Dam proposal to increase water storage for Californians and fish
News Release Archive
Reclamation announces virtual open house and public comment period extension for Shasta Dam proposal to increase water storage for Californians and fish
Media Contact: Mary Lee Knecht, 916-978-5100, mknecht@usbr.gov

For Release: September 10, 2020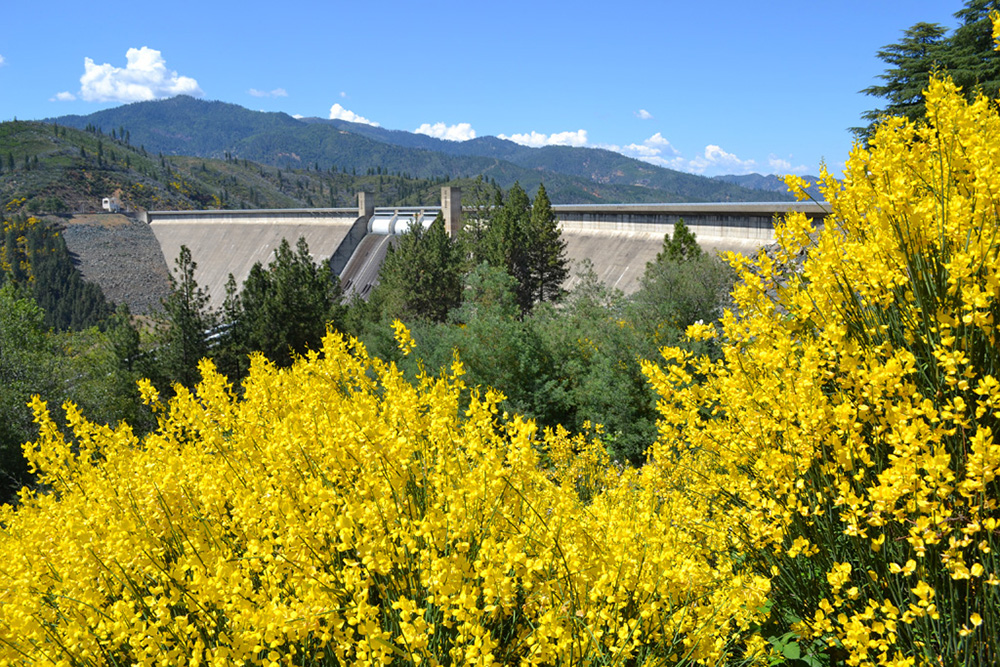 Shasta Dam's scotch bloom. (USBR photo/Tami Corn)REDDING, Calif. - Reclamation announces a virtual open house website for the Shasta Lake Water Resources Investigation Draft Supplemental Environmental Impact Statement: http://www.virtualpublicengagement.com/usbr_shasta/index.html. Additionally, the public comment period is extended to October 5 to allow more time for public engagement.
Website visitors will be able to learn more about the project, review summaries of Draft Supplemental EIS chapters, and submit comments.
Reclamation released the Draft Supplemental EIS in accordance with the National Environmental Policy Act on August 6. The report includes updated project information relevant to Clean Water Act 404(r), revised modeling reflective of operational changes from the 2019 Biological Opinions, and updated analysis on effects to the McCloud River. The original 45-day comment period is extended by two weeks and will close on October 5.
The Draft Supplemental EIS is available at: https://www.usbr.gov/mp/nepa/nepa_project_details.php?Project_ID=1915. Submit comments by close of business on October 5 to David Brick, Bureau of Reclamation, CGB-152, 2800 Cottage Way, Sacramento, CA 95825, via telephone at 916-202-7158 (TTY 1-800-877-8339); via email at dbrick@usbr.gov; or via the virtual open house website.
# # #
The Bureau of Reclamation is a federal agency under the U.S. Department of the Interior and is the nation's largest wholesale water supplier and second largest producer of hydroelectric power. Our facilities also provide substantial flood control, recreation opportunities, and environmental benefits. Visit our website at https://www.usbr.gov and follow us on Twitter @USBR; Facebook @bureau.of.reclamation; LinkedIn @Bureau of Reclamation; Instagram @bureau_of_reclamation; and YouTube @reclamation.
Relevant Link: