Reclamation announces temporary closure of Ponderosa Way Bridge
News Release Archive
Reclamation announces temporary closure of Ponderosa Way Bridge
Media Contact: Mary Lee Knecht, 916-978-5100, mknecht@usbr.gov

For Release: July 10, 2020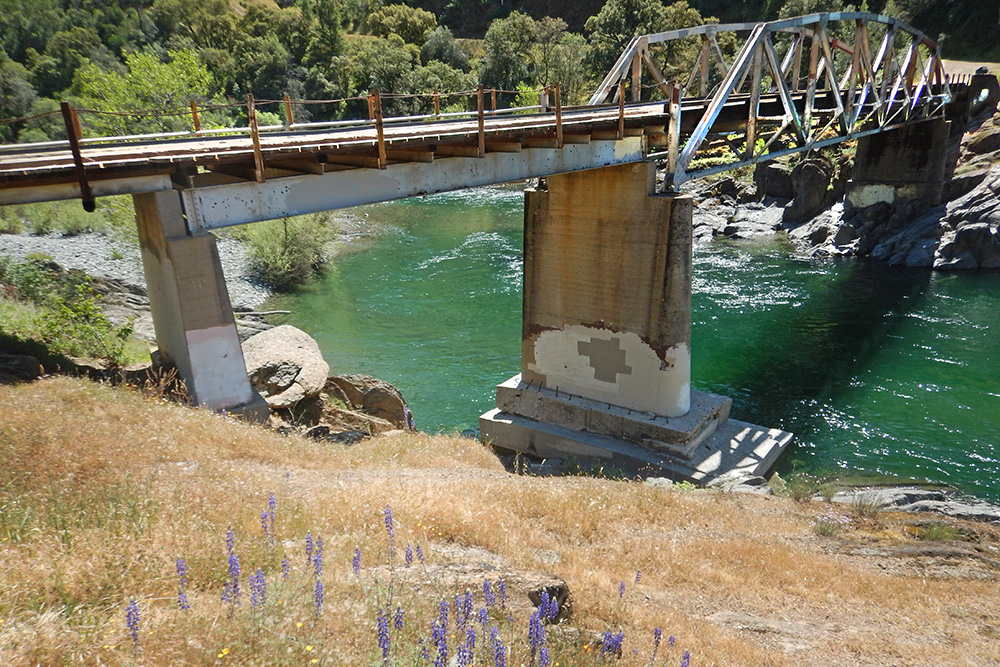 Ponderosa Way bridge AUBURN, Calif. - The Bureau of Reclamation, in coordination with the California Department of Parks and Recreation, will temporarily close the Ponderosa Way Bridge over the North Fork American River to vehicles for construction beginning July 15 and ending in December 2022.
The Ponderosa Way Bridge is located 12 miles northeast of Auburn in the Auburn State Recreation Area. Its foundation was partially damaged from storms during the winter of 2016-2017.
Ponderosa Road will remain open to river access from Foresthill Road on the south and from Canyon Way near Interstate 80 on the north. There are alternative routes across the canyon via Yankee Jims Road or Iowa Hill Road to the east and Foresthill Road from Interstate 80 to the west.
Pedestrians may continue to use the bridge until replacement construction begins. River recreation users may continue to use the river near the bridge site pending construction. Additional access to the river downstream is open seasonally at Upper Clementine Lake Road.
This project is managed by the Federal Highway Administration, Office of Federal Lands Highway, Central Federal Lands Highway Division and funded through the Federal Lands Transportation Program.
"Working with the Federal Highway Administration, we are correcting potential risks at Ponderosa Way," said Drew Lessard, Central California Area Office Manager. "In addition to bridge replacement, the project will repair drainage and surfaces on Ponderosa Way leading to the river and bridge. Foundation work will strengthen and stabilize the concrete supports on the edge of the river."
The single-lane bridge will be replaced with an updated design using newer construction techniques. The new bridge will have a weight rating sufficient for fire engines, enhancing the area's fire response.
The lands surrounding Ponderosa Bridge are owned by Reclamation and managed by the California Department of Parks and Recreation and the U.S. Bureau of Land Management.
Direct project questions to California Great-Basin's Construction Office at 530-892-6262 (TTY 800-877-8339) or sha-wco-cfiles@usbr.gov.
# # #
The Bureau of Reclamation is a federal agency under the U.S. Department of the Interior and is the nation's largest wholesale water supplier and second largest producer of hydroelectric power. Our facilities also provide substantial flood control, recreation opportunities, and environmental benefits. Visit our website at https://www.usbr.gov and follow us on Twitter @USBR; Facebook @bureau.of.reclamation; LinkedIn @Bureau of Reclamation; Instagram @bureau_of_reclamation; and YouTube @reclamation.