Reclamation begins Nimbus Hatchery's fish ladder project; new trail detour near Sacramento Aquatic Center
News Release Archive
Reclamation begins Nimbus Hatchery's fish ladder project; new trail detour near Sacramento Aquatic Center
Media Contact: Mary Lee Knecht , 916-978-5100, MKnecht@usbr.gov

For Release: March 16, 2020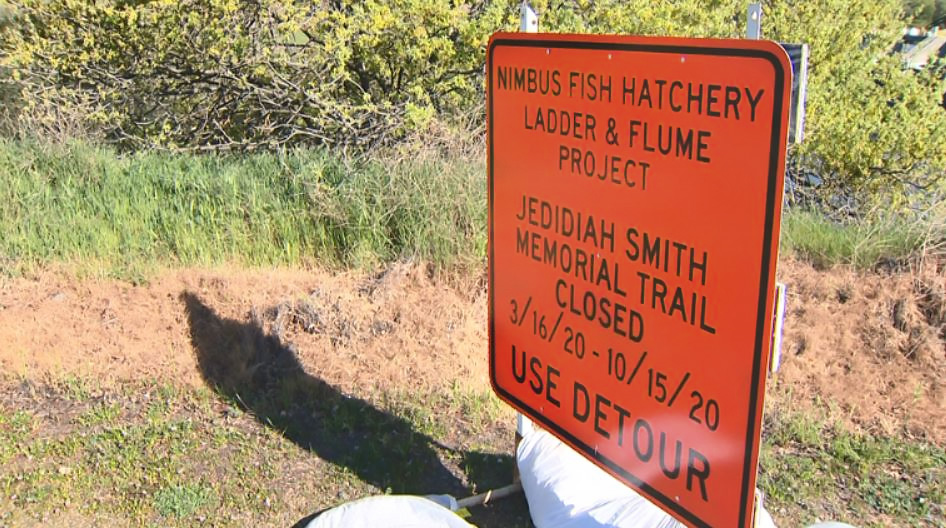 Jedidiah Smith Memorial trail detour sign (Courtesy of KCRA)SACRAMENTO, Calif. – The Bureau of Reclamation is beginning its first phase of construction for fish passage at Nimbus Fish Hatchery beginning in mid-March and ending around October.
A temporary detour will reroute recreationists to cross Hazel Avenue, using the existing traffic light near the entrance to the California State University, Sacramento Aquatic Center.
The detour will remain for about two years while the fish passage project is under construction. Recreationists are advised to exercise caution and adhere to posted signage throughout the area.
The fish ladder will help maintain a reliable system for collecting adult fish to assist with meeting mitigation obligations for spawning areas blocked by the Nimbus Dam construction.
Learn more about these improvements by visiting https://www.usbr.gov/mp/ccao/hatchery/
Contact Mark Curney with questions at 916-537-7110 (TTY 800-877-8339) or jcurney@usbr.gov.
# # #
The Bureau of Reclamation is a federal agency under the U.S. Department of the Interior and is the nation's largest wholesale water supplier and second largest producer of hydroelectric power. Our facilities also provide substantial flood control, recreation opportunities, and environmental benefits. Visit our website at https://www.usbr.gov and follow us on Twitter @USBR; Facebook @bureau.of.reclamation; LinkedIn @Bureau of Reclamation; Instagram @bureau_of_reclamation; and YouTube @reclamation.