Final EIS for Kachess and Keechelus projects posted
News Release Archive
Final EIS for Kachess and Keechelus projects posted
Reservoir projects to help alleviate drought-year shortages
Media Contact: Michael Coffey, (208) 378-5020, mcoffey@usbr.gov
Joye Redfield-Wilder, joye.redfield-wilder@ecy.wa.gov
For Release: March 15, 2019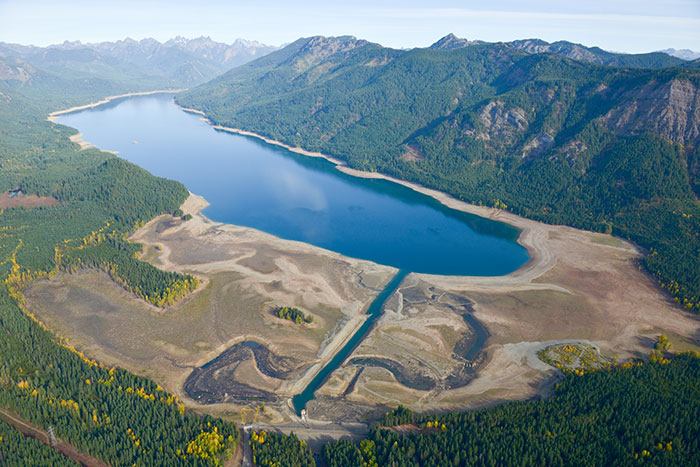 October 2015 drought at Kachess Reservoir looking at Kachess Dam and outlet works channel with the reservoir in the distance.YAKIMA, WA – The Bureau of Reclamation and Washington State Department of Ecology have posted a final environmental impact statement related to projects in the Upper Yakima River basin designed to improve water supply during drought, and enhance streamflows and aquatic habitat for fish.
The EIS was prepared in conjunction with over-arching goals of the Yakima River basin Integrated Water Resources Management Plan.
A floating pumping plant on Kachess Reservoir has been identified as the preferred alternative to help alleviate water shortages for proratable irrigation water users in the Yakima River basin. Alternatives that examined conveying excess water from the Keechelus Reservoir to Kachess Reservoir are not identified as projects to carry forward.
"This is an important milestone for the Kachess and Keechelus reservoir projects and the Yakima Integrated Plan," Columbia-Cascades Area Manager Dawn Wiedmeier said. "Reclamation is grateful for and looks forward to continuing our valuable partnership with Ecology, the Yakama Nation, Roza Irrigation District and others on this and other Integrated Plan projects."
The Kachess Drought Relief Pumping Plant and Keechelus Reservoir-to-Kachess Reservoir Conveyance Final Environmental Impact Statement (FEIS) evaluated seven alternatives, including a "no action" alternative to:
improve water supply reliability during drought years;
improve the ability of water managers to respond and adapt to potential changing hydrology; and
contribute to the vitality of the regional economy and riverine environment.
"We want to thank everyone who participated in this long, public process and look forward to working with everyone moving forward," said Tom Tebb, director of Ecology's Office of Columbia River. "Balancing the needs and rights of water users in the Yakima River basin is challenging. A floating pumping plant is a creative and cost-effective way to help irrigators in the years water is in short supply."
As described in Alternative 4, Reclamation and Ecology have identified Roza Irrigation District as the entity responsible for the design, construction, operation, maintenance and funding (with potential participation by other proratable entities) of a floating pumping plant proposal at Kachess Reservoir. The proposal seeks to tap into up to 200,000 acre-feet of water not now accessible by irrigators when their water is prorated.
This FEIS complies with the National Environmental Policy Act (NEPA, Public Law 91-190) and the State Environmental Policy Act (SEPA, Chapter 197-11 WAC). The NEPA process concludes with a Record of Decision (ROD) which may be issued by Reclamation no sooner than 30 days after the FEIS is published in the Federal Register. The ROD documents Reclamation's decision on the proposed action and describes the rationale used in making the decision. Responses to public comments received on the Draft EIS and Supplemental Draft EIS are included in the final document.
You may view the final documents at: and https://www.usbr.gov/pn/programs/eis/kdrpp/index.html and https://www.usbr.gov/pn/programs/eis/kkc/index.html. Copies also are available at Reclamation and Ecology offices and local libraries will have electronic copies available for viewing. Individual copies of the report may be obtained by calling (509) 573-8193.
Copies have been mailed to those who have requested one, as well as area Tribes and appropriate local, state, and federal agencies. Additional information regarding the Integrated Plan may be found at: https://www.usbr.gov/pn/programs/yrbwep/2011integratedplan/index.html
# # #
The Bureau of Reclamation is a federal agency under the U.S. Department of the Interior and is the nation's largest wholesale water supplier and second largest producer of hydroelectric power. Our facilities also provide substantial flood control, recreation opportunities, and environmental benefits. Visit our website at https://www.usbr.gov and follow us on Twitter @USBR; Facebook @bureau.of.reclamation; LinkedIn @Bureau of Reclamation; Instagram @bureau_of_reclamation; and YouTube @reclamation.
Relevant Link:
https://ecology.wa.gov/Water-Shorelines/Water-supply/Water-supply-projects-EW/Yakima-River-Basin-projects/Yakima-integrated-plan