Reclamation Announces $74.6 Million Agreement for Navajo-Gallup Water Supply Project
News Release Archive
Reclamation Announces $74.6 Million Agreement for Navajo-Gallup Water Supply Project
Navajo Nation will design and construct a key component of major infrastructure project
Media Contact: Marlon Duke, 801-524-3774, 08/30/2018 13:59
Barry Longwell, 505-324-5001, blongwell@usbr.gov
For Release: August 30, 2018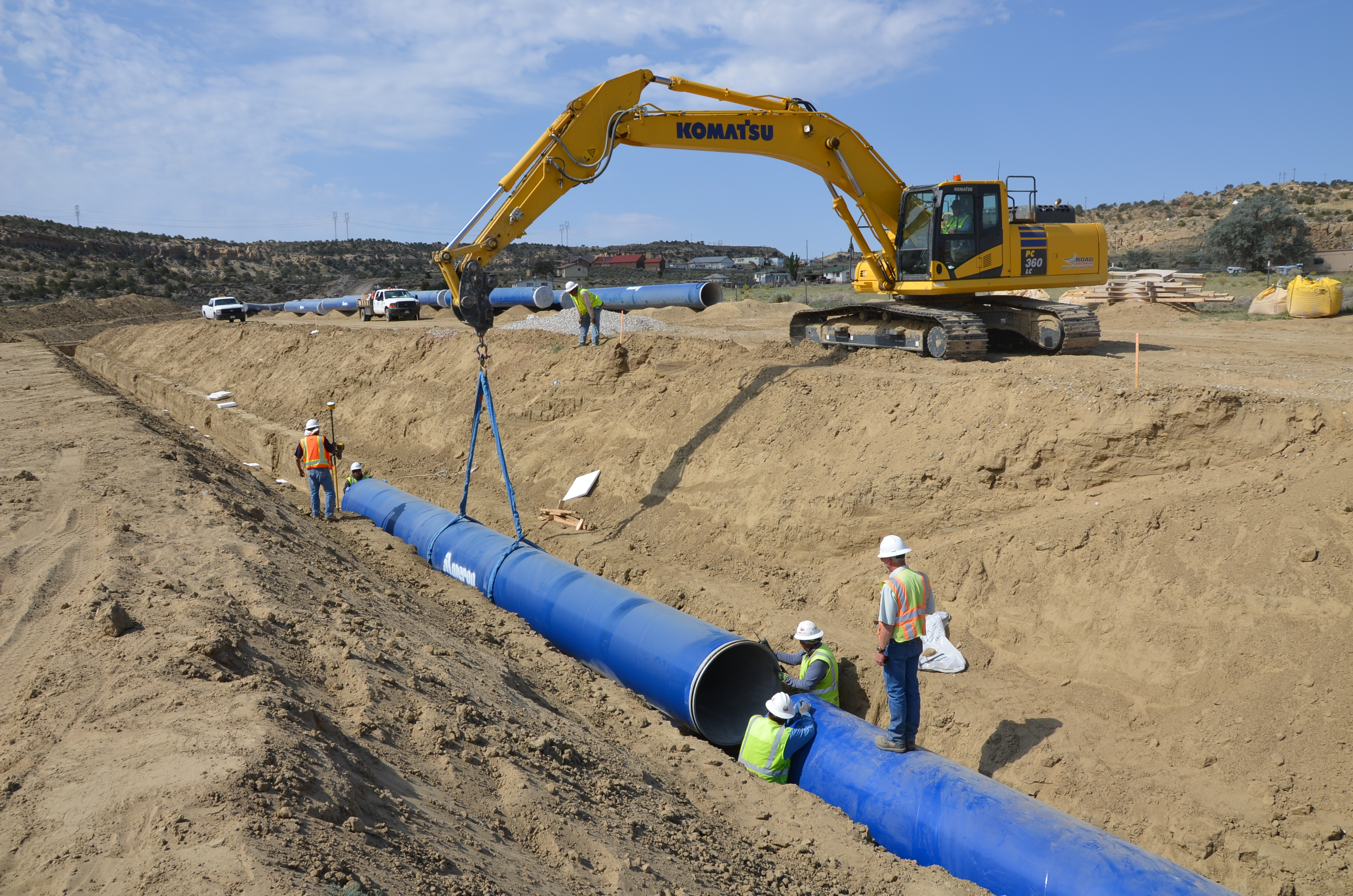 Installing pipe along the Navajo-Gallup Water Supply ProjectFARMINGTON, NM - The Bureau of Reclamation awarded a $74.6 million financial assistance agreement with the Navajo Nation for the design and construction of a portion of the Navajo-Gallup Water Supply Project. The project will provide a long-term, sustainable water supply to 43 Navajo Chapters; the City of Gallup, New Mexico; and the southwestern portion of the Jicarilla Apache Nation. "Completion of the Navajo-Gallup Water Supply Project is essential to meeting impending water demands and this agreement goes a long way towards achieving that milestone," said Reclamation Commissioner Brenda Burman. "The reliable water that will be delivered by the facilities in this agreement will allow the Navajo Nation to meet both current and future demands for water, and will allow for economic development throughout this area of the Navajo Reservation."
This agreement will enable the Navajo Nation to complete the Crownpoint Lateral (also known as the Beacon Bisti/N-9 (BBN9) Lateral) and Reach 12.3. The Crownpoint Lateral will be located along Navajo Route 9 between Twin Lakes and Crownpoint, New Mexico, and will provide water to the Navajo communities of Coyote Canyon, Standing Rock (Tse'ii'ahi), Nahodishgish (Dalton Pass), Crownpoint, Becenti, and Littlewater. The lateral will consist of approximately 40.2 miles of pipeline, ranging in diameter from 16 inch to 6 inch, pumping plants, chorlination buildings and storage tanks.
Reach 12.3 will serve the communities of Window Rock, Saint Michaels, and Fort Defiance, Arizona, and will consist of 5.3 miles of 24-inch-diameter pipe, a chorlination building and a water storage tank. Design and permitting work is anticipated to begin in late 2018 and construction is scheduled to begin in late 2020, and be completed by 2024.
Reclamation has the overall responsibility for the design and construction the project, but has entered into agreements with the Navajo Nation, the City of Gallup and the Indian Health Service for the design and construction for selected portions.
The Navajo-Gallup Water Supply Project is the cornerstone of the Navajo Nation Water Rights Settlement in the San Juan River Basin in New Mexico. The project consists of two separate branches, Cutter and San Juan Laterals; approximately 300 miles of pipeline; two water treatment plants; and several pumping plants and storage tanks. The entire project is scheduled to be completed by 2024.
# # #
The Bureau of Reclamation is a federal agency under the U.S. Department of the Interior and is the nation's largest wholesale water supplier and second largest producer of hydroelectric power. Our facilities also provide substantial flood control, recreation opportunities, and environmental benefits. Visit our website at https://www.usbr.gov and follow us on Twitter @USBR; Facebook @bureau.of.reclamation; LinkedIn @Bureau of Reclamation; Instagram @bureau_of_reclamation; and YouTube @reclamation.