Bureau of Reclamation announces winners of the DataApp Prize Competition
News Release Archive
Bureau of Reclamation announces winners of the DataApp Prize Competition
Seven individuals were awarded prize money for their development of a mobile app framework for field data capture during Stage 1 of the competition
Media Contact: Emily Quinn, 303-445-2807, emquinn@usbr.gov

For Release: June 26, 2018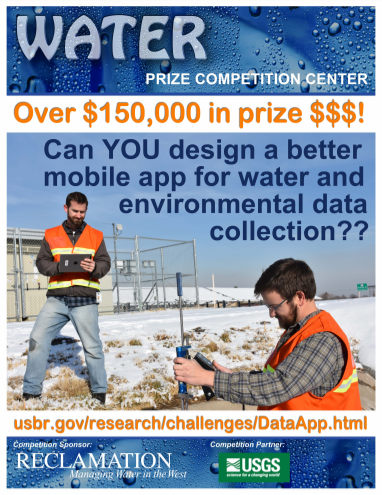 DataApp Prize CompetitionWASHINGTON - Bureau of Reclamation Commissioner Brenda Burman announced that seven individuals were awarded a total of $60,000 for their innovative software architecture concepts and software technologies to support field data collection using mobile devices such as tablets and smartphones.
"Improved data collection apps can assist our efforts to more efficiently collect field data in a user-friendly manner," Burman said. "We are excited to see how these proposed solutions might help address our data collection needs."
The DataApp Prize Competition was designed to solicit novel ideas from the public to improve data collection software for mobile devices, like improving the functionality and flexibility of data collection apps to support the broad range of water and environmental monitoring needs ranging from monitoring infrastructure to characterizing habitat conditions.
To learn more about the DataApp Prize Competition, visit https://www.usbr.gov/research/challenges/dataapp.html.
The Stage 1 winners of the Data Application Prize Competition are:
Alexis Cullen, Clinton Township, Michigan
Update and extension of the existing Succinct Data app to provide additional functionality and flexibility across a wide range of data collection needs using well-established and widely-used open source software technologies, including the use of Network Mesh Communications technology to improve real-time data transmission.
Stephen Deck, Cary, North Carolina
Cloud-based software architecture that leverages existing open source tools, such as Cordova, Django, and MongoDB to provide an extensible and scalable application.
Cody Flagg, Boulder, Colorado
Extension of the existing Open Data Kit open-source data collection software framework to provide additional functionality through the use of a community package manager, a standardized metadata dictionary, and modules to interface with commonly used sensors.
George Gruse, Brookeville, Maryland
Novel integration of common software technologies to support robust and reliable data collection, capture, and transference across multiple devices using an array of toolsets to transmit and store the data.
Bretton Holmes, Phoenix, Arizona
Innovative use of a flow-based programming software architectural to facilitate development and deployment of custom data collection apps using visual tools.
Shawn Ross, Macquarie Park, New South Wales, Australia
Update and extension on the existing FAIMS Mobile open-source framework to allow users to create customized data collection apps that include custom data structures and workflows, tailored exports to other software or services, offline functionality with opportunistic synchronization, mapping, multimedia management, and support for sensors and other devices.
Don Tjandra, Dublin, California
Innovative integration of voice-driven artificial intelligence and natural language processing--e.g., similar to intelligent personal assistants such as Amazon Alexa, Apple Siri, and Google Now--into an app framework for field data collection.
To learn more prize competitions at Reclamation, please visit Reclamation's Water Prize Competition Center at: www.usbr.gov/research/challenges/index.html.
# # #
The Bureau of Reclamation is a federal agency under the U.S. Department of the Interior and is the nation's largest wholesale water supplier and second largest producer of hydroelectric power. Our facilities also provide substantial flood control, recreation opportunities, and environmental benefits. Visit our website at https://www.usbr.gov and follow us on Twitter @USBR; Facebook @bureau.of.reclamation; LinkedIn @Bureau of Reclamation; Instagram @bureau_of_reclamation; and YouTube @reclamation.