Flaming Gorge Dam Visitor Center increases recreational access
Flaming Gorge Dam Visitor Center increases recreational access
Media Contact: Marlon Duke, 385-228-4845, mduke@usbr.gov

For Release: July 31, 2020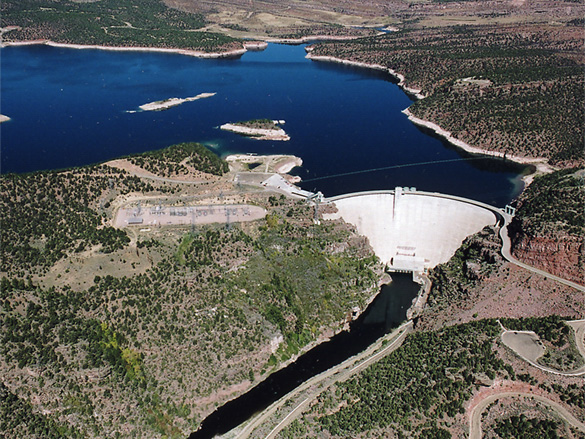 Aerial view of Flaming Gorge Dam and ReservoirDUTCH JOHN, Utah – Following guidance from the White House, Centers for Disease Control and Prevention, and state and local public health authorities, the Bureau of Reclamation will increase access at Flaming Gorge Visitor Center beginning Monday, August 3. Reclamation is working across the 17 western states in close coordination with federal, state, and local public health authorities to actively monitor the COVID-19 pandemic while using a phased approach to increase public access on a case-by-case basis.
Beginning August 3, Flaming Gorge Dam Visitor Center will reopen to visitors. Due to limited space inside the visitor center, Reclamation will limit the number of people inside at the same time. The visitor parking lot, restrooms and outdoor interpretive displays will remain open.
The Visitor Center and exhibits will open daily from 9:00 a.m. until 5:00 p.m. Guided tours will remain suspended until further notice.
The health and safety of our visitors, employees, volunteers, partners, and other stakeholders continues to be paramount. At Flaming Gorge Dam Visitor Center, our operational approach will be to examine each facility function and service provided to ensure those operations comply with current public health guidance.
The CDC has offered guidance to help people recreating on public lands to prevent the spread of infectious diseases. We will continue to monitor all functions to ensure that visitors adhere to CDC guidance for mitigating risks associated with the transmission of COVID-19 and take any additional steps necessary to protect public health.
While these public areas are accessible for visitors to enjoy, a return to full operations will continue to be phased and services may be limited. When recreating, the public should follow local area health orders, practice Leave No Trace principles and avoid crowding, practice social distancing, and hand sanitizing.
Check our website for updates at https://www.usbr.gov/uc/rm/crsp/fg/index.html.
# # #
The Bureau of Reclamation is a federal agency under the U.S. Department of the Interior and is the nation's largest wholesale water supplier and second largest producer of hydroelectric power. Our facilities also provide substantial flood control, recreation opportunities, and environmental benefits. Visit our website at https://www.usbr.gov and follow us on Twitter @USBR; Facebook @bureau.of.reclamation; LinkedIn @Bureau of Reclamation; Instagram @bureau_of_reclamation; and YouTube @reclamation.
Relevant Link: