Reclamation seeks public comment on the proposed Lake Powell Pipeline Project
Reclamation seeks public comment on the proposed Lake Powell Pipeline Project
Media Contact: Robyn Gerstenslager, 801-524-3720, rgerstenslager@usbr.gov
Rick Baxter, 801-379-1078
For Release: December 06, 2019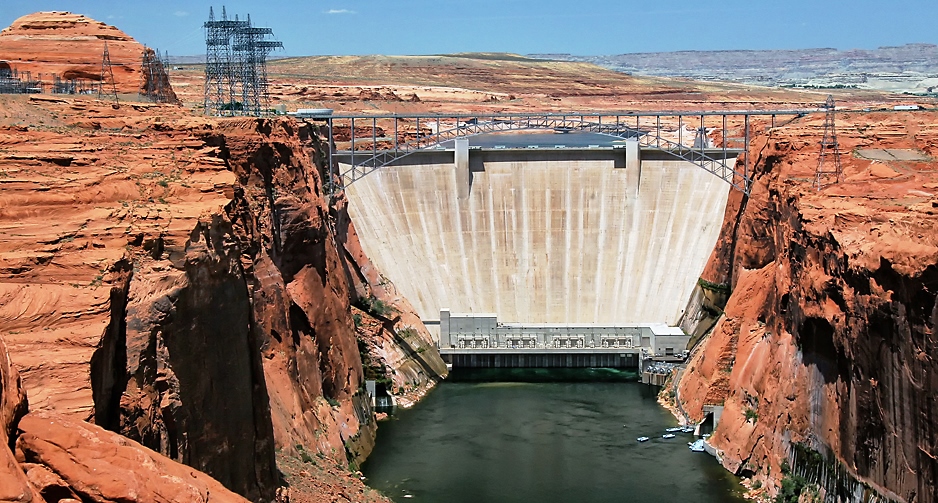 Glen Canyon Dam, Page, Arizona PROVO, Utah - The Department of the Interior, through the Bureau of Reclamation, has issued a Notice of Intent to prepare an Environmental Impact Statement for the Lake Powell Pipeline Project (LPP), in accordance with the National Environmental Policy Act. Interior is seeking public comment on the scope of the environmental documents. This is the first step in the public scoping process.
The proposed pipeline would establish a second source of water for Washington and Kane counties in Utah, through an approximately 140-mile-long water delivery pipeline from Lake Powell near Glen Canyon Dam in Page, Arizona, to Sand Hollow Reservoir near St. George, Utah. The project will help meet future water demands, diversify the regional water supply portfolio and enhance the reliability of the water supply.
Interior has designated Reclamation as the lead federal agency, with responsibility for coordinating the environmental compliance effort of all Interior agencies. Through this effort, Interior will assess the environmental impacts of the proposed pipeline. The proposed action to be analyzed in the draft EIS includes construction of the pipeline and associated facilities, entering into a water exchange contract, and potentially amending the Arizona Strip Resource Management Plan.
"The public scoping process is an important step in informing interested parties of the proposed action and gathering their issues and concerns," said Reclamation's Provo Area Office Manager Wayne Pullan. "Their input will help Interior define the scope of the EIS and identify significant issues to be analyzed in depth."
In addition to Reclamation, other Interior agencies involved in the development of the draft EIS will include the Bureau of Indian Affairs, Bureau of Land Management, U.S. Fish and Wildlife Service and National Park Service.
Comments and requests to be added to the mailing/notification list may be submitted by mail, web form, e-mail or fax to:
Lake Powell Pipeline Project Bureau of Reclamation, Provo Area Office 302 East Lakeview Parkway Provo, Utah 84606
Web form: https://www.usbr.gov/uc/envdocs/eis/LakePowellPipeline/index.html Email: lpp@usbr.gov FAX: 801-379-1159
Comments should be received by 11:59 p.m. Mountain Standard Time on Jan. 10, 2020.
A link to the Federal Register Notice regarding this proposed action can be found at https://www.usbr.gov/uc/envdocs/eis/LakePowellPipeline/index.html.
# # #
Reclamation is the largest wholesale water supplier in the United States, and the nation's second largest producer of hydroelectric power. Its facilities also provide substantial flood control, recreation, and fish and wildlife benefits. Visit our website at https://www.usbr.gov and follow us on Twitter @USBR.
Relevant Link: