Reclamation will use innovative methods to control non-native plants at sites in southwest Colorado
Reclamation will use innovative methods to control non-native plants at sites in southwest Colorado
Media Contact: Ethan Scott, 970-385-6539, escott@usbr.gov
Justyn Liff, 970-248-0625, jliff@usbr.gov
For Release: May 16, 2019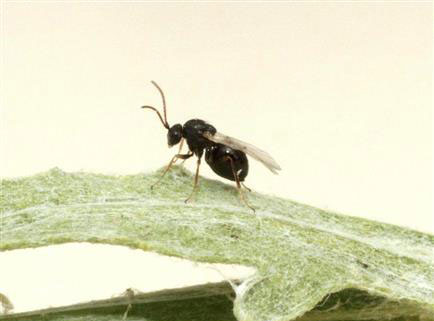 Russian knapweed stem gall waspDURANGO, COLO. - The Bureau of Reclamation, in collaboration with the Palisade Insectary and Colorado Parks and Wildlife, will apply an innovative and environmentally conscious method to control weeds this spring in wetland areas at Navajo State Park in Colorado and Simon Draw Wildlife Area in Montezuma County, Colorado. The agencies will release Russian knapweed stem gall wasps as part of an effort to control the spread and vigor of Russian knapweed, a noxious weed in Colorado harmful to native plants and wildlife. The gall wasps will only impact Russian knapweed and will not affect humans, livestock or other plant species.
"This approach offers an effective and low-cost complement to chemical and mechanical control of Russian knapweed. This is especially important in biologically sensitive areas, such as the wetland areas where gall wasp releases are planned," said Ed Warner, Reclamation's Western Colorado Area Office Manager. "These wetlands are home to a diverse number of wildlife species, including the New Mexico Meadow Jumping Mouse."
Russian knapweed is an aggressive, non-native, deep rooted perennial plant that spreads through seeds and creeping horizontal roots. Left unmanaged, Russian knapweed displaces native and desirable plant species. In addition to impacting wildlife habitat, Russian knapweed may cause neurological disorders in horses if consumed.
The gall wasp causes the formation of galls or abnormal growths along the stem of the Russian knapweed, resulting in nutrient diversion from flowers, seeds and growth. This significantly reduces the ability of the invasive weeds to thrive and spread. The gall wasps require little management after release, and they can easily move around an infestation through flight, wind, or by catching a ride on wildlife.
Gall wasps are an incredibly valuable tool for management of Russian knapweed. Impacts from the gall wasp can be seen relatively rapidly as evidenced by trials at other sites conducted by the Palisade Insectary. In as little as three growing seasons, every Russian knapweed stem at the research site was impacted and the overall vigor of the knapweed patch was diminished.
# # #
Reclamation is the largest wholesale water supplier in the United States, and the nation's second largest producer of hydroelectric power. Its facilities also provide substantial flood control, recreation, and fish and wildlife benefits. Visit our website at https://www.usbr.gov and follow us on Twitter @USBR.