Reclamation issues safety tips for Berryessa recreators
Reclamation issues safety tips for Berryessa recreators
Media Contact: Erin Curtis, 916-978-5100, eccurtis@usbr.gov

For Release: February 04, 2019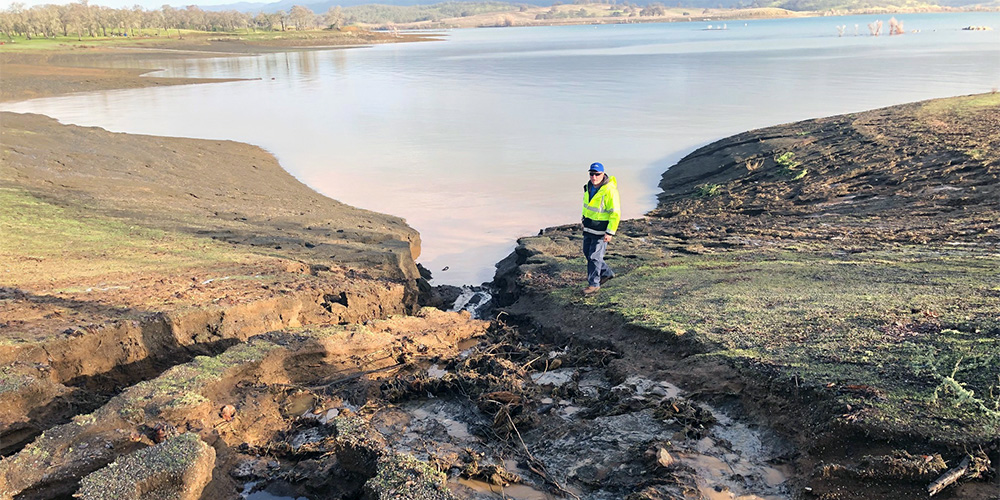 Sizable gully formed after heavy rains near Lake Berryessa's Acorn Beach (USBR Photo by Geoff Godfrey)NAPA, Calif. – Officials with Reclamation's Lake Berryessa office are encouraging visitors to take extra caution when recreating in and around the lake this winter. The lake is high due to recent storms, and recent wildfires have brought more sediment and downed trees into the lake.
Visitors should use caution in and around the lake, and follow these safety tips:
1. Driving: Check road and weather conditions prior to starting trips and allow extra driving time due to rock/debris slides, visitors and wildlife. Consider visiting during the weekdays if possible.
2. Boating: Use extreme caution navigating through the reservoir. The 2018 County Fire's burned areas are experiencing their first heavy rains. Upstream burned area runoff entering the lake is thick with silt and downed trees. Increased lake cloudiness has resulted in poor visibility of submerged and floating hazards.
3. Shoreline: Shoreline: Quickly rising waters may weaken and undermine shorelines around the lake. Keep some distance from the shoreline, observe terrain changes and remain on maintained roadways and trails when possible.
4. Hypothermia: Lake Berryessa's cold water can lead to potentially life-threatening hypothermia. Symptoms include shivering, slurred speech, apathy, disorientation, drowsiness and unconsciousness. Move into a warm or sheltered area immediately. Replace wet clothing with dry clothes, a sleeping bag, or blankets and drink a warm, nonalcoholic beverage if conscious. Contact the Lake Berryessa Field Office at 707-966-2111 ext. 113 before visiting the lake for current information or visit the website at https://www.usbr.gov/mp/ccao/berryessa/
# # #
Reclamation is the largest wholesale water supplier in the United States, and the nation's second largest producer of hydroelectric power. Its facilities also provide substantial flood control, recreation, and fish and wildlife benefits. Visit our website at https://www.usbr.gov and follow us on Twitter @USBR.