Hoover Dam transformed in an exceptional display of purple to raise awareness of Domestic Violence
Hoover Dam transformed in an exceptional display of purple to raise awareness of Domestic Violence
Media Contact: Patti Aaron, (702) 293-8189, paaron@usbr.gov
Doug Hendrix, 702-293-8391, dhendrix@usbr.gov
For Release: October 30, 2018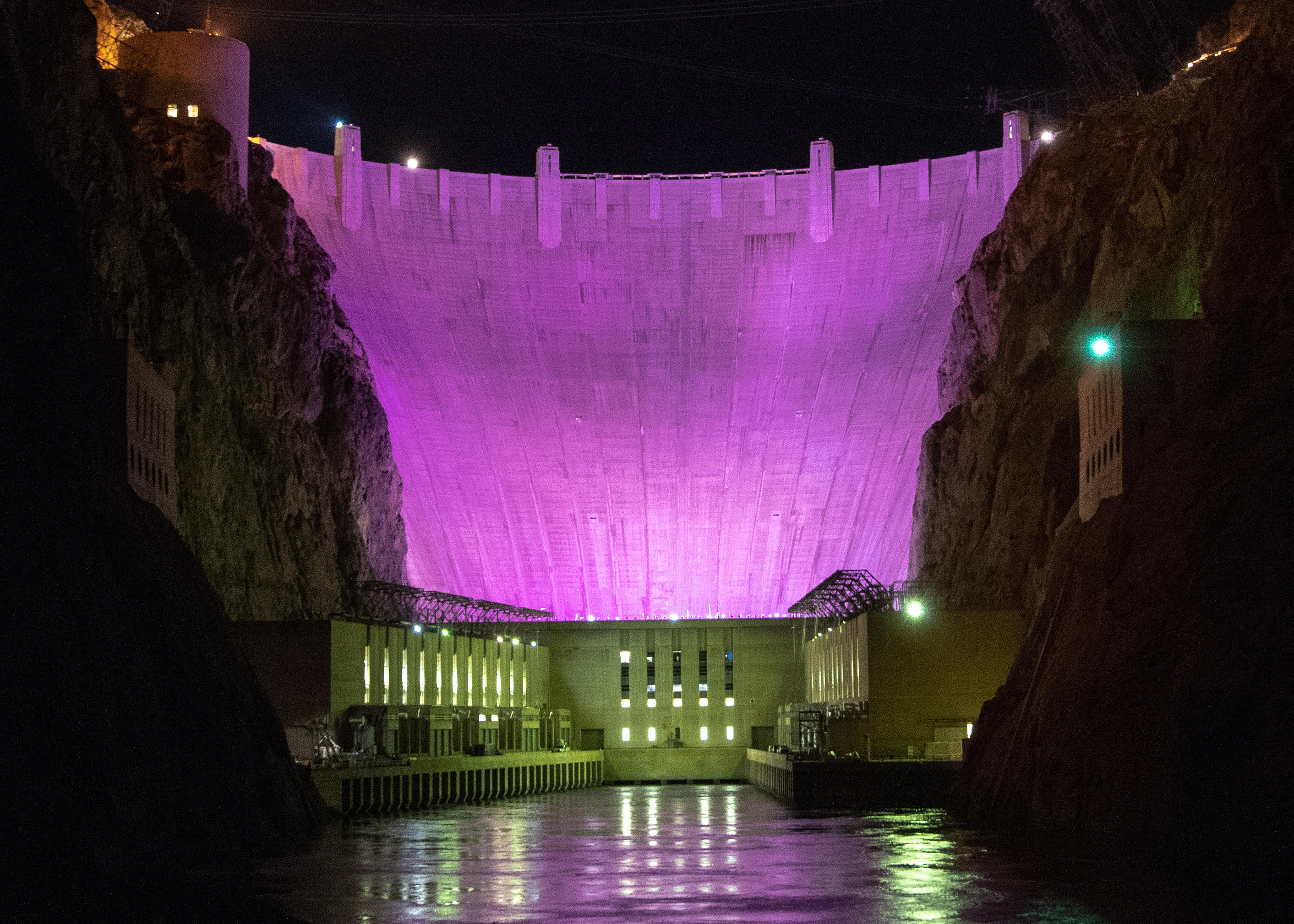 Hoover Dam was lit purple Monday night to raise awareness about the impacts of domestic violence.Boulder City, Nev. – With national Domestic Violence Awareness Month coming to an end, the iconic Hoover Dam was lit purple Monday night in honor of efforts in Nevada and across the country to raise awareness about these crimes.
"More than 100 onlookers gathered atop the Mike O'Callahan/Pat Tillman Memorial Bridge in solidarity with the local and statewide organizations who united for this unique show of strength," said Len Schilling, Manager of the Bureau of Reclamation's Lower Colorado Dams Office. "We were delighted to be able to use the majesty of Hoover Dam to draw attention to this vitally important domestic cause."
Participating in Monday night's ceremony were officials from local and statewide organizations including: SafeNest, S.A.F.E. House, The Rape Crisis Center, Safe Embrace, Tu Casa Latina, Domestic Violence Resource Center, Winnemucca Domestic Violence Services, The Shade Tree, and the statewide Nevada Coalition to End Domestic and Sexual Violence.
Domestic violence is a pattern of abusive behavior in any relationship that is used by one partner to gain or maintain power and control over another intimate partner. Domestic violence can be physical, sexual, emotional, economic or psychological actions or threats of actions that influence another person.
If you are a victim in need of help, or someone you know is struggling in an abusive relationship or is at risk, please contact an advocacy organization in your community or call the National Domestic Violence Hotline at 1.800.799.7233. This hotline will connect you to an advocacy program in a community of your choosing.
# # #
Reclamation is the largest wholesale water supplier in the United States, and the nation's second largest producer of hydroelectric power. Its facilities also provide substantial flood control, recreation, and fish and wildlife benefits. Visit our website at https://www.usbr.gov and follow us on Twitter @USBR.