Minidoka Southside Canal access restricted
Minidoka Southside Canal access restricted
Canal headgate maintenance begins October 15
Media Contact: Annette Ross, (208) 378-5322, aross@usbr.gov

For Release: September 28, 2018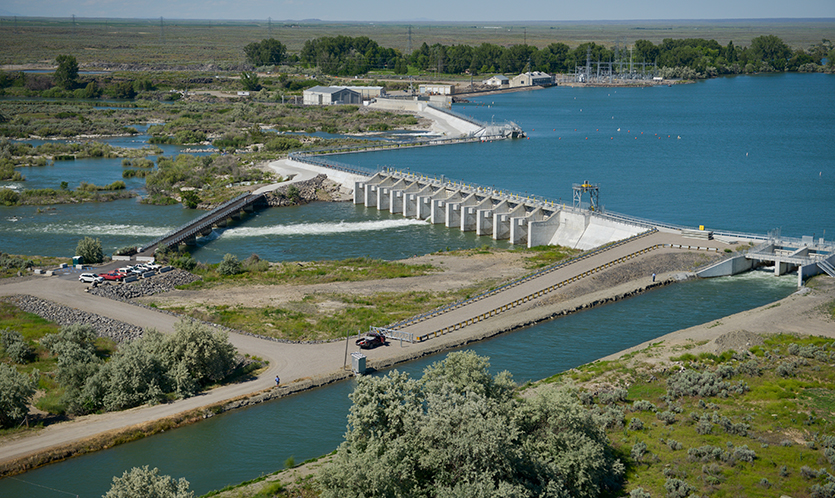 Minidoka Dam and SpillwayRUPERT, Idaho – The Bureau of Reclamation announced that public access to the Southside Canal headgates at Minidoka Dam will be restricted, beginning Oct. 15 through Dec. 15, while canal headgate maintenance occurs.
During this period, anglers and the recreating public can still access the dam immediately north and south of the headgates, outside the constructions zone perimeter. Also, public access to the Minidoka spillway area and Bishop's Hole will not be impacted.
"We ask the public to respect signage and barriers while our crews perform replacement work on the canal headgates," said Upper Snake Field Office Manager Ryan Newman. "This work will ensure regular water deliveries this spring."
Reclamation will install four new supporting arms on the two radial gates that control irrigation water into Southside Canal from Lake Walcott, 12 miles northeast of Rupert.
In 2016, heavy ice loading on Lake Walcott caused one of the Southside Canal gate arms to buckle, and a temporary repair was performed. Installation of the four new supporting arms will reduce the threat of future ice loading incidents.
Reclamation is working closely with the Burley Irrigation District to ensure that irrigation water deliveries are not disrupted.
# # #
Reclamation is the largest wholesale water supplier in the United States, and the nation's second largest producer of hydroelectric power. Its facilities also provide substantial flood control, recreation, and fish and wildlife benefits. Visit our website at https://www.usbr.gov and follow us on Twitter @USBR.
Relevant Link: