Reclamation to Conduct Drone Flights at Grand Coulee Dam
Reclamation to Conduct Drone Flights at Grand Coulee Dam
Media Contact: Kirsten Strough, (208) 258-0068, kstrough@usbr.gov
Lynne Brougher, (509) 633-9503, lbrougher@usbr.gov
For Release: June 04, 2018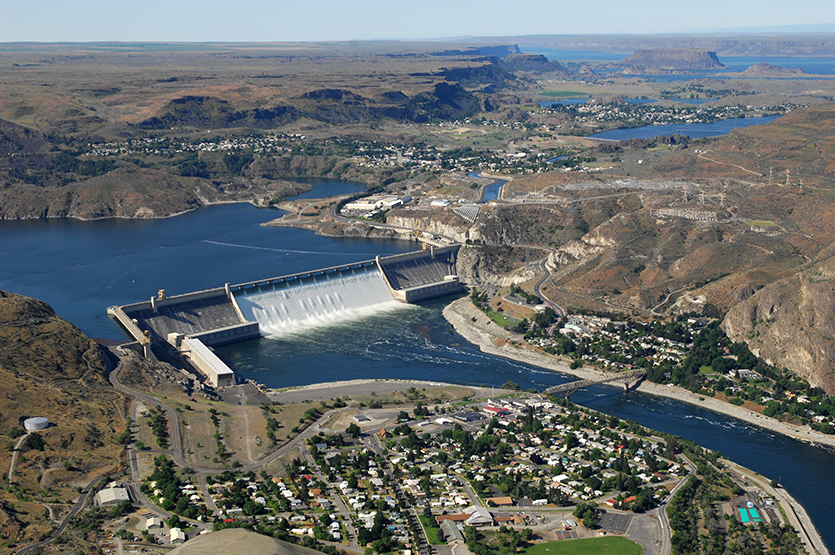 Aerial view of Grand Coulee Dam releasing downstream an unusually large and late spring time water flows of over 200,000 cfs. Broken out, it's 33,800 cfs, over the spillway and 167,000 cfs through the hydropower generators.GRAND COULEE, Washington — The Bureau of Reclamation is planning to conduct Unmanned Aircraft System, also known as a "drone," flights over and around Grand Coulee Dam to photograph and obtain video footage of the structure while water is spilling over the drum gates during the month of June. The last aerial videography of the dam was taken in 2002. Because many improvements have been made to the facility since then, current video footage will capture the updated infrastructure.
Reclamation's UAS team consists of Federal Aviation Administration and Department of the Interior–certified pilots. The team will operate a small black quadcopter primarily on federal lands but may fly over adjacent private lands such as the Town of Coulee Dam, Grand Coulee, and Electric City. There is an FAA No-Fly Zone over Grand Coulee Dam. Reclamation has obtained the required authorization from the FAA and Department of the Interior, which allows the flights to occur within the No-Fly Zone surrounding the dam. Strong safety requirements and practices will be observed, including not flying over people.
For further information concerning the flights, contact Kirsten Strough at (208) 258-0068.
# # #
Reclamation is the largest wholesale water supplier in the United States, and the nation's second largest producer of hydroelectric power. Its facilities also provide substantial flood control, recreation, and fish and wildlife benefits. Visit our website at https://www.usbr.gov and follow us on Twitter @USBR.