Bureau of Reclamation Releases Draft Environmental Documents for the Platte River Recovery Implementation Program, Proposed First Increment Extension
Bureau of Reclamation Releases Draft Environmental Documents for the Platte River Recovery Implementation Program, Proposed First Increment Extension
Media Contact: Brock Merrill, (307) 261-5649, bemerrill@usbr.gov

For Release: February 28, 2018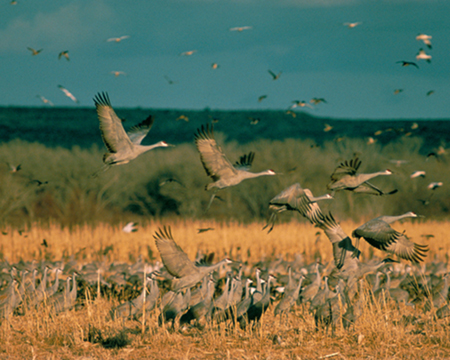 Cranes take advantage the habitat provided by the Platte River Project during their annual migration.Billings, Montana -- The Bureau of Reclamation has released for public review the Draft Environmental Assessment (EA) and Draft Finding of No Significant Impact (FONSI) for the Platte River Recovery Implementation Program, Proposed First Increment Extension. Reclamation, working with the states of Wyoming, Colorado, and Nebraska, water users, and environmental and conservation organizations, proposes to extend the First Increment of the basin-wide, cooperative Recovery Implementation Program by 13 years. Reclamation is doing this to meet its obligations under the Endangered Species Act.
The purpose of this action is to continue implementing projects that provide additional water, in order to accomplish the following:
Reduce flow shortages in the Platte River aimed at conforming with U.S. Fish and Wildlife Service target flows
Continue land management activities necessary to provide habitat for target threatened and endangered species
Continue integrated monitoring, research, and adaptive management, in order to assess the progress of the program and inform future management decisions
Reclamation will hold four public open houses during the 45-day review period to gather comments from other agencies, interested parties, and the public on the Draft EA and Draft FONSI. The public open houses are scheduled as follows (All meetings will be held 6:00 - 8:00 p.m. and include a presentation at 6:30 p.m.):
March 14, 2018, at Platte River Recovery Implementation Program Executive Director's Office, 4111 4th Avenue, Suite 6, Kearney, Nebraska
March 15, 2018, at Ramada Midtown, 2503 S. Locust Street, Grand Island, Nebraska
March 20, 2018, Goshen County Fair Grounds, 7078 Fairgrounds Road, Torrington, Wyoming
March 21, 2018, at The Ranch Events Complex, 5280 Arena Circle, Loveland, Colorado (Located in the Larimer County Conference Center; park in Lot B)
At each open house, the public will have the opportunity to provide written input on the Draft EA and Draft FONSI.
Written comments are due by close of business April 14, 2018. Members of the public may submit written comments at the public open houses, via email to platteriver@usbr.gov, or by mail to:
Bureau of Reclamation
Attention: Brock Merrill
P.O. Box 950
Torrington, WY 82240
For additional information, please visit the project website at www.usbr.gov/gp/nepa/platte_river/index.html.
# # #
Reclamation is the largest wholesale water supplier in the United States, and the nation's second largest producer of hydroelectric power. Its facilities also provide substantial flood control, recreation, and fish and wildlife benefits. Visit our website at https://www.usbr.gov and follow us on Twitter @USBR.