Recreation Facilities at Black Canyon Dam Parks Open for Reservations
Recreation Facilities at Black Canyon Dam Parks Open for Reservations
Media Contact: Dave Walsh, (208) 378-5026, 01/30/2018 08:39

For Release: January 30, 2018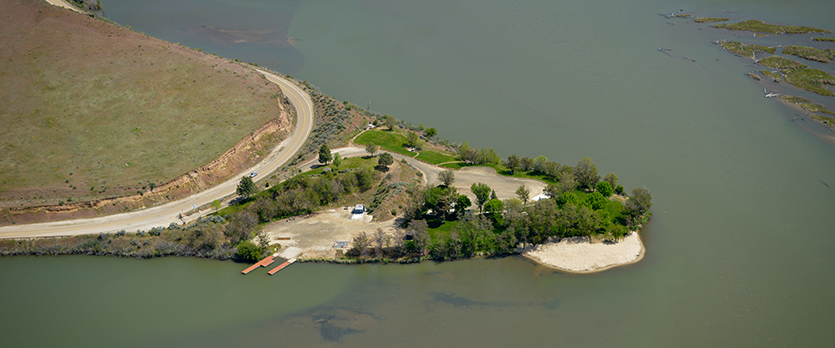 Triangle Park offers day-use and group overnight camping.EMMETT, Idaho – The Bureau of Reclamation will begin accepting reservations for the gazebos and shelter facilities at its four parks near Black Canyon Dam beginning Feb. 1. The 2018 recreation season is from May 11 through Sept. 24. "We are excited about the upcoming recreation season; we've been busy working to keep the parks safe and fun-filled for everyone," said Supervisory Park Ranger Carl Mehaffie. "Please call or stop in and talk to us about your reservation needs."
The parks are located near the Payette River, off State Highway 52, approximately 5 miles northeast of Emmett. They are Black Canyon Park, Wild Rose Park, Cobblestone Park, Triangle Park, and Montour Campground.
Black Canyon Park is open from 7 a.m. to 9 p.m., and the day-use fee is $5 per vehicle to enter. A $25 season pass is available for purchase at the park's office. The park features restrooms, potable water, two boat ramps, which are accessible to people with disabilities, and offers two gazebos that can be reserved for $125 each per day. A Gem County ordinance prohibits alcohol and pets.

Wild Rose Park offers two gazebos for large events and can be reserved together for $125 a day. Restrooms and potable water are available.

Cobblestone Park has one shelter that can be reserved for $125 a day. A restroom and potable water is available.

Triangle Park offers day-use and group overnight camping. A boat ramp, which is accessible to people with disabilities, is available. Water and electricity are unavailable at this site. The group overnight camping allows for rental of the entire park for $125 a night. Pets are permitted with the purchase of the group camping rental.

Montour Campground is located in the Montour Wildlife Management Area. It offers overnight camping for $8 per night for a campsite or $3 per night for tent camping on the lawn. Dogs must be on a leash. The 16 campsites are available on a first-come, first-served basis. Potable water, a dump station, and restrooms are available.
Instructions and reservation availability for reserving a gazebo or shelter may be accessed online by visiting the parks' website at www.usbr.gov/pn/snakeriver/landuse/blackcanyon. Montour Campground is on a first-come, first-served basis, and camping availability is not viewable on the website.
Regulations prohibit renting out the entire park at these sites, with the exception of Triangle Park. Special event alcohol permits may be obtained for Wild Rose, Cobblestone, and Triangle parks with paid reservations through Reclamation. For additional information, please contact the Black Canyon Park staff at (208) 365-2682 or via email at bcparks@usbr.gov.
Black Canyon Dam is part of the Boise Project and was constructed between 1922 and 1924. It provides irrigation water to roughly 1,760 farms in Gem and Payette counties. The powerplant at the dam generates about 62 million kilowatt hours annually.
# # #
Reclamation is the largest wholesale water supplier in the United States, and the nation's second largest producer of hydroelectric power. Its facilities also provide substantial flood control, recreation, and fish and wildlife benefits. Visit our website at https://www.usbr.gov and follow us on Twitter @USBR.